Campbell, CALIFORNIA, 2012年8月20日-調査会社Infonetics Researchは本日、2012年第2四半期 (2Q12) Service Provider VoIP and IMS Equipment and Subscribers 市場シェアおよび予測に関するレポートから、その概要を発表した。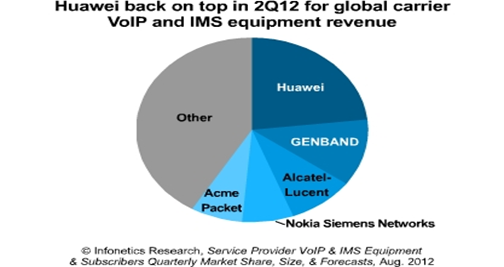 アナリストノート
「第1四半期に LTE関連の出荷が記録的であったこともあり、2012年は衝撃的なスタートを切ったが、2四半期連続で キャリア VoIPおよびIMS 機器市場が成長することはできなかった。どこへも行き場がなく、ただ落ち込むだけ。第2四半期はそのような状況であった」と、Infonetics ResearchでVoIP およびIMSを担当している主席アナリストであるDiane Myersは述べている。

Myers の追加コメントとして「先行きをみると、IMSコア機器、セッションボーダーコントローラーおよびボイスアプリケーションサーバーへのキャリアの投資は、レガシー機器(トランクメディアゲートウェイおよびソフトスィッチ)で継続している損失を上回るだろう。そして、2012年は2007年以降で初めて、全体的なキャリアVoIP機器市場において「成長」を記録する年になると見込まれる。基礎的な市場促進要因には変化がないこともあり、VoIP およびIMS加入者のほか、SIPトランキング、ホストビジネスサービス、より長期的にはVoLTEに対する需要の増加が見られるだろう。」
サービスプロバイダーVOIP およびIMS 市場のハイライト
グローバルなキャリアVoIPおよびIMS市場は前四半期と比較して2Q12に11%減少して6億5800万ドルとなった。
第2四半期におけるHuaweiの成長により、同社は2Q12にGENBANDおよびAlcatel-Lucent に代わってグローバルなVoIPおよびIMS市場の最大手になった。
既存事業者および無線事業者が散発的に注文するため、全体的なベンダーシェアの変動は今後も続くとみられる。
EMEA (欧州、中近東およびアフリカ) におけるVoIP およびIMS 投資は前期比および前年同期比で増加した。地域全体で投資増加が続いたことによる。
ブラジル、メキシコその他の国々が中南米地域を先導し、VoIP およびIMS 機器への支出は前年同期比で47%増加した。
EMEAおよび中南米での成長を相殺したのは、北米とアジア地域における損失であった。
REPORT SYNOPSIS
Infonetics' quarterly Service Provider VoIP and IMS Equipment and Subscribers report provides worldwide and regional market size, vendor market share, forecasts, and analysis for trunk media gateways, session border controllers (SBCs), media servers, Class 4 and Class 5 softswitches, voice application servers, IMS core equipment (HSS, BGCF, MGCF, CSCF servers), IMS application servers, and VoIP and IMS subscribers. Companies tracked: Acme Packet, Alcatel-Lucent, AudioCodes, BroadSoft, Dialogic, Ericsson, GENBAND, Huawei, Italtel, Mavenir, MetaSwitch, NEC, Nokia Siemens Networks, RadiSys, Sonus, Technicolor, Xener, ZTE, and others.
(原文)

Carrier VoIP market falls back to earth in Q2 after LTE-inspired boost, Huawei takes lead

Campbell, CALIFORNIA, August 20, 2012-Market research firm Infonetics Research today released excerpts from its 2nd quarter 2012 (2Q12) Service Provider VoIP and IMS Equipment and Subscribers market share and forecast report. (Detailed analysis published August 29.)
ANALYST NOTE
"The year kicked off with a big bang thanks to record LTE-related shipments in the first quarter, but there was no way the carrier VoIP and IMS equipment market could repeat that growth consecutively. There was nowhere to go but down, which is exactly where it went in the second quarter," notes Diane Myers, principal analyst for VoIP and IMS at Infonetics Research.

Myers adds: "Looking forward, carrier investments in IMS core equipment, session border controllers and voice application servers should finally outweigh the continued losses in legacy equipment (trunk media gateways and softswitches) enough for us to expect 2012 to be the first 'up' year for the overall carrier VoIP equipment market since 2007. The fundamental market drivers are intact and we continue to see growth in VoIP and IMS subscribers, and demand for SIP trunking, hosted business services, and over the longer term, VoLTE."
SERVICE PROVIDER VOIP AND IMS MARKET HIGHLIGHTS
The global carrier VoIP and IMS market dropped 11% in 2Q12 from the previous quarter, to $658 million
Huawei's gains in the quarter allowed it to take back the lead in the global VoIP and IMS market in 2Q12 from GENBAND and Alcatel-Lucent
Fluctuations in overall vendor leadership are expected to continue as incumbent and wireless operators place big equipment orders sporadically
VoIP and IMS spending in EMEA (Europe, the Middle East and Africa) is up both sequentially and from the year-ago 2nd quarter as investments continue across the region
Brazil, Mexico and other countries led the Latin American region to a 47% surge in VoIP and IMS equipment spending since the same quarter last year
Offsetting the gains in EMEA and Latin America were losses in both North America and Asia