カリフォルニア州キャンベル 2012年8月21日-市場調査会社 Infonetics Research は本日、同社の2012年第2四半期 (2Q12)版のPON、FTTHおよびDSLアグリゲーション機器と契約者(PON, FTTH, and DSL Aggregation Equipment and Subscribers) レポートから、ベンダーの市場シェアランキングおよび仮の分析を発表した。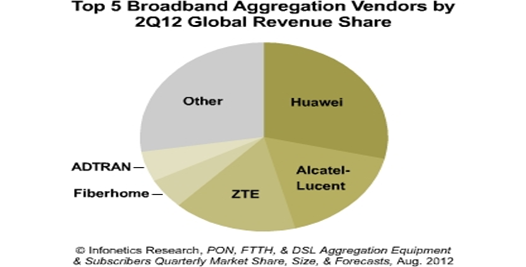 アナリストノート
「刺激要因を元にしたブロードバンド導入や Verizonによる継続的な光ネットワークターミナルの購入は、遂に北米に変化を及ぼし始めています。北米では GPON 機器への投資が2010年以降初めて1億ドルを越えました。」と、Infonetics Research のブロードバンドアクセスおよびビデオ担当ダイレクティング・アナリスト Jeff Heynen は語っている。

Heynen は次のようにも語っている。「中国では、史上第2位の PON 好調の四半期を記録しています。これは、3大事業会社であるChina Telecom、 China Unicom、 そして China Mobileの新規および進行中のプロジェクトのお陰なのです。」
ブロードバンドアグリゲーション市場のハイライト
2012年の第2四半期、ブロードバンドアグリゲーション機器の収益は前四半期(2012年第1四半期)から5%上昇し、17億2000万ドルへと成長した。
2011年は、特に中国でブロードバンドアグリゲーション装置に対し記録的投資となった。そのため2012年の前年比成長は厳しいものとなっている。それが目下の問題点である。2012年第二四半期の世界の収益は、前四半期からは伸びているものの、2011年第二四半期に比べると8%のダウン。
Huawei は2012年第二四半期もブロードバンドアグリゲーション機器の世界市場を牽引し続けている。 Alcatel-Lucentは China Telecom と China Unicomで採用されたGPONのお陰で浮上し、 ZTEを抜いて第2位に躍り出た。
EMEA (欧州、中東およびアフリカ)での DSL 機器収益は、過去3四半期連続で下降傾向だったが、2012年第二四半期に11%成長した。しかし、それでも前年比で考えるとダウンしている。通信事業者が長期的に銅線離れを続けているためだ。
REPORT SYNOPSIS
Infonetics' quarterly PON, FTTH, and DSL Aggregation report provides worldwide and regional market size, select vendor market share, forecasts, and analysis for 1.25G, 2.5G, and 10G EPON, 2.5G and 10G GPON, FTTH, FTTB, PON, and DSL aggregation equipment. The report also tracks FTTH, FTTB+LAN, and DSL subscribers. Companies tracked include ADTRAN, Alcatel-Lucent, Allied Telesis, Calix, Cisco, Dasan, ECI Telecom, Ericsson, Fiberhome, Fujitsu, Huawei, Iskratel, Mitsubishi, Motorola, NEC, Nokia Siemens, OF Networks, PacketFront, Sumitomo, Tellabs, UTStarcom, Zhone, ZTE, ZyXEL, and others.
(原文)

Broadband aggregation market rebounds; North American GPON spending tops $100 million

Campbell, CALIFORNIA, August 21, 2012-Market research firm Infonetics Research today released preliminary analysis and vendor market share standings from its 2nd quarter 2012 (2Q12) PON, FTTH, and DSL Aggregation Equipment and Subscribers report. (Full report with forecasts and detailed analysis will be published August 29.)
ANALYST NOTE
"Stimulus-based broadband deployments and Verizon's continued purchase of optical network terminals are finally starting to move the needle in North America, where spending on GPON equipment surpassed the $100 million mark for the first time since 2010," notes Jeff Heynen, directing analyst for broadband access and video at Infonetics Research.

Heynen adds: "China posted its second largest PON quarter on record, thanks to both new and ongoing projects at big 3 operators China Telecom, China Unicom, and China Mobile."
BROADBAND AGGREGATION MARKET HIGHLIGHTS
Broadband aggregation equipment revenue rose 5% in 2Q12 over the previous quarter, to $1.72 billion
2011 saw record spending on broadband aggregation gear, especially in China, so year-over-year growth in 2012 is going to be challenging; case in point: 2Q12 global revenue, while up from the previous quarter, is down 8% from 2Q11
Huawei maintained its lead in the global broadband aggregation equipment market in 2Q12; Alcatel-Lucent, buoyed by GPON wins at China Telecom and China Unicom, moved into the #2 spot, above ZTE
Following 3 straight quarterly declines, DSL equipment revenue in EMEA (Europe, the Middle East and Africa) grew 11% in 2Q12, but is still down year-over-year as operators continue the long-term move away from copper