2012年9月27日 カリフォルニア州キャンベル発-市場調査会社Infonetics Researchは、2012年第二四半期版CMTSおよびエッジQAMハードウェアと加入者 ((2Q12) CMTS and Edge QAM Hardware and Subscribers market size, vendor market share, and forecast report)の市場規模、ベンダー市場シェア、予測レポートの抜粋を公表した。レポートでは、ケーブルブロードバンド機器と加入者の進展を追っている。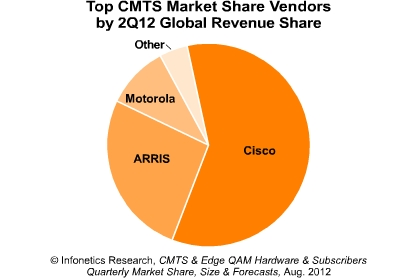 アナリストノート
Infonetics Researchでブロードバンドアクセスとビデオを担当するアナリスト、Jeff Heynenは次のように述べています。「CMTSとエッジQAMの収益は、2四半期連続で増加した後、年初には十分なサービス収容力が得られ新たな投資を止めてしまったため、第二四半期で減少しました。」

さらにHeynenはこう付け加えます。「しかし、次に利用できる技術として統合型ケーブルアクセスプラットフォーム (CCAP) が控えているにも関わらず、CMTSチャンネルの出荷は前年比2%で増加しており、2011年直後にはケーブルブロードバンド業界で最大の出荷を記録しました。ここには明らかにDOCSIS 3.0準拠に向かう流れがあり、ケーブルテレビ統括運営事業者 (MSO) はブロードバンドで大きな存在であり続けます。」
CMTSとエッジQAM市場のハイライト
2012年第二四半期には、CMTSとエッジQAMの世界全体での収益は9%落ちて、4.09億ドルとなった。
2012年第二四半期、アジア太平洋地域では世界の流れに反して、CMTSとエッジQAMの収益はかろうじて小さな増加を続けた。
2012年第二四半期、Ciscoは世界でのCMTSの収益市場シェアのリードを4ポイント広げ、2位のARRIS は1ポイントを獲得し、3位のMotorolaは6ポイント失った。
Infoneticsでは、DOCSIS準拠の帯域幅、CCAPの展開、およびIPビデオをサポートするために、2012年から2016年の5年間で、世界中の事業者はCMTSとQAM機器に累積112億ドルを費やすと予測している。
Infoneticsの予想では、2012年には世界中でケーブルブロードバンド加入者数が1.11億に達し、通常のブロードバンド加入者数は徐々に減る一方で、広帯域ブロードバンド加入者数が顕著に増加すると見ている。
REPORT SYNOPSIS
Infonetics' quarterly CMTS and Edge QAM report provides worldwide and regional market size, vendor market share, forecasts, and analysis for CMTS and edge QAM (linear broadcast, VoD and unicast video, switched digital video, and DOCSIS/M-CMTS) equipment and cable broadband subscribers (standard and wideband), and CCAP. Companies tracked include ARRIS, BigBand Networks, Casa Systems, Cisco, Ericsson, Harmonic, Motorola, and others.
(原文)

Cisco extends CMTS lead; channels up year-over-year on DOCSIS 3.0 momentum

Campbell, CALIFORNIA, September 27, 2012-Market research firm Infonetics Research released excerpts from its 2nd quarter 2012 (2Q12) CMTS and Edge QAM Hardware and Subscribers market size, vendor market share, and forecast report, which tracks cable broadband equipment and subscribers.
ANALYST NOTE
"After 2 straight quarters of increases, CMTS and edge QAM revenue fell in the 2nd quarter as operators paused spending to deploy new capacity gained earlier in the year," notes Jeff Heynen, directing analyst for broadband access and video at Infonetics Research.

Heynen adds: "Still, CMTS channel shipments are up 2% year-over-year despite the looming availability of converged cable access platforms (CCAP), and on the heels of 2011, cable broadband's largest on record. Clearly there is momentum behind DOCSIS 3.0 deployments and the MSOs continue to be big on broadband."
CMTS AND EDGE QAM MARKET HIGHLIGHTS
Globally, CMTS and edge QAM revenue fell 9% in 2Q12, to $409 million
Asia Pacific bucked the global trend, eking out a small sequential increase in CTMS and edge QAM revenue in 2Q12
Cisco extended its worldwide CMTS revenue market share lead by 4 points in 2Q12, while #2 player ARRIS gained a market share point and #3 Motorola lost 6 points
Over the 5 years between 2012 and 2016, Infonetics forecasts that operators will spend a cumulative $11.2 billion worldwide on CMTS and QAM equipment, to support growth in DOCSIS bandwidth, CCAP deployments, and IP video
Infonetics expects the number of cable broadband subscribers to approach 111 million worldwide in 2012, with standard broadband subscribers declining slowly and wideband broadband subscribers rising fast