マサチューセッツ州、ボストン、2012年10月17日 - 市場調査会社 Infonetics Researchは IP、ケーブル、サテライト、ハイブリッド・セット・トップボックス (STBs) 及びオーバーザトップ (OTT) メディアサービスを追跡した最近のビデオ・リポートであるSet-Top Boxes and Subscribersからの抜粋を発表した。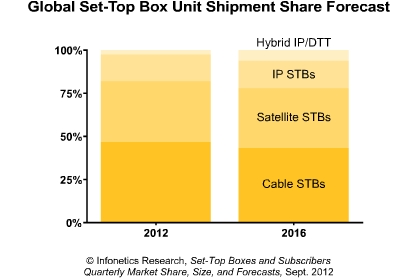 アナリストノート
「最も大きな成長はアジア太平洋地域、特に中国が顕著ですが、DirecTVとDish Networkが依然として加入者数の成長を見せ、Dish's Hopperのようなより高性能のSTBに対する新たな関心が集まっているラテンアメリカと北アメリカにおいても同様に強い成長を見せています」ブロードバンド・アクセス及びペイTV担当主任アナリストJeff Heynenは指摘する。
セットトップ・ボックス市場のハイライト
ケーブル、衛星、 IP 、ハイブリッドIP/DTTを含む世界的なセットトップ・ボックス市場は連続的に4%上昇し、2012年第2四半期には合計36億ドル市場になった。
サテライト・セットトップ・ボックスによって2012年第2四半期の収益が上昇していた間、IP とケーブルのボックスは双方とも下降していた。
2012年第2四半期に出荷された全STBのうち40%が高精細度(HD)能力を持ち、22%が DVR機能を持っていた。
アップルTVは北米で最も顕著なOTTメディア・サーバー・プラットホームであり、世界規模においてもいよいよ顕著になりつつある。
2四半期連続した成長の後、北米におけるケーブル STB 収益は10%下降した。
前四半期からの収益が2%下落しているにもかかわらず、Ciscoは万年業界トップのMotorolaから世界的なセットトップ・ボックス収益シェアの主導権を奪った。
SET-TOP BOX REPORT SYNOPSIS
Infonetics' quarterly STB and Subscribers report provides worldwide and regional market share, size, forecasts, analysis, and trends for IP STBs, cable STBs, satellite STBs, hybrid IP/DTT, and OTT media servers, and video subscribers. Companies tracked include: ADB, Amino, Cisco, Coship, Dasan, DVN, Echostar, Huawei, Humax, Jiuzhou, Motorola, Netgem, Pace, Sagemcom, Samsung, Skyworth Digital, Sumitomo, Technicolor, ZTE, and others
(原文)

Satellite STBs surge in 2Q

Boston, Massachusetts, October 17, 2012-Market research firm Infonetics Research released excerpts from its recent video report, Set-Top Boxes and Subscribers, which tracks IP, cable, satellite, and hybrid set top boxes (STBs) and over-the-top (OTT) media servers.
ANALYST NOTE
"Satellite set-top boxes surged in Q2, with global shipments up 20% and revenue up 19% sequentially. The biggest growth is coming from the Asia Pacific region, particularly China, but growth is also strong in Latin America and North America, where DirecTV and Dish Network are seeing sustained subscriber growth and renewed interest in higher-function STBs like Dish's Hopper,"notes Jeff Heynen, directing analyst for broadband access and pay TV at Infonetics Research.
SET-TOP BOX MARKET HIGHLIGHTS
The global set-top box market, including cable, satellite, IP and hybrid IP/DTT, totaled $3.6 billion in 2Q12, up 4% sequentially
While revenue was up for satellite set-top boxes in 2Q12, it was down for both IP and cable boxes
40% of all STBs shipped in 2Q12 had high-definition (HD) capabilities and 22% had DVR functionality
Apple TV is the most prominent over-the-top media server platform in North America and, increasingly, the world
After 2 consecutive quarters of growth, cable STB revenue in North America declined 10%
Despite a 2% drop in revenue from the previous quarter, Cisco took the worldwide set-top box revenue share lead from perennial #1 Motorola