BOSTON, Massachusetts, 2012年10月23日-調査会社Infonetics Researchは最新のWireless LAN Deployment Strategies: North American Enterprise Surveyからその概要を発表した。この調査では、中規模・大規模企業によるアクセスネットワークの計画、新たな機器との職場でのワイヤレス接続の計画を詳しく検討している。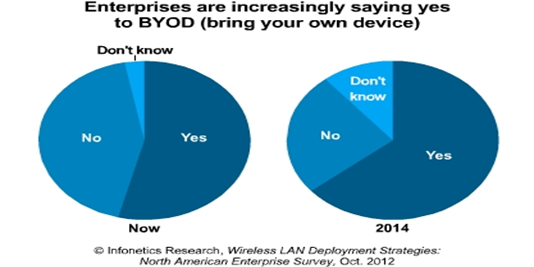 アナリストノート
「WLAN市場は最近賑やかである。これをもたらしているのは企業におけるワイヤレス機器の爆発的な採用である。」と、 Infonetics Researchで企業ネットワークとビデオを担当している上席アナリストであるMatthias Machowinski, は述べている。「当社の新しいwireless LAN study によると、このトレンドに終わりはない。ネットワーク上で新たに導入される機器はほとんどすべてがワイヤレスであり、多くの機関では、今後タブレットの使用が増加するとみている。モバイル機器を効果的にサポートするためには、ユーザーモビリティ、BYOD (自分の機器を職場に持ち込むこと)、頑強なワイヤレスインフラはもはや「あったらうれしいもの」ではなく、「なくてはならない」ものである。」
ワイヤレスLANサーベイのハイライト
Infoneticsの調査に参加した企業はワイヤレスのカバレッジとキャパシティを増加させる計画があり、WiFi機器によって生じる追加トラフィックに対応する予定である。wireless access points は2014年までに15%増加するとみられる。
調査対象企業の半分以上は自社の社員に私有の機器を職場に持ち込むことを容認している。2014年までにこの割合は3分の2になるとみている。
タブレットはどの企業でも見られるようになった。これは最も成長著しい機器の1つであり、BYOD現象の主要な促進要素である。
Cisco はWLANベンダーのトップに挙げられた。調査対象社の61%が回答した。
次世代アクセスポイント(AP)に対する企業の関心には根強いものがあり、回答企業はインストールしたAPを802.11nにアップグレードすることを計画しているほか、すでに802.11ac APを視野に入れている。しかしながら、利用可能性が十分でないのと料金に問題がある。
WLAN DEPLOYMENT STUDY SYNOPSIS
For its 33-page WLAN Deployment Strategies study, Infonetics asked purchase-decision makers at 105 medium and large businesses in the U.S. and Canada about their plans for delivering wireless connectivity in the workplace over the next 2 years. Survey respondents were asked about network-connected devices installed; Ethernet switch ports, WLAN controllers, and WLAN access points deployed now and in the future; WLAN technologies used (802.11a/b/g, 802.11n, 802.11ac); drivers of access network traffic growth; WLAN and LAN equipment vendors; and expenditures.
(原文)

Enterprises planning major wireless LAN upgrades

BOSTON, Massachusetts, October 23, 2012-Market research firm Infonetics Research released excerpts from its new Wireless LAN Deployment Strategies: North American Enterprise Survey, which takes an in-depth look at the access network plans of medium- to large-size companies and their plans for delivering wireless connectivity in the workplace to new classes of devices.
ANALYST NOTE
"The WLAN market has been on a tear in recent years, driven by the explosion of wireless devices in the enterprise," notes Matthias Machowinski, directing analyst for enterprise networks and video at Infonetics Research. "Our new wireless LAN study shows that there is no end in sight to this trend: almost all new devices on the network are wireless, and many organizations expect their tablet usage to surge in the coming years. In order to effectively support mobile devices, user mobility, and BYOD (bring your own device), a robust wireless infrastructure is no longer a nice to have, but a must have."
WIRELESS LAN SURVEY HIGHLIGHTS
Enterprises participating in Infonetics' survey are planning to increase wireless coverage and capacity to accommodate the additional traffic generated by WiFi devices; wireless access points are expected to grow by 15% by 2014
More than 1/2 of the companies surveyed allow employees to bring their own devices into the enterprise, increasing to almost 2/3 by 2014
Tablets are showing up at enterprises everywhere, and are one of fastest growing device types and chief drivers of the BYOD phenomenon
Cisco was named as the top WLAN vendor by 61% of survey respondents
Interest in next generation access points is strong, respondents are planning major upgrades of their installed APs to 802.11n, and are already eyeing 802.11ac APs, despite a lack of exact availability and pricing