イギリス、ロンドン、2012年10月24日-市場調査会社のInfonetics Researchは、ミリ波機器 (Millimeter Wave Equipment) の市場規模と予測に関する最新レポートの抜粋を公表した。同レポートでは、無認可のEバンド、認可有りのEバンド、Wバンドミリ波機器について、ネットワークの利用方法(アクセス、バックホール、トランスポート)に分類して追跡調査している。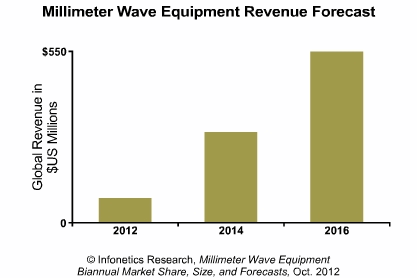 アナリストノート
「2010年に遡るClearwireのケースのように、単一の大規模オペレータによって人工的とも言えるような押し上げの後、ミリ波市場はバランス感覚を取り戻しました。そして、市場は、新たな成長の兆しを見せ始めていますが、今回は複数のオペレータによる展開が成長要因となっています。」
Infonetics Researchのマイクロ波、モバイルオフロード、モバイルブロードバンド機器担当ディレクティングアナリストであるRichard Webbが説明する。

そして、Webbはこう付け加える。
「当社はまだ、ミリ波市場に強気の見方をしており、機器の用途拡大、Eバンド帯の利用、そして、特に伸びつつあるスモールセルバックホール分野など、バックホール機能に対する絶え間ない需要により、今後も持続的な成長を続けて行くと予測しています。」
ミリ波機器市場のハイライト
全世界を合計したミリ波機器の収入は、2H11と比べて1H12は23%増加した。
ミリ波機器市場は、2016年に5億4600万ドルに達するとInfonetics は予測する。牽引するのは主に、バックホール接続を目的としたミリ波利用の伸びである。
認可有りEバンド(70-90GHz)は、2012年上半期のミリ波機器による総収入の69%を占めた。
Infoneticsは、モバイルバックホールへの利用を目的としたミリ波機器の割合が、4Gネットワークの展開に刺激され、2016年までに87%へ成長すると予測している。
北アメリカは現在、世界のミリ波機器市場の約35%を占めている。
BridgeWave、E-Band、Sikluは、ミリ波機器市場を牽引しているが、更に大規模な主流のマイクロ波ベンダーが、2013年から同セグメントに強い影響を及ぼすと見られる。
ミリ波機器を採用する上で最大の障壁となっているのは、特にモバイルバックホールなど、マイクロ波機器が継続して売れていることである。
REPORT SYNOPSIS
Infonetics' biannual Millimeter Wave Equipment report provides worldwide and regional market share, size, analysis, forecasts, and trends for unlicensed E band (60GHz), licensed E band (70-90GHz), and W band (75-110GHz) millimeter wave equipment by network application (access, backhaul, transport). The report tracks units, revenue, and ARPU and follows Aviat, BridgeWave, CableFree, E-Band, ECI Telecom, Ericsson, Fujitsu, GigaBeam, Huawei, Intracom, LightPointe, Loea, NEC, Proxim, SIAE, Siklu, Sub10 Systems, and others.
(原文)

Infonetics Research bullish on millimeter wave market

London, UK, October 24, 2012-Market research firm Infonetics Research released excerpts from its latest Millimeter Wave Equipment market share, size, and forecast report, which tracks unlicensed E-band, licensed E-band, and W-band millimeter wave equipment by network application (access, backhaul, and transport).
ANALYST NOTE
"After being somewhat artificially propped up by a single large operator as was the case back in 2010 with Clearwire, the millimeter wave market has gotten back its sea legs and is showing signs of renewed growth, this time from multiple operator deployments," notes Richard Webb, directing analyst for microwave, mobile offload, and mobile broadband devices at Infonetics Research.

Webb adds: "We're still bullish on the millimeter wave market and anticipate sustained growth coming as a result of the wider availability of products, the availability of E-band spectrum, and continued demand for backhaul capacity, particularly for the emerging small cell backhaul segment."
MILLIMETER WAVE EQUIPMENT MARKET HIGHLIGHTS
Globally, millimeter wave equipment revenue rose 23% in 1H12 over 2H11
The millimeter wave equipment market is forecast by Infonetics to top $546 million by 2016, driven largely by the increased use of millimeter wave for backhaul connections
Licensed E band (70-90GHz) accounted for 69% of total millimeter wave equipment revenue in the first half of 2012
Infonetics expects the percent of millimeter wave equipment revenue from mobile backhaul applications to grow to 87% by 2016, spurred by the deployment of 4G networks
North America now accounts for about 35% of the worldwide millimeter wave market
BridgeWave, E-Band and Siklu lead the millimeter wave equipment market, but larger mainstream microwave vendors are poised to make a mark on this segment from 2013 on
The biggest barrier to the adoption of millimeter wave is the continuing success of microwave, particularly for mobile backhaul