カリフォルニア州キャンベル、2012年11月14日-市場調査会社のInfonetics Researchは、Data Center Security Productsの市場シェア、規模、予測に関する最新レポートの抜粋を発表した。ここでは、仮想化セキュリティ機器とデータセンターセキュリティ機器について追跡調査している。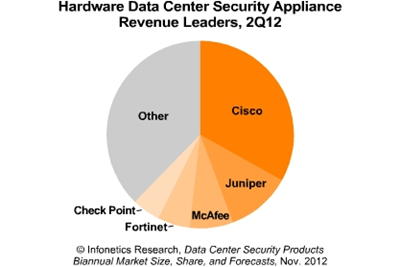 アナリストノート
「データセンターセキュリティに対する新たな投資の波が進行中です。 サービスプロバイダや企業は、データセンターの再構築を進めており、要求性能やネットワーク・アーキテクチャの他、仮想化への移行で生じる様々な脅威に対応した新しいセキュリティインフラを求めています」

Infonetics Researchのセキュリティ担当主席アナリストのJeff Wilsonが説明する。

「結果として、データセンターセキュリティに対する投資が急速に伸び、新興ベンダーがデータセンターセキュリティ市場におけるシェアを拡大しようと機会を探っています」
データセンターセキュリティ機器市場のハイライト
Infoneticsは、データセンター向けセキュリティ機器市場が2016年までに27億ドル規模へ成長すると予測している。
データセンター向けセキュリティ機器市場の四半期シェアは、セキュリティソリューション市場全体の規模とほぼ同等で、CiscoをトップにJuniper、McAfee、Fortinet、Check Pointが続いた。
仮想セキュリティアプライアンス部門では、前年第2四半期から収益が34%増加した。年間収益は2016年にかけて年平均21%成長すると見られる。成長要因となるのは、クラウドインフラの拡大、クラウド向けセキュリティの高度な可視化、仮想化サーバの急速な導入である。
仮想アプライアンスベンダーの競争環境は入り乱れ、既存のセキュリティベンダー、仮想プラットフォームベンダー、専門機器ベンダーなど様々な企業で構成されている。
REPORT SYNOPSIS
Infonetics' biannual data center security products report provides worldwide and regional market size, market share, forecasts, analysis, and trends for virtual security appliances (VPNs/firewalls, SSL VPNs, IDS/IPS, and content security gateways) and data center security appliances (integrated security appliances, DDoS appliances, IDS/IPS, and content security gateways). Vendors tracked include Arbor Networks, Blue Coat, Check Point, Cisco, Fortinet, GenieNRM, HP, ISS, Juniper, McAfee, Narus, SonicWALL, Sourcefire, Stonesoft, Symantec, Trend Micro, WatchGuard, Websense, and others.
(原文)

Wave of new spending underway in data center security market

Campbell, CALIFORNIA, November 14, 2012-Market research firm Infonetics Research released excerpts from its latest Data Center Security Products market share, size, and forecast report, which tracks virtual and data center security appliances.
ANALYST NOTE
"A wave of new spending on data center security is underway. Service providers and enterprises are rebuilding data centers, and they need new security infrastructures to keep up with the performance requirements, network architectures, and threats brought about by the move to virtualization and the cloud," notes Jeff Wilson, principal analyst for security at Infonetics Research. "As a result, data center security spending is growing rapidly, and new vendors are finding opportunities to grow their share of the data center security pie."
DATA CENTER SECURITY APPLIANCE MARKET HIGHLIGHTS
Infonetics forecasts the data center security appliance market to grow to $2.7 billion by 2016
Quarterly data center security appliance market share closely mirrors the overall security solution market, with Cisco leading, followed by Juniper, McAfee, Fortinet and Check Point
In the virtual security appliance segment, revenue is up 34% from the year-ago 2nd quarter and annual revenue is forecast to grow at a 21% CAGR through 2016, driven by cloud infrastructure buildouts, the high visibility of security as a barrier for cloud adoption, and the rapid adoption of server virtualization
The virtual appliance vendor landscape is a crowded one, comprising a mix of established security players, virtualization platform vendors, and specialist vendors