カリフォルニア州キャンベル、2012年11月19日-市場調査会社のInfonetics Researchは今日、2012年第3四半期(3Q12)のService Provider VoIP and IMS Equipment and Subscribersの市場シェア、規模、予測に関するレポートから抜粋を発表した(詳細な分析は12月3日に公表予定)。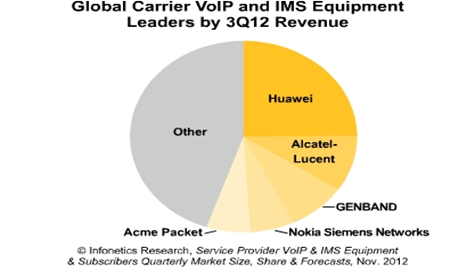 アナリストノート
「第3四半期で堅調な結果を残したキャリアVoIPとIMS設備の市場ですが、今後付随してくる一部の変動要素によって、プラスの前年比成長となる見込みです」

このように説明するのは、Infonetics ResearchでVoIP、UC、IMS担当の主席アナリストを務めるDiane Myers。

「まず1つ目に、我々は、既存のソフトスイッチとトランキングゲートウェイ市場において、ロングテール部分に踏み込もうとしています。ここでは、早い段階での設備更新や別の新たな取引などで、成長の低下を抑制したり、成長を安定化させたりする機会が生まれます。そして2つ目に、IMSの導入は拡大を続けており、VoLTEやワイヤレスなどの機器に対する散発的な支出が発生します」

Myersは更に説明する。

「このような要素を考慮しながら、我々の第4四半期の予測に基づけば、2012年は、VoIPとIMSの市場においてこの4年間で初となる年間成長が期待できると考えています」
3Q12のキャリアVOIP及びIMS機器市場のハイライト
世界的に見たサービスプロバイダのVoIP及びIMS設備市場は、前期に続いて3Q12も4%減となったが、前年同期比(3Q11)は8%増であった。
アジア太平洋とラテンアメリカ地域は、3Q12のVoIP及びIMS設備市場を牽引し、それぞれ前期に続いて高い一桁成長を記録。前年比では好調な2ケタ成長となった。
Huaweiは、VoIP及びIMS設備市場全体におけるリードを固め、市場の約1/4のシェアを獲得。IMSやNGN VoIPの製品ライン全般に渡る堅調な販売がこの原動力となった。
セッションボーダーコントローラー(SBC)セグメントでは、Sonusが今四半期に市場シェアを20%超まで急成長させ、Acme Packetの後を追う強力な2番手としての地位を固めた。
既存のIMSネットワークが拡大を続ける中、IMS市場では、Ericsson、Huawei、Nokia Siemens Networksの間で3Q12に熾烈な争いが繰り広げられた。
REPORT SYNOPSIS
Infonetics' quarterly carrier VoIP and IMS report provides worldwide and regional market share, market size, forecasts, analysis, and trends for trunk media gateways, session border controllers (SBCs), media servers, Class 4 and Class 5 softswitches, voice application servers, IMS core equipment (HSS, BGCF, MGCF, CSCF servers), IMS application servers, and VoIP and IMS subscribers. Companies tracked include Acme Packet, Alcatel-Lucent, AudioCodes, BroadSoft, Dialogic, Ericsson, GENBAND, Huawei, Italtel, Mavenir, MetaSwitch, NEC, Nokia Siemens Networks, RadiSys, Sonus, Technicolor, Xener, ZTE, and others.
(原文)

Carrier VoIP and IMS equipment market up 8% year-over-year on the back of IMS

Campbell, CALIFORNIA, November 19, 2012-Market research firm Infonetics Research today released excerpts from its 3rd quarter 2012 (3Q12) Service Provider VoIP and IMS Equipment and Subscribers market share, size, and forecasts report. (Detailed analysis will be published December 3.)
ANALYST NOTE
"With solid third quarter results, the carrier VoIP and IMS market is on track for positive year-over-year growth due to a handful of variables that are coming together," notes Diane Myers, principal analyst for VoIP, UC, and IMS at Infonetics Research. "First, we're entering the long-tail of the legacy softswitch and trunking gateway market, with opportunities for early equipment replacement and new deals that will help slow declines and provide stabilization. Second, IMS deployments continue to grow, and there are pockets of VoLTE and wireless spending."

"Given these factors, and based on our fourth quarter projections," Myers continues, "We're anticipating that 2012 will provide the first annual growth in the carrier VoIP and IMS market in over four years."
3Q12 CARRIER VOIP AND IMS MARKET HIGHLIGHTS
The global service provider VoIP and IMS market was down 4% sequentially in 3Q12, but is up 8% from the year-ago quarter (3Q11)
Asia Pacific and Latin America carried the VoIP and IMS market in 3Q12, each posting high single-digit sequential growth and strong double-digit year-over-year increases
Huawei strengthened its lead in the overall VoIP and IMS market, now at around 1/4 market share, through solid sales across its IMS and NGN VoIP product lines
In the session border controller (SBC) segment, Sonus jumped to over 20% market share in the quarter, solidifying their position as a strong number two after Acme Packet
In the IMS market, it was another tight battle in 3Q12 between Ericsson, Huawei and Nokia Siemens Networks as we see continued expansion within existing IMS networks