カリフォルニア州キャンベル、2012年11月28日-市場調査会社のInfonetics Researchは、2012年第3四半期(3Q12)のData Center Network Equipmentレポートから、アプリケーション・デリバリ・コントローラ(ADC)及びワイド・エリア・ネットワーク(WAN)最適化装置市場に関する予備調査を公表した(完全版は12月7日公表)。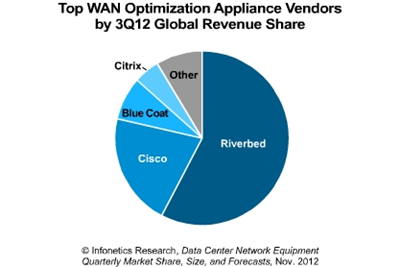 アナリストノート
「ADCとWANの最適化装置は、第3四半期に僅かな成長を記録しましたが、この市場の成長ペースは、対前年比で減速しました」

Infonetics Researchのデータセンター及びクラウド担当ディレクティングアナリストのSam Barnettが説明する。

「ADC装置市場では、売上収入の成長が減速しています。その理由は、仮想化ソリューションとハードウェアベースのソリューションのせめぎ合いによって、アプリケーションサービスプロバイダ(ASP)が減少しているため。そして、ハイエンドのWAN最適化装置市場が飽和し、短期的な成長に圧力を及ぼしているためです」

Barnettは続ける。

「とは言え、この状況は変わっていくと信じています。主流となる仮想化ソリューションがますます増え、WAN最適化装置やアプリケーション・デリバリ・コントローラ装置の市場が、より大きな成長を再び取り戻そうとしているからです」
データセンターネットワーク装置市場のハイライト
ADC装置の世界収入は、3Q12に前期比5%上昇した。しかし、前年比成長率は再び減速して+6%となり、3Q11の前年比成長率である+27%から低下した。
F5は、ADC装置市場を牽引し続け、3Q12は約半分の収入シェアを握った。CitrixとCiscoは、市場トップ3の地位を確実なものとしている。
Ciscoは先日、ADC装置市場から撤退する意向を発表。これにより今後、F5とCitrixが、市場シェアを伸ばす可能性が生まれている。
WAN最適化装置の収入は、3Q12に前期比3%伸びたが、前年同期比で4%減となった。
不動のリーダーRiverbedは、3Q12に再びWAN最適化装置市場を席巻し、市場シェアの約3/5を占めた。一方、Ciscoは、第2位の地位を固く守り抜いた。
REPORT SYNOPSIS
Infonetics' quarterly data center network equipment report provides worldwide and regional market size, vendor market share, forecasts, analysis, and trends for data center Ethernet switches (general purpose, purpose-built, and blade switches), ADCs, and WAN optimization appliances. Companies tracked include Alcatel-Lucent, Blue Coat, Brocade, Cisco, Citrix, Dell, F5, HP, IBM (BNT), Juniper, Radware, Riverbed, and others.
(原文)

ADC, WAN optimization markets decelerate in Q3; virtualization to boost growth down the road

Campbell, CALIFORNIA, November 28, 2012-Market research firm Infonetics Research released preliminary results for the application delivery controller (ADC) and wide area network (WAN) optimization markets from its 3rd quarter 2012 (3Q12) Data Center Network Equipment report. (Full report published December 7.)
ANALYST NOTE
"While ADCs and WAN optimization appliances posted modest revenue gains in the 3rd quarter, the pace of growth in these segments decelerated year-over-year," notes Sam Barnett, directing analyst for data center and cloud at Infonetics Research. "Top-line revenue growth in the ADC market is slowing due to the lower ASPs associated with virtual solutions versus their hardware-based counterparts, and saturation at the high end of the WAN optimization market is pressuring near-term growth."

"That said," Barnett adds, "We believe this will change as more virtualized solutions enter the mainstream, helping to restore higher levels of overall growth to the WAN optimization and application delivery controllers markets."
DATA CENTER NETWORK EQUIPMENT MARKET HIGHLIGHTS
Worldwide ADC revenue rose 5% in 3Q12 from 2Q12, but year-over-year (YoY) growth decelerated again and now stands at +6%, falling from +27% YoY growth in 3Q11
F5 continues to lead the pack in ADCs, capturing nearly half of 3Q12 revenue; Citrix and Cisco round out the top 3 market share slots
Cisco recently announced its intention to exit the ADC market, presenting an opportunity for F5 and Citrix to grow market share going forward
WAN optimization revenue grew 3% sequentially in 3Q12, but is down 4% from the year-ago 3rd quarter
Perennial leader Riverbed again dominated the WAN optimization segment in 3Q12, with almost 3/5 market share; Cisco remains solidly in 2nd place