2012年12月5日、カリフォルニア州キャンベル-市場調査会社のInfonetics Researchは、2012年第3四半期(3Q12)の2G, 3G, 4G (LTE and WiMAX) Infrastructure and Subscribersの市場シェア、市場予測に関するレポートの抜粋を公表した。このレポートでは、2G、3G、4G(LTEおよびWiMAX)のネットワーク機器と契約者について継続的に追跡調査している。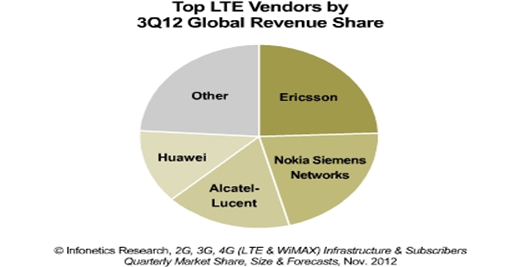 アナリストノート
Infonetics Researchでモバイルインフラ及びキャリア経済を担当している主席アナリストのStephane Teralは、次のように説明している。

「世界全体でLTE機器の売上が30%と急増する中、アメリカ、日本、韓国では、第3四半期にLTE市場が堅調な動きを見せたのとは対照的に、BRICの国々では動きの弱さが見られました。」

Teralは、更にこう付け加える。

「LTE機器は、今期唯一の明るい材料で、主にCDMA機器など、残りのモバイルインフラ機器が市場全体の足を引っ張りました。市場は現在低迷していますが、我々は、現在進行中の変化が強力に推し進められると予測しています。従って2013年は、2G、3G、LTEの各機器がそれぞれ年間を通じて望ましい売上構成比になるでしょう。China Mobileは唯一、100,000を数える屋外型LTE無線基地局装置(eNodeB)を利用し、全国的にTD-LTEを展開する計画を立てています」
モバイルインフラ市場のハイライト
世界の2G/3G/4G(LTEおよびWiMAX含む)インフラ市場は、3Q12に前期比4.7%減、前年同期比4.0%減となった。
Nokia Siemens Networksは、3Q12にLTE収入が倍増し、LTE機器市場における順位が4位から2位へと急上昇した。市場リーダーEricssonとの差は大きく縮まり、Alcatel-LucentとHuaweiを追い抜いた。
LTEインフラ機器による世界の売上は、前年同期比131%増となった。
Infoneticsでは、LTE契約者が2012年に約5倍伸び、世界全体で5100万人に達すると予測している。
Global Mobile Suppliers Associationは、商業LTEネットワークの数が年末には166に達すると見ている。
CDMA2000は、長く伸びる減少カーブを反映して3Q12も急低下が止まらず、前期比で16%減、前年比で46%減となった。
WiMAXエコシステムは縮小傾向にある。LTEの長期的な将来性に賭けて、当該技術をサポートするベンダーが数少なくなっている。
REPORT SYNOPSIS
Infonetics' quarterly 2G, 3G, 4G (LTE and WiMAX) report provides worldwide and regional market size, vendor market share, analysis, deployment trackers, and forecasts for LTE, WiMAX, and 2G/3G mobile network equipment and subscribers. The report tracks more than 50 subsegments of the market, including radio access networks (RAN), base transceiver stations (BTSs), mobile softswitching, packet core equipment, and E-UTRAN macrocells. Vendors tracked include Airspan, Alcatel-Lucent, Alvarion, Cisco, Datang Mobile, Ericsson, Fujitsu, GENBAND, HP, Huawei, NEC, NewNet, Nokia Siemens Networks, Proxim, Redline Communications, Samsung, UTStarcom, ZTE, and many others.
(原文)

LTE jumps 30% in Q3, NSN doubles LTE revenue; mobile gear set for growth in 2013

Campbell, CALIFORNIA, December 5, 2012-Market research firm Infonetics Research released excerpts from its 3rd quarter 2012 (3Q12) 2G, 3G, 4G (LTE and WiMAX) Infrastructure and Subscribers market share and forecasts report, which tracks 2G, 3G, and 4G (LTE and WiMAX) network equipment and subscribers.
ANALYST NOTE
"We saw strong LTE activity in the U.S., Japan, and South Korea in the third quarter, contrasted by weak activity in the BRIC countries, for a total 30% bump in LTE equipment sales worldwide," notes Stephane Teral, principal analyst for mobile infrastructure and carrier economics at Infonetics Research.

Teral adds, "LTE was indeed the lone bright spot this quarter, as the rest of the mobile infrastructure market dragged the overall market down, led by a sharp drop in CDMA gear. Despite the current lethargy, we anticipate a strong pipeline moving forward, with 2013 fully charged with a good mix of 2G, 3G, and LTE equipment purchases. China Mobile alone has a nationwide TD-LTE rollout plan of 100,000 eNodeBs."
MOBILE INFRASTRUCTURE MARKET HIGHLIGHTS
In 3Q12, the global 2G/3G/4G (including LTE and WiMAX) infrastructure market was down 4.7% from the previous quarter and down 4.0% from the year-ago quarter
Nokia Siemens Networks jumped from #4 to #2 in the LTE equipment market after more than doubling its LTE revenue in 3Q12, significantly closing the gap with market leader Ericsson and passing Alcatel-Lucent and Huawei
From the year-ago 3rd quarter, global LTE infrastructure sales are up 131%
Infonetics forecasts LTE subscribers to grow nearly 5-fold to top 51 million worldwide in 2012
The Global Mobile Suppliers Association expects 166 commercial LTE networks by year end
CDMA2000 continued its freefall in 3Q12, down 16% sequentially and down 46% year-over-year, reflecting the beginning of the long declining tail curve
The WiMAX ecosystem is shrinking, with fewer vendors continuing to support the technology as they stake their long-term futures on LTE