2012年12月12日、カリフォルニア州キャンベル-市場調査会社のInfonetics Researchは、第3四半期(3Q12)のNetwork Security Appliances and Softwareの市場シェア、市場予測レポートから抜粋を発表した。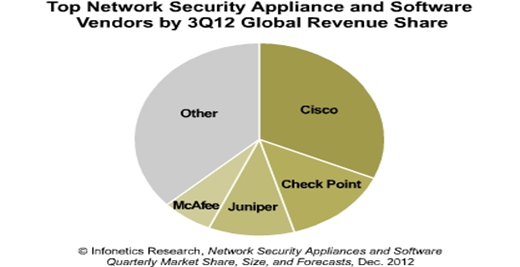 アナリストノート
「ネットワークセキュリティベンダー上位3社における前期比の収入結果を見ると、Ciscoは1.5%増、Check Pointは3.2%増、Juniperは11.1%でした」

Infonetics Research でセキュリティ担当の主席アナリストを務めるJeff Wilsonが説明する。

「第3四半期のネットワークセキュリティ機器とソフトウェアの市場は、全体的に堅調な成長ぶりを見せました。そして、季節的で急激な予算消化があるため、第4四半期はいつもの如く大幅に成長する可能性があります」
3Q12のネットワークセキュリティ市場のハイライト
ネットワークセキュリティ機器及びソフトウェアによる世界の収入は、前年同期比7%増と力強い成長を示した。
4Q11以降、統合型セキュリティ機器は毎期に渡ってシェアを伸ばしているが、3Q13までこの四半期成長は継続するとInfoneticsは予測している。
Palo Alto NetworksがIPOを成功させ、安定した財務実績を実現したことで、かなり停滞した統合型セキュリティ機器市場に新たな活力が吹き込まれたため、2013年はシェアを巡る白熱した戦いが予想される。
モバイルマルウェアは制御不能な状態である。McAfeeは1年前、モバイルマルウェアのサンプルが3000種未満しかデータベースに存在しなかったが、現在では約25,000種にまで増えている。
NETWORK SECURITY REPORT SYNOPSIS
Infonetics' quarterly network security report provides worldwide and regional market size, vendor market share, forecasts, analysis, and trends for integrated security appliances, secure routers, SSL VPN gateways, VPN and firewall software, and network-based intrusion detection and prevention (IDS/IPS) products. Vendors tracked include AEP, Alcatel-Lucent, Array Networks, CA, Check Point, Cisco, Citrix, D-Link, Enterasys, eSoft, F5, Fortinet, GTA, HP, Huawei, ISS, Juniper, McAfee, NetASQ, Palo Alto Networks, SonicWALL, Sourcefire, Stonesoft, WatchGuard, ZyXEL, and others.
(原文)

Network security up 7% from year-ago 3rd quarter as buyers move to integrated solutions

Campbell, CALIFORNIA, December 12, 2012-Analyst firm Infonetics Research released excerpts from its 3rd quarter (3Q12) Network Security Appliances and Software market share and forecast report.
ANALYST NOTE
"Looking at the top 3 network security vendors' quarter-over-quarter revenue performance, Cisco increased 1.5%, Check Point increased 3.2%, and Juniper increased 11.1%," notes Jeff Wilson, principal analyst for security at Infonetics Research. "Overall the network security appliance and software market saw moderately strong growth in the 3rd quarter and there is always potential for a great 4th quarter because of seasonal budget flush."
3Q12 NETWORK SECURITY MARKET HIGHLIGHTS
Global network security appliance and software revenue is up a strong 7% from the year-ago 3rd quarter
Integrated security appliances have gained share every quarter since 4Q11, and Infonetics is forecasting continued quarterly gains through 3Q13
Palo Alto Networks' successful IPO and strong financial performance have breathed life into the fairly stale integrated appliance market share picture, setting the stage for heated share battles in 2013
Mobile malware is out of control: McAfee had fewer than 3,000 mobile malware samples in its database just a year ago, growing to around 25,000 samples today