2013年1月22日、カリフォルニア州キャンベル-市場調査会社のInfonetics Researchは、最新レポートのEthernet over Coax (EoC) Equipment and Subscribers in Chinaから抜粋を発表した。このレポートでは、EoCのマスター・ヘッドエンド機器およびモデム機器について、市場規模や契約者を追跡調査している。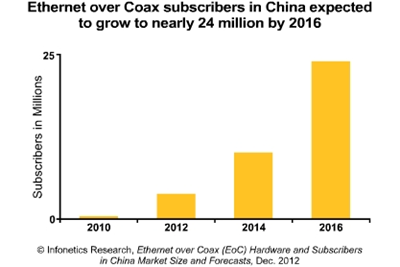 アナリストノート
「中国のTV契約者数は現在2億人で、急速な増加を続けていますが、これは国内のケーブルTV事業者が巨大なブロードバンドサービスプロバイダへと成長し、China TelecomやChina Unicomに勝負を挑む大きなチャンスであることを示しています」

Infonetics Researchでブロードバンドアクセス及びペイTV担当のディレクティングアナリストを務めるJeff Heynenは、こう述べている。

「ケーブルTV事業者は、中国が集合住宅の支配する環境であることを考慮し、Ethernet over Coax技術を利用してブロードバンドサービスの迅速展開を図り、ファイバーの導入に対抗しようとしています」

そして、Heynenはこう続ける。
「しかし、ケーブルTV事業者は、設備の統合や更新を進めている最中です。今後控える組織上と運営上の課題を見据えれば、彼らは比較的長期を通じてEoCの展開を広げて行きたいと考えるでしょう。というのは、どの技術を利用するか、どの市場を最優先するか、そしてほぼあるいは全く経験の無い市場サービスに打ち勝つにはどうするか、などについて見極めを進めているからです」
EOC市場のハイライト
中国のEthernet over Coax (EoC)機器市場(マスター・ヘッドエンド機器、モデムを含む)は、2011年から2016年にかけて年平均成長率(CAGR)33%で成長するとInfoneticsは予測している。
EoCモデムの出荷数は、2016年までに6倍へ成長し、全EoC収入の約70%を占めるようになると予測される。
中国には現在、370万人のEoC契約者が存在するが、2016年には2400万人近くまで成長すると見られる。
REPORT SYNOPSIS
Infonetics' annual EoC equipment and subscribers report provides market size, forecasts, analysis, and trends for Ethernet over Coax (EoC) equipment and subscribers in China, including EoC master/headend units and modems (HomePlug AV/BPL, C-DOCSIS, HiNOC, MoCA, HomePNA/HCNA, and WiFi over Coax [WOC]) used by cable operators.
(原文)

Huge market potential for Ethernet over Coax in China; Cablecos prepare for broadband fight

Campbell, CALIFORNIA, January 22, 2013-Market research firm Infonetics Research released excerpts from a new report, Ethernet over Coax (EoC) Equipment and Subscribers in China, which tracks market size and subscribers for EoC master/headend and modem hardware.
ANALYST NOTE
"The number of TV subscribers in China is 200 million and growing fast, presenting a huge opportunity for cable TV operators there to become significant fixed broadband service providers, challenging China Telecom and China Unicom," notes Jeff Heynen, directing analyst for broadband access and pay TV at Infonetics Research. "Given China's unique multi-dwelling unit-dominated environment, cable operators are using Ethernet over Coax technology to quickly roll out broadband services to compete with fiber deployments."

Heynen continues: "But the cable companies are in the process of consolidating and retooling, and given the organizational and operational challenges that lay ahead, they'll want to spread EoC rollouts over a longer period of time as they sort out which technologies to use, which markets to target first, and how to best market services they have little to no experience providing."
EOC MARKET HIGHLIGHTS
Infonetics forecasts the market for Ethernet over Coax (EoC) equipment in China, including master/headend units and modems, to grow at a 33% compound annual growth rate (CAGR) from 2011 to 2016
EoC modem shipments are expected to grow sixfold by 2016, when they will make up around 70% of total EoC revenue
There are currently 3.7 million EoC subscribers in China, growing to nearly 24 million by 2016