2013年1月22日、カリフォルニア州キャンベル-市場調査会社Infonetics Researchは、Multi-screen TV Service Deployment Strategies: Global Service Provider Surveyの結果の抜粋を発表した。この調査でInfoneticsはペイTV事業者にマルチスクリーンビデオサービスや様々な機器を使って視聴者にライブやファイルベースのビデオコンテンツを提供するプランについてインタビューしている。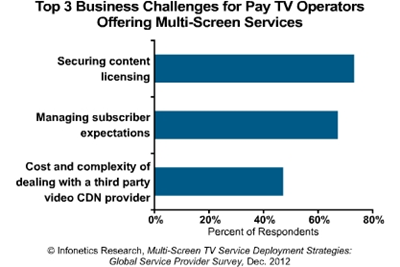 アナリストノート
「マルチスクリーンサービスは世界のペイTV事業者にとって、急速に必須サービスとなりつつある。事業者は提供するコンテンツに注力し続けることによって、視聴者や広告主を満足させている。」とインフォネティクス・リサーチのブロードバンドアクセス&ペイTV部門のダイレクティング・アナリストのJeff Heynenはコメントしている。

しかし、コンシューマエレクトロニクス&モバイルブロードバンド部門のダイレクティング・アナリストのJulien Blinは注意を促している。「マルチスクリーンの世界でのコンテンツの安全を懸念しているコンテンツオーナーとライセンスを結ぶことに関しては特に大きな試練が残っている。さらにこれは視聴者が自由に選べるケーブルコンテンツや最近話題となっているトピックを提供するにあたっても大きな障害となっている。」
マルチスクリーンTV調査のハイライト
調査回答者の約半数が今日のマルチスクリーンサービス提供手段の一つとしてタブレットを支持しており、その回答者数は2014年までに100%に到達すると見られる。
マルチスクリーンサービスの一環としてのモバイルOSに関しては、インタビューした40%の事業者がAndroid、iOSプラットフォームを支持。
調査回答者の中では、顧客離れを防ぎ、顧客ロイヤルティを上げることが最優先事項に挙げられている。
調査に回答した事業者が直面している最大の試練はコンテンツのライセンス取引である。
SURVEY SYNOPSIS
For its 24-page multi-screen TV survey, Infonetics interviewed purchase-decision makers at incumbent and cable operators from EMEA, North America, and Asia Pacific in November and December 2012 about their plans for delivering multi-screen video. The study provides insights into business drivers and challenges, technological challenges, types of devices and mobile operating systems supported, transcoding and delivery methods, number of broadcast channels and VOD titles offered, and value-added services.
(原文)

Multi-screen content licensing still a major headache for pay TV operators, Infonetics survey shows

Campbell, CALIFORNIA, January 22, 2013-Market research firm Infonetics Research released excerpts from its new Multi-Screen TV Service Deployment Strategies: Global Service Provider Survey, for which Infonetics interviewed pay TV operators about their plans for multi-screen video services and delivering live and file-based video content to subscribers with multiple devices.
ANALYST NOTE
"Multi-screen services are quickly becoming a critical service for pay TV operators worldwide," notes Jeff Heynen, directing analyst for broadband access and pay TV at Infonetics Research. "By keeping attention focused on the content they're providing, operators keep subscribers and advertisers happy."

"But," cautions Julien Blin, Infonetics' directing analyst for consumer electronics and mobile broadband, "Significant challenges remain, particularly when it comes to securing licensing arrangements with content owners who are concerned about the security of their content in a multi-screen world. This is also one of the major hurdles to offering ? la carte cable content, a hot topic these days."
MULTISCREEN TV SURVEY HIGHLIGHTS
Nearly half of survey respondents support tablets as part of their multi-screen service today, growing to 100% by 2014
When it comes to supporting mobile OS as part of a multi-screen service, 40% of operators interviewed prefer the Android and iOS platforms
Among survey respondents, the need to reduce churn and increase customer loyalty was rated a top business driver
Securing content licensing deals is the #1 business challenge facing respondent operators