2013年2月25日カリフォルニア州 Campbell発―市場調査会社Infonetics Researchは、2012年第4四半期(4Q12)及び年末のEnterprise Unified Communications and Voice Equipmentレポートから、ベンダーの市場シェアと予備分析を発表した。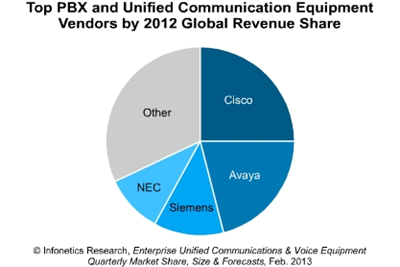 アナリストノート
「2年に渡る緩やかな成長を経験したPBX市場でしたが、2012年は厳しい年となりました。出荷数は増加したものの、価格削減の圧力が続き、売上が世界的に押し下げられ、欧州の厳しい経済環境により状況がますます悪化しました。

Infonetics ResearchのVoIP、UC、IMS担当主席アナリストであるDiane Myersは、このように説明する。

「明るい側面としては、ユニファイドコミュニケーション市場が、Microsoftと同社のLyncプラットフォームに牽引され好調な1年を終えました。」

Myersは続ける。「我々としては、2013年にPBX市場が再びプラス成長へ転じると見ています。そして、大・中規模の企業らが柔軟性と生産性の改善を目指しているため、UCアプリケーションの力強い導入が今後も続き、緩やかな成長が期待できるでしょう」
企業向け電話通信機器市場のハイライト
2012年のPBX/KTS市場は、全世界で81億ドルとなり、2011年から4%の減少となった。EMEA地域のみが10%減を記録した。
2012年、ユニファイドコミュニケーション部門は前年比8%増となった。
北米とアジア太平洋地域は、2012年にPBX売上が純増した唯一の地域で、それぞれ前年比2%と1%の緩やかな成長を見せた。
ピュアIP PBXのライセンスは、2012年に11%増となった。
Ciscoは、PBX/KTS市場で6四半期連続の売上トップを守った。AvayaとSiemensは、トップ3の地位を固めた。
企業向け電話通信機器市場では、3社のベンダーのみが、2012年に売上の前年比増を記録した。Cisco、Mitel、ShoreTelである。
Infoneticsは、特にユニファイドコミュニケーション部門のMicrosoftとCiscoなどの間で、2013年もベンダー間の激しい競争が続くと予想している。
レポート概要
Infoneticsが四半期ごとに発表している企業向け電話通信機器に関するレポート では、TDM PBX及びKTSシステム、ハイブリッド及びピュアIP PBX、IP PBXについて、システム規模、VoIPゲートウェイ、ユニファイドコミュニケーション、IPデスクフォン及びソフトフォンなどに分類し、世界及び各地域の市場規模、ベンダーの市場シェア、分析、予測、トレンドを掲載している。 調査対象の企業は以下である。 Aastra、Alcatel-Lucent、Avaya、Cisco、HP (3Com)、D Link、LG Ericsson、Microsoft、Mitel、NEC、Polycom、 Samsung、ShoreTel、Siemens、Sonus、Toshiba、その他
(原文)

PBX revenue falls despite demand; Unified communications vendor battle looming

Campbell, CALIFORNIA, February 25, 2013-Market research firm Infonetics Research released vendor market share and preliminary analysis from its 4th quarter 2012 (4Q12) and year-end Enterprise Unified Communications and Voice Equipment report. (Full report published March 4.)
ANALYST NOTE
"Following two years of modest growth, the PBX market had a tough 2012. While shipments grew, competitive pricing pressure persisted, driving down worldwide revenues, exacerbated by Europe's tough economic conditions," notes Diane Myers, principal analyst for VoIP, UC, and IMS at Infonetics Research.

"On a brighter note, unified communications ended the year on a high note, led by Microsoft and its Lync platform," Myers continues. "We expect the PBX market to move back into positive territory in 2013, with moderate growth in addition to continued strong adoption of UC applications by large and mid-market enterprises looking to improve flexibility and productivity."
ENTERPRISE TELEPHONY MARKET HIGHLIGHTS
The global PBX/KTS market totaled $8.1 billion in 2012, down 4% from 2011; the EMEA region alone declined 10%
In 2012, the unified communications segment grew 8% year-over-year
North America and APAC were the regions to net positive revenue gains in the PBX market in 2012, growing a modest 2% and 1%, respectively over the previous year
Pure IP PBX licenses grew 11% in 2012
Cisco maintains its lead in global PBX/KTS revenue for the 6th consecutive quarter; Avaya and Siemens round out the top 3
Only 3 vendors in the enterprise telephony market posted year-over-year revenue gains in 2012: Cisco, Mitel, and ShoreTel
Infonetics expects fierce vendor battles to continue in 2013, particularly between Microsoft and Cisco in the unified communications segment
CLIENT CONFERENCE CALL
Clients: Join Diane Myers Wednesday, March 13, at Noon ET for a live enterprise telephony market recap. Log in to https://www.infonetics.com/cgp/login.asp?id=759 for password to join the call live or view on demand.
REPORT SYNOPSIS
Infonetics' quarterly enterprise telephony report provides global and regional market size, vendor market share, analysis, forecasts, and trends for TDM PBX and KTS systems, hybrid and pure IP PBXs, IP PBX by system size, VoIP gateways, unified communications, IP deskphones and softphones. Companies tracked: Aastra, Alcatel-Lucent, Avaya, Cisco, HP (3Com), D Link, LG Ericsson, Microsoft, Mitel, NEC, Polycom, Samsung, ShoreTel, Siemens, Sonus, Toshiba, others.