2013年3月21日米国カリフォルニア州キャンベル発―Infonetics Researchは、2012年第4四半期(4Q12)及び年末における3G and 4G Mobile Broadband Devices and Subscribersの市場シェアと予測に関するレポートから抜粋を発表した。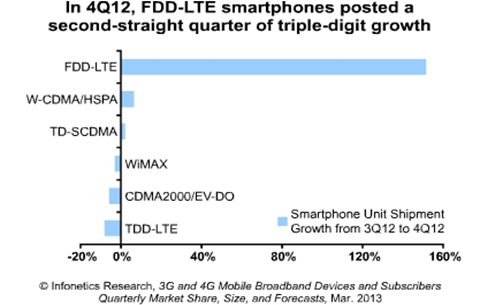 この総合レポートでは、スマートフォン、オペレーティングシステム(OS)、ルータ、通信カード、USB機器、組み込み型端末(例、タブレット)、サービス契約者などを含む、50以上に及ぶモバイルブロードバンド市場のセグメントとサブセグメントについて、Long Term Evolution (LTE)、W-CDMA/HSPA、その他の接続ネットワークなどに分類して追跡調査を行なっている。
アナリストノート
「2012年の最終四半期、FDD-LTEはスマートフォンを成長させる最大の要因となりました。端末の販売数は151%増で、2四半期連続の3桁成長を記録しました」

このように報告するのは、Infonetics Researchでコンシューマエレクトロニクス及びモバイルブロードバンド担当のディレクティングアナリストを務めるJulien Blin。

「TDD-LTEのスマートフォンも、まだかなり規模が小さく、第4四半期に一時的な売上低下が生じたものの、こちらも急成長を見せています。2012年は、W-CDMA/HSPAスマートフォンの出荷数がLTEスマートフォンの5倍となりました。しかし、2015年には、LTEスマートフォンがW-CDMA/HSPA端末を追い抜くだろうと予測しています」

Blinが付け加える。

「同様にタブレット市場においても、低価格LTEタブレットやデータ共有プランの人気が高まり、LTEネットワークの通信範囲が改善されれば(特に北米や西ヨーロッパのような先進国市場で)、2017年までにLTE対応タブレットがWiFi専用タブレットに追いつくでしょう」
モバイルブロードバンド端末市場のハイライト
世界のスマートフォン市場は、2012年に合計2470億ドルを記録し、2011年から51%成長した。
Appleは、iPhone5の発売により、4Q12にスマートフォン収入でシェア37%を握り、再びリーダーに返り咲いた。この後に続いたのはシェア29%のSamsungで、スマートフォンの販売数ではトップを維持した。
タブレットの売上高は、2012年に全世界で42億ドルとなり、2011年比で281%の急成長となった。
2012年は、独立型のUSBモバイルブロードバンド通信カードが安定した成長を見せた。この成長を支えたのは、開発途上国へのW-CDMAの出荷、先進国におけるLTEの成長である。
一方、組み込み型の通信カードは売上が減少した。より高機能のタブレットが、組み込み型PCやモバイルインターネット端末(MIDs)に影を落としたためである。
Infoneticsでは、世界のモバイルブロードバンド契約者数(電話とPC)が、2012年の12億人から2017年には約30億人に増加すると予測している。
REPORT SYNOPSIS
Infonetics' quarterly mobile broadband report provides worldwide and regional market size, vendor market share, forecasts through 2017, analysis, and trends for smartphones, smartphone OS (Android, Blackberry, iPhone, Linux, Palm, Symbian, Windows Mobile, other), netbook OS (Linux, Mac, Windows, other), tablet OS (Android, iOS, Windows, other), USBs, cards, routers, embedded devices (PCs, netbooks, tablets, mobile internet devices), and subscribers. Technologies tracked: W-CDMA/HSPA, CDMA2000/EV-DO, TD-SCDMA, FDD-LTE, TDD-LTE, and WiMAX. Companies tracked: Apple, Dell, HTC, Huawei, LG, Motorola, Nokia, Novatel, Qualcomm, RIM, Samsung, Sierra Wireless, Sony, ZTE, and others.
(原文)

LTE smartphones up 151% in 4th quarter

Campbell, CALIFORNIA, March 21, 2013-Infonetics Research released excerpts from its 4th quarter 2012 (4Q12) and year-end 3G and 4G Mobile Broadband Devices and Subscribers market share and forecast report.

The comprehensive report tracks over 50 mobile broadband market segments and sub-segments, including smartphones, operating systems (OS), routers, cards, USBs, embedded devices (such as tablets) and subscribers, all by the type of network they connect to, including Long Term Evolution (LTE), W-CDMA/HSPA, and other networks.
ANALYST NOTE
"FDD-LTE was the biggest driver for smartphone growth in the final quarter of 2012, with unit growth of 151%, the second straight quarter of triple-digit growth," reports Julien Blin, directing analyst for consumer electronics and mobile broadband at Infonetics Research. "TDD-LTE smartphones are also ramping fast, albeit from a much smaller base, despite a temporary dip in growth in the 4th quarter. In 2012, 5 times as many W-CDMA/HSPA smartphones shipped as LTE smartphones. By 2015 we expect LTE smartphones to overtake W-CDMA/HSPA."

Blin adds: "Similarly in the tablet space, the growing popularity of low-cost LTE tablets, shared data plans, and improved LTE network coverage (especially in developed markets like North America and Western Europe), will drive LTE-enabled tablets to close the gap on WiFi-only tablets by 2017."
MOBILE BROADBAND DEVICE MARKET HIGHLIGHTS
The global smartphone market totaled $247 billion in 2012, up 51% from 2011
Owing to the introduction of the iPhone5, Apple regained its lead in smartphone revenue market share in 4Q12 with 37%, followed by Samsung with 29%; Samsung maintains its lead in smartphone unit share
Sales of tablets reached $42 billion worldwide in 2012, jumping 281% over 2011
In 2012, shipments of standalone USB mobile broadband cards grew steadily, driven by W-CDMA shipments in developing countries and LTE growth in developed markets
Meanwhile, embedded cards declined as the more functional tablet segment overshadowed embedded PCs and mobile internet devices (MIDs)
Infonetics expects the number of global mobile broadband subscribers (phone and PC) to grow from 1.2 billion in 2012 to close to 3 billion by 2017