2013年3月27日米国カリフォルニア州キャンベル発―米国市場調査会社Infonetics Researchは、OTN and Packet Optical Hardwareの最新レポートを発表した。本レポートでは、光トランスポートネットワーク(OTN)スイッチ機器、トランスポート機器、パケット光トランスポートシステム(P-OTS)について追跡調査している。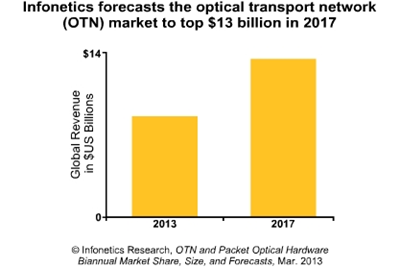 アナリストノート
「OTNへの投資、特にOTNスイッチは、コヒーレントコアネットワークへの投資が増加したことで恩恵を受けています」

Infonetics Researchで光機器担当の主席アナリストを務めるAndrew Schmittが説明する。

「100G機器を展開しているサービスプロバイダの多くは、この機会に光スイッチインフラをアップグレードしています。都市部では、旧型のSONET/SDHから、同じ台座に光とイーサネットの切り替えスイッチを組み合わせたパケット光トランスポートシステムへと、急速な投資転換が進んでいます」
OTN及びP-OTS市場のハイライト
OTNトランスポートおよびスイッチ機器市場は、2012年に8%増の73億ドルとなった。
成長の大部分は、OTNスイッチ部門から来ており、同部門は2012年を前年比46%増で締め括った。
Infoneticsでは、OTN機器市場が2017年までに130億ドルに達すると予測している。
OTN技術を早期に導入した北米は、OTN機器全般の導入を世界的にリードしている。一方、中国はOTNスイッチの導入で先頭を走っている。
Infineraは、2012年に北米でOTNスイッチの売上第一位となったが、目立った収益があったのは同年下半期のみであった。
P-OTS機器の売上高は、2012年に7%増の12億ドルとなった。
TellabsとFujitsuは、Verizonが積極的な投資を行った結果、P-OTSで大半のシェアを握った。他方で、 Ciena、Cisco、Alcatel-Lucentの3社はお互いに激しい凌ぎ合いを続けている。
REPORT SYNOPSIS
Infonetics' biannual OTN and packet optical report provides worldwide and regional market size, vendor market share, forecasts through 2017, analysis, and trends for OTN transport and switching hardware, including metro edge and metro regional port revenue forecasts by type and speed. Companies tracked: ADTRAN, ADVA, Alcatel-Lucent, Ciena, Cisco, ECI Telecom, Ericsson, Fujitsu, Huawei, Infinera, NEC, Nokia Siemens Networks, Tellabs, Transmode, ZTE, and others.
(原文)

Optical transport network (OTN) market to top $13 billion by 2017

Boston, MASSACHUSETTS, March 27, 2013-Market research firm Infonetics Research released its latest OTN and Packet Optical Hardware report, which tracks optical transport network (OTN) switching and transport equipment and packet-optical transport systems (P-OTS).
ANALYST NOTE
"OTN spending, and particularly OTN switching, is benefiting from a rise in investment in coherent core networks," explains Andrew Schmitt, principal analyst for optical at Infonetics Research. "Many service providers rolling out 100G are using the opportunity to upgrade their optical switching infrastructure. In the metro, investment is rapidly rotating away from legacy SONET/SDH to packet-optical transport systems that combine optical and Ethernet circuit switching in the same chassis."
OTN AND P-OTS MARKET HIGHLIGHTS
The OTN transport and switching equipment market grew 8% in 2012, to $7.3 billion
The bulk of the growth comes from the OTN switching segment, up 46% in 2012 from 2011
Infonetics forecasts the OTN equipment market to top $13 billion in 2017
Having embraced OTN technology early, North America leads the world in overall OTN deployments, while China is the frontrunner in OTN switching deployments
Infinera was #1 in OTN switching in North America in 2012, despite only recognizing revenue in the 2nd half of the year
Sales of P-OTS gear climbed 7% in 2012, to $1.2 billion
Tellabs and Fujitsu together hold the lion's share of the P-OTS market as a result of their aggressive deployments at Verizon, while Ciena, Cisco, and Alcatel-Lucent remain in a tight 3-way horse race