2013年4月3日英国ロンドン発―市場調査会社Infonetics Researchは、Millimeter Wave Equipmentの市場シェア、規模、予測に関する最新レポートから抜粋を発表した。本レポートでは、無認可Eバンド、認可済みEバンド及びWバンドのミリ波機器について、ネットワークアプリケーション (アクセス、バックホール、トランスポート)ごとに追跡調査している。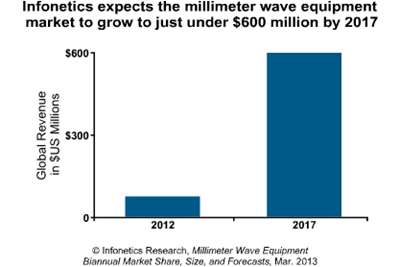 アナリストノート
「ますます多くのモバイル通信事業者が、ミリ波機器を導入して既存の無線マクロセルバックホールを拡大しようとしています」

Infonetics Researchで無線およびキャリアWiFi担当のディレクティングアナリストを務めるRichard Webbは、このように説明する。

「ミリ波による性能拡大は、範囲制限が常に問題とはならない都市部において、バックホールの有効な手段であることが証明されつつあります」

Webb は更に付け加える。

「今年、市場は2倍以上に拡大し、健全な成長が続いていくと見られます。この成長を後押しするのは、LTEのマクロセルバックホールとスモールセルに対する、ミリ波機器の利用増加です(多くは60 GHz帯)」
ミリ波機器市場のハイライト
Infoneticsは、世界のミリ波機器市場が2017年には6億ドル近くまで成長すると予測している。
BridgeWaveは、市場全体におけるシェアリーダーの座を維持し、2012年はミリ波市場で3分の1弱の収入を握った。
Aviat Networks、Ericsson、Fujitsu、Huaweiなどの大手無線機器ベンダーが、ミリ波機器の発売を予定しているため、今後数ヶ月は市場シェアの変動が起きると見られる。
初期のミリ波市場では、導入される機器の多くが企業あるいは固定通信事業者向けのアクセスベースアプリケーションであったが、現在はモバイルバックホールに注目が集まっており、今後も市場拡大の中心的要素になっていくと予想される。
REPORT SYNOPSIS
Infonetics' biannual millimeter wave report provides worldwide and regional market size, vendor market share, forecasts through 2017, and analysis for unlicensed E band (60GHz), licensed E band (70-90GHz), and W band (75-110GHz) millimeter wave equipment by network application (access, backhaul, transport). The report tracks units, revenue, and ARPU and follows Aviat Networks, BridgeWave, CableFree, E-Band, ECI Telecom, Ericsson, Fujitsu, GigaBeam, Huawei, Intracom, LightPointe, Loea, NEC, Proxim, SIAE, Siklu, Sub10 Systems, and others.
(原文)

Millimeter wave market set to double in 2013, fueled by LTE backhaul, led by BridgeWave

London, UK, April 2, 2013-Market research firm Infonetics Research released excerpts from its latest Millimeter Wave Equipment market share, size, and forecasts report, which tracks unlicensed E-band, licensed E-band, and W-band millimeter wave equipment by network application (access, backhaul, and transport).
ANALYST NOTE
"An increasing number of mobile operators are deploying millimeter wave to augment their existing microwave macrocell backhaul deployments," notes Richard Webb, directing analyst for microwave and carrier WiFi at Infonetics Research. "The enhanced capacities made possible by millimeter wave are proving to be a viable solution for backhaul in metro areas where range limitations aren't always problematic."

Webb adds: "The market is on track to more than double this year, followed by continued healthy growth going forward, powered by the increased use of millimeter wave for LTE macrocell backhaul and small cells-most of which use the unlicensed 60 GHz band."
MILLIMETER WAVE EQUIPMENT MARKET HIGHLIGHTS
Infonetics expects the global millimeter wave equipment market to grow to just under $600 million by 2017
BridgeWave retains its overall market share leadership, capturing just under a third of total millimeter wave revenue in 2012
A market share shakeup is expected over the coming months as major microwave vendors including Aviat Networks, Ericsson, Fujitsu, and Huawei launch millimeter wave products
In the early years of the millimeter wave market, most deployments were for access-based applications for enterprise and fixed operator customers, whereas mobile backhaul is now and will remain the predominant driver of the market going forward