2013年4月25日米国カリフォルニア州キャンベル発―インフォネティクスリサーチ社は、最新のサービスプロバイダーのDPI(ディープパケットインスペクション)製品レポートからの抜粋を発表した。このレポートには、DPI機能のソフトウェアソリューションや無線・有線のネットワークに利用される関連機器についての調査内容が含まれている。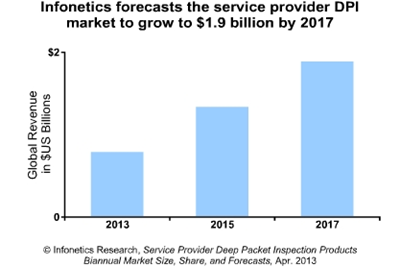 アナリストノート
「2012年のDPI市場において、AllotとProceraがポジションの強化を目的とした重要なM&Aが行われた。そして、この様な合併トレンドはこの先も続いていく。」と、インフォネティクスリサーチのService Enablement and Subscriber Intelligence調査プログラムの上席アナリストであるShira Levineは述べている。「DPI機能の獲得・拡充は、ネットワークや既存の政策、新たな価格設定やサービスモデルを構築する為の資産の形成など、ITベンダーにとって新たな価値を生み出すものとなるだろう。」
DPI市場のハイライト
サービスプロバイダーのDPI(ディープパケットインスペクション)製品の売上高は2012年に世界全体で5.96億米ドルに達し、前年比で28%増となった。
Allot は2012年に初めてDPI市場のリーダーとなり、Sandvineを追い越した。Allotは無線DPI分野のトップに立ったが、有線DPI分野ではSandvineがリードしている。
DPI市場の無線分野は2012年から2017年にかけて、33%の年平均成長率となるだろうと、インフォネティクスは見込んでいる。
DPIは接続された機器によって生成されたトラフィックの特定・識別や、テレマティクス・遠隔患者監視の様なサービスに対してQoS保証が出来る機能なので、DPIは今後、事業者のM2M戦略の重要な一翼を担うだろう。
事業者がシグナリングトラフィックを更に効率よく管理し、モバイルセキュリティを提供し、ペアレントコントロールや共有データプラン機器管理を例としたきめ細かな加入者管理が可能する為、DPIは最終的にコアから移動し、DPI自体が機器のネットワークにアクセスするだろう。
DPI REPORT SYNOPSIS
Infonetics' biannual service provider DPI report provides worldwide and regional market size, vendor market share, forecasts through 2017, analysis, and trends for deep packet inspection products used in wireless and fixed-line service provider networks. Companies tracked: Allot, Arbor, Cisco, CloudShield, Huawei, Procera, Qosmos, Sandvine, and others.
(原文)

Allot takes the lead in deep packet inspection market; IT vendors eyeing DPI acquisitions
Campbell, CALIFORNIA, April 25, 2013-Market research firm Infonetics Research released excerpts from its latest Service Provider Deep Packet Inspection Products report, which tracks deep packet inspection (DPI) software solutions and related hardware deployed in wireless and fixed-line networks.
ANALYST NOTE
"We saw significant M&A activity in the DPI market in 2012, with Allot and Procera making acquisitions to strengthen their positions, and this consolidation trend has yet to run its course," expects Shira Levine, directing analyst for service enablement and subscriber intelligence at Infonetics Research. "A DPI acquisition would allow IT vendors to strengthen their capabilities within the network and complement their existing policy and charging assets to create solutions that support new pricing and service models."
DPI MARKET HIGHLIGHTS
Service provider deep packet inspection (DPI) product revenue totaled $596 million worldwide in 2012, up 28%
Allot pulled ahead of Sandvine in 2012 to take the overall DPI revenue market share lead for the first time; Allot also tops the wireless DPI segment, while Sandvine leads the fixed-line DPI segment
The wireless segment of the DPI market is forecast by Infonetics to grow at a 33% CAGR from 2012 to 2017
DPI will be an integral part of operators' M2M strategies going forward, enabling identification and mitigation of the traffic generated by connected devices, and QoS guarantees for services like telematics and remote patient monitoring
DPI will eventually move from core and access networks to device themselves so that operators can better manage signaling traffic, provide mobile security, and enable more granular subscriber controls such as parental control and shared data plan device control