2013年6月5日 カリフォルニア州キャンベル発-市場調査会社Infonetics Researchは2013年第1四半期版 PON (受動光ネットワーク)、FTTH、DSLアグリゲーション機器と加入者レポートからの抜粋を公表した。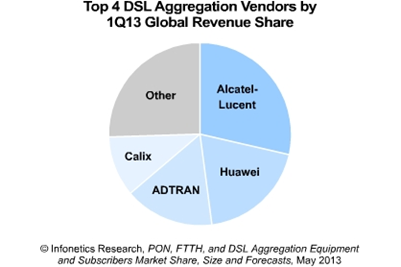 アナリストノート
Infonetics Researchで今週ブロードバンドアクセスと有料TVの主席アナリストに昇進したJeff Heynen氏は次のように語る。「ブロードバンドアグリゲーション機器市場は、今年、前期からも前年同期からも全体の収益が減少するという困難なスタートを切っています。しかし、中身をみると地域と技術の間で結果に著しい格差があることがわかります。」

Heynen氏はこう続ける。「EMEA (欧州、中東、アフリカ) は3四半期連続の成長が終わり、DSL、PON、FTTH機器への支出が前四半期から27%減少して、ひどい打撃を受けました。中国では、EPONへの支出に大きな減少がありましたが、China TelecomとChina Unicomが加入者に20Mのアクセスを提供するためにGPONベースのFTTHを展開し続けており、GPONへの支出は8四半期連続の成長を見せています。一方、北米では全体の流れとは逆に、ケーブル事業者の積極的なDOCSIS 3.0取り組みに対抗して通信事業者が支出を増加させたため、いつもの軟調気味の第1四半期を避けることができました。」
2013年第1四半期ブロードバンドアグリゲーション市場のハイライト
2012年第4四半期から2013年第1四半期のDSL、PON、FTTH機器への支出は7%減少し、世界全体で15億ドルとなった。
EMEAにおけるPON機器の収益は2013年第1四半期に50%下落したが、季節的な理由と初めにGPONを購入したロシアや中東の事業者が出した結論によって、次の2四半期には2桁の増加になる。
世界でのGPON収益の5%の減少、EPON機器収益の4%の減少にも関わらず、Huaweiはブロードバンドアグリゲーション機器市場全体で世界収益トップを維持しており、市場シェアは33%である。
Alcatel-Lucentはブロードバンドアグリゲーション市場全体で第2位の座を保っていたが、China TelecomのFTTX事業の一部を獲得するために価格を削って厳しい数四半期を送ってきたZTEがその背中を追っている。
REPORT SYNOPSIS
Infonetics' quarterly broadband aggregation report provides worldwide and regional market size, vendor market share, forecasts through 2017, and analysis for EPON, GPON, FTTH, FTTB, PON, and DSL aggregation equipment and subscribers. Tracked: ADTRAN, Alcatel-Lucent, Calix, Dasan, ECI Telecom, Fiberhome, Fujitsu, Genexis, Hitachi, Huawei, Iskratel, Mitsubishi, Motorola, NEC, OF Networks, PacketFront, Sumitomo, Tellabs, Ubiquoss, Zhone, ZTE, ZyXEL, others.
(原文)

North America up, other regions down in broadband aggregation spending
Campbell, CALIFORNIA, June 5, 2013-Market research firm Infonetics Research released excerpts from its 1st quarter 2013 (1Q13) PON, FTTH, and DSL Aggregation Equipment and Subscribers report.
ANALYST NOTE
"The broadband aggregation equipment market is off to a difficult start this year, with overall revenue down both sequentially and from the year-ago first quarter, though there is significant disparity in results between regions and technologies," observes Jeff Heynen, who was promoted this week to Principal Analyst, Broadband Access and Pay TV at Infonetics Research.

"The EMEA region (Europe, the Middle East and Africa) was hit hardest, with spending on DSL, PON, and FTTH equipment down 27% from the previous quarter, putting an end to 3 consecutive quarters of growth," Heynen continues. "In China, we saw a big drop in EPON spending but an 8th consecutive quarter of growth for GPON as China Telecom and China Unicom continue their GPON-based FTTH deployments to provide 20M access to subscribers. Meanwhile, North America bucked the trend and avoided its typical first-quarter softness as operators increased spending to fight the aggressive DOCSIS 3.0 initiatives by cable operators."
1Q13 BROADBAND AGGREGATION MARKET HIGHLIGHTS
Spending on DSL, PON, and FTTH equipment decreased 7% in 1Q13 from 4Q12, to $1.5 billion worldwide
PON equipment revenue in EMEA dropped 50% in 1Q13, following 2 quarters of double-digit increases, due to seasonality and the conclusion of initial GPON purchases by Russian and Middle Eastern operators
Despite a 5% decline in worldwide GPON revenue and a 4% decrease in EPON equipment revenue, Huawei maintained its worldwide revenue lead in the overall broadband aggregation equipment market, with 33% market share
Alcatel-Lucent maintained 2nd place in the overall broadband aggregation market, followed by ZTE, which is having a tough few quarters as it gouges prices to win a piece of China Telecom's FTTX business