2013年6月17日米国マサチューセッツ州ボストン発―Infonetics Researchがそのスペーシング技術及びディグリーカウント (入出力ポート数)を基準に測られた波長選択スイッチ(wavelength selective switch (WSS) )コンポーネントを調査対象とした、再構成可能光挿入/分岐多重(reconfigurable optical add/drop multiplexer (ROADM))コンポーネント ・リポートからの抜粋をリリースした。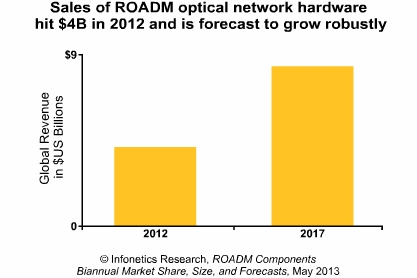 アナリストノート
「この数年間は、四半期売り上げが2年前に、高みから約50%下落するという、WSSコンポーネントにとって厳しい道のりでした」Infonetics Researchのオプチカル部門主要アナリストAndrew Schmittは指摘する。「しかし我々は将来的には新しい100Gコヒーレント・システムの展開と、任意波長・任意方路・波長衝突なしの(CDC) ROADMの初公開とに結びついた、いくらかの穏当な成長があると信じています」

Schmittは付け加える「CDC ROADMに対するベンダーからの興味のレベルは非常に高いものの、このアーキテクチャに機器ベンダーが設定した現在の高価な価格がその採用を遅らせるでしょう」
ROADMコンポーネント市場のハイライト
世界的なWDM ROADM装置(コンポーネントではなく装置)マーケットは前年比で10%成長し、2012年には40億ドルに達した。
ROADM WSSコンポーネントからの収益は2012年に複数四半期下落を続けた
2012年の後半には、ROADM WSSコンポーネントの販売が健全な成長を見せて安定した。
2012年のWDM ROADM光学式ハードウェア市場における主導的なベンダーにはAlcatel-Lucent、 Huawei、Ciena、Fujitsuが含まれる。
ROADM REPORT SYNOPSIS
Infonetics' biannual ROADM components report provides market size, ROADM vendor market share, forecasts through 2017, analysis and trends for ROADM optical network hardware and ROADM WSS components (1x4 or less 50GHz/100GHz and 1x5 or larger 50GHz/100GHz). Companies tracked: ADVA, Alcatel-Lucent, Ciena, Cisco, ECI Telecom, Ericsson, Fujitsu, Huawei, Infinera, NEC, Nokia Siemens Networks, Tellabs, Transmode, ZTE, and others.
(原文)

100G optical coherent systems, CDC ROADMs offer hope in stagnant WSS component market
Boston, MASSACHUSETTS, June 17, 2013-Market research firm Infonetics Research released excerpts from its ROADM Components report, which tracks the reconfigurable optical add/drop multiplexer (ROADM) optical network equipment market and the wavelength selective switch (WSS) components within it, measured by spacing technology and degree count.
ANALYST NOTE
"It's been a tough road for WSS components these past couple of years, with quarterly revenue down nearly 50% from the highs two years ago," notes Andrew Schmitt, principal analyst for optical at Infonetics Research. "But we believe there's some modest growth ahead tied to the deployment of new 100G coherent systems and the rollout of colorless, directionless and contentionless (CDC) ROADMs."

Schmitt adds: "While the level of interest in CDC ROADMs is very high from vendors, the current pricing premium given to this architecture by equipment vendors will slow adoption."
ROADM COMPONENT MARKET HIGHLIGHTS
The global WDM ROADM equipment market (not components) reached $4 billion in 2012, up 10% year-over-year
ROADM WSS component revenue declined more than a quarter in 2012
In the 2nd half of 2012, sales of ROADM WSS components stabilized while recording healthy unit growth
The leading vendors in the WDM ROADM optical hardware market in 2012 include Alcatel-Lucent, Huawei, Ciena, and Fujitsu