2013年6月20日米国カリフォルニア州キャンベル発―Infonetics Researchはモバイル通信事業者がいかに、そしてなぜ、既存の3GPPネットワークを可能な限り段階的に進展させて生かす事により、LTEに一気に飛躍するのと同程度の収益を獲得しようと計画しているかについて分析した、新しいIP RAN and 3GPP Strategies and Vendor Leadership: Global Service Provider Surveyからの抜粋をリリースした。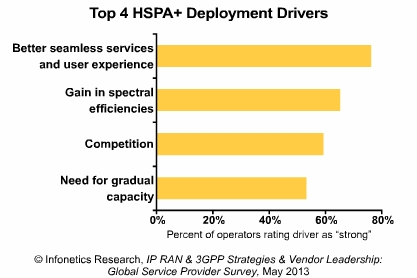 アナリストノート
「弊社のIP RAN/3GPP調査に参加しているサービスプロバイダの80%以上が、彼等のネットワークでEDGEを運用する理由のトップに『新しいサービスを有効にする為』と『ユーザエクスペリエンス(ユーザ体験)を拡張する為』を挙げており、そしてHSPA+を展開する主要な理由としても、『更にスムーズなサービスとユーザー体験』が同程度の数で挙げられています」モバイル・インフラストラクチャ及びキャリア経済学担当主任アナリストStephane Teralは指摘する。「これらの理由は昨年には最下位にランク付けされていました」
IP RAN及び3GPP調査のハイライト
Evolved EDGEは勢いを失う: 調査対象とした大多数の通信事業者は、代替としてHSPA+ もしくはLTEを選択する為にアップグレードを行わないだろう。
IP RANは真の牽引力を獲得し、2015年までに顕著な普及率を達成するであろう軌道に乗っている。
RANの供給元を選択する際の基準として、調査回答者は全員が価格性能比をNo.1に評価した。
通信事業者の回答によるとEricsson、Huawei、Nokia Siemens Networks がトップ3のRAN機器供給元にランク付けされた。
SURVEY SYNOPSIS
For its 31-page IP RAN and 3GPP survey, Infonetics interviewed independent wireless, incumbent, and competitive operators in EMEA, Asia Pacific, Latin America, and North America that operate 3GPP networks. The report reveals operators' plans for EDGE, Evolved EDGE, HSPA, HSPA+, voice over HSPA, and IP RAN, including drivers and barriers and business and technical challenges as well as their perceptions and ratings of RAN vendors.
(原文)

User experience takes front seat in HSPA+ and EDGE deployments, new Infonetics study reveals
Campbell, CALIFORNIA, June 20, 2013- Market research firm Infonetics Research released excerpts from its IP RAN and 3GPP Strategies and Vendor Leadership: Global Service Provider Survey which analyzes how and why mobile operators plan to get as much out of their existing 3GPP network assets as possible through evolutionary steps, versus jumping straight to LTE.
ANALYST NOTE
"Clearly, operators' focus is shifting from the network and technology aspects of EDGE to new services and customer experience enhancement. Over 80% of the service providers participating in our IP RAN/3GPP survey ranked 'enabling new services' and 'enhancing user experience' as the top reasons for running EDGE in their networks, and nearly as many named 'better seamless services and user experience' as a top driver for deploying HSPA+," notes Stephane Teral, principal analyst for mobile infrastructure and carrier economics at Infonetics Research. "These reasons were ranked at the bottom last year."
IP RAN AND 3GPP SURVEY HIGHLIGHTS
Evolved EDGE is losing momentum: a majority of operators surveyed won't upgrade because they prefer HSPA+ or LTE instead
IP RAN is getting serious traction and is on track to achieve significant penetration by 2015
When selecting a RAN supplier, survey respondents unanimously rated price-to-performance ratio the #1 criterion
Operator respondents ranked Ericsson, Huawei, and Nokia Siemens Networks as the top 3 RAN equipment suppliers