2013年6月27日米国カリフォルニア州キャンベル発―Infonetics Researchは、2013年第1四半期 (1Q13) SAN and High Performance Interconnect Equipment市場規模、シェア、予測レポートからその概要をリリースした。ここでは、FCoE/Ethernetスィッチ、コンバージドネットワークアダプターなどのストレージエリアネットワーク (SAN) スィッチ、アダプター、高性能インターコネクト (HPI) 機器を追跡調査している。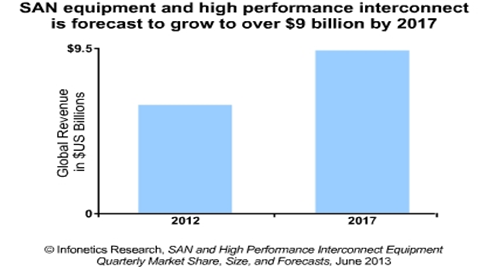 アナリストノート
「2013年第1四半期には多くのSAN機器で弱い動きがみられたのに対し、16Gファイバーチャネルスィッチは好調に推移した」としたうえで、「シャーシ16Gファイバーチャネルスィッチは前期比で45%増加したほか、固定スィッチも倍増となった」と、Infonetics Researchの共同設立者でキャリアネットワークを担当している主席アナリストのMichael Howard は述べている。

「多くの16Gファイバーチャネルの採用は引き続きインタースィッチリンクアプリケーションとなるとみられるが、Intelの Romley導入、そしてEmulexおよびQLogicで初めてとなる16Gファイバーチャネルアダプター出荷とともにサーバインプット・アウトプット能力が向上するにつれて、2013年にはサーバ接続用の16Gの採用が広がるとみている」ともHoward は述べている。
SAN市場のハイライト
ファイバーチャネルスィッチ、iSCSI、ファイバーチャネルホストバスアダプターなどSAN機器の世界的な売上は、1Q13に前期比8%減少して6億400万ドルとなった。
16Gファイバーチャネルスィッチの活性化をもたらしているのは当初の需要が少ないからであるが、この状況はまだ続いている。しかしInfoneticsでは、この成長はやがて減速し、8Gセグメントに沿った成長パターンをたどるとみている。
2012年の大幅成長を理由として、コンバージドFCoE/Ethernetスィッチやコンバージドネットワークアダプターなどの世界的な高性能インターコネクト機器市場は前期比では13%減少したものの、前年同期比では45%増加した。
Infoneticsの予測では、SANおよび高性能インターコネクト(HPI)機器市場は2017年までに90億ドルになると予測している。10GE、 40GE、100GE伝送がデータセンタ内のネットワーキングの標準になるにつれてHPIセグメントが成長する。
SANおよび高性能インターコネクト市場の主要メーカーは1Q13に全社落ち込みを見せた。
SAN REPORT SYNOPSIS
Infonetics' quarterly SAN report provides worldwide and regional market size, vendor market share, forecasts through 2017, trends and analysis for chassis and fixed Fibre Channel switches; Fibre Channel and iSCSI host bus adapters; chassis and fixed converged FCoE and Ethernet switches; and converged network adapters. Companies tracked: Alcatel-Lucent, Brocade, Chelsio, Cisco, Dell, Emulex, IBM (BNT), Juniper, Mellanox, QLogic and others.
(原文)

16G Fibre Channel comes back strong in 1Q13
Campbell, CALIFORNIA, June 27, 2013-Market research firm Infonetics Research released excerpts from its 1st quarter 2013 (1Q13) SAN and High Performance Interconnect Equipment market size, share and forecasts report, which tracks storage area network (SAN) switches and adapters and high-performance interconnect (HPI) equipment including FCoE/Ethernet switches and converged network adapters.
ANALYST NOTE
"While most SAN equipment languished in the 1st quarter of 2013, 16G Fibre Channel switches put up a very strong showing," notes Michael Howard, Infonetics Research's co-founder and principal analyst for carrier networks. "Sales of chassis 16G Fibre Channel switches grew 45%, and fixed switches more than doubled from the previous quarter."

Howard adds: "The bulk of 16G Fibre Channel deployments continue to be inter-switch link applications, but with server input/output capabilities rising with the introduction of Intel's Romley, and with Emulex's and QLogic's first 16G Fibre Channel adapter shipments, we expect a more meaningful adoption of 16G for server connections to begin in 2013."
SAN MARKET HIGHLIGHTS
Worldwide revenue for SAN equipment, including Fibre Channel switches and iSCSI and Fibre Channel host bus adapters, declined to $604 million in 1Q13, an 8% drop from 4Q12
The initial pent-up demand that provided a jump start for 16G Fibre Channel switches is still in motion, but Infonetics believes it will soon slow and settle into a growth pattern more in line with the 8G segment
On the heels of huge growth in 2012, the global high-performance interconnect equipment market, including converged FCoE/Ethernet switches and converged network adapters, slumped 13% sequentially in 1Q13, but is up 45% from the year-ago quarter
Infonetics forecasts the SAN and high-performance interconnect (HPI) equipment market to top $9 billion by 2017, with the HPI segment gaining as 10GE, 40GE and 100GE transports become the norm for networking within the data center
The leading manufacturers in the SAN and high-performance interconnect markets all had a down quarter in 1Q13