2013年7月1日カリフォルニア州キャンベル発-調査会社Infonetics Researchは2013年第1四半期 (1Q13) Set-Top Boxes and Pay TV Subscribers市場シェアと予測レポートからその概要をリリースした。ここではIP、ケーブル、衛星およびデジタルテレストリアル(DTT)セットトップボックス(STB)とオーバーザトップ(OTT)メディアサーバを追跡調査している。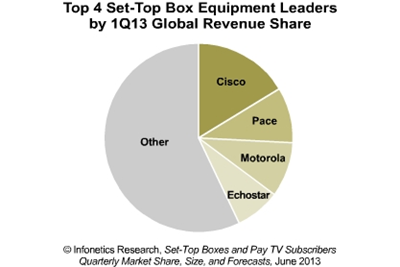 アナリストノート
「ケーブルセットトップボックスは、2013年第1四半期の(弱い)季節的なトレンドを下支えし、売上と出荷の両面で順調な成長を記録した」とした上で、「中国とインドはまだ力強く、ローエンドのデジタルSTB市場が成長しているほか、ラテンアメリカも成長が続く。一方、北米も、ビデオゲートウェイの出荷と顧客の増加により成長を見せた」と、Infonetics Researchでブロードバンドアクセスとペイテレビを担当している主席アナリストのJeff Heynenは述べている。
セットトップボックス市場のハイライト
" 世界的なセットトップボックス市場(IP、ケーブル、衛星とDTTの STB、OTTメディアサーバ)は4Q12から1Q13にかけて5%減少して44億ドルとなった。
ケーブルSTBとOTTメディアサーバのみ1Q13に前期比で市場が拡大した。
1Q13に出荷されたSTBの56% はベーシック・スタンダード・デフィニションボックスで、中国やインドなどの新興市場で大量の出荷があったことを示している。この地域での中心はより進んだサービスというよりはデジタル化にある。
Ciscoは1Q13に四半期で過去最高の実績を示し、世界的なSTB の売上シェアを伸ばした。
China Telecomは上海と広東で成長しているIPTVサービス向けスマートIP STBの新サービスをリリースしたが、これは今年後半のIP STBの出荷増につながると予想されている。
Infoneticsの予測では、電話会社のIPTVの加入者は2012年から2017年にかけて平均年率17%で増加し加入者カテゴリーの中で最も高い成長率となる。
STB REPORT SYNOPSIS
Infonetics' quarterly STB and pay TV subscribers report provides worldwide and regional market size, vendor market share, forecasts through 2017 and analysis for IP STBs; cable and satellite STBs (digital, hybrid, video gateways, media players); hybrid IP/DTT STBs; and OTT media servers. The report also tracks telco IPTV and cable and satellite video subscribers. Companies tracked: ADB, Changhong, Cisco, Coship, DVN, Echostar, Huawei, Humax, Jiuzhou, Kingvon, Motorola, Netgem, Pace, Sagemcom, Samsung, Skyworth Digital, Technicolor, ZTE and others.
(原文)

Cable STBs buck usual Q1 lull; Cisco puts up best-ever quarter in STBs
Campbell, CALIFORNIA, July 1, 2013-Market research firm Infonetics Research released excerpts from its 1st quarter 2013 (1Q13) Set-Top Boxes and Pay TV Subscribers market share and forecast report, which tracks IP, cable, satellite and digital terrestrial (DTT) set-top boxes (STBs) and over-the-top (OTT) media servers.
ANALYST NOTE
"Cable set-top boxes bucked the seasonal trend in the first quarter of 2013, notching modest gains in both revenue and shipments," reports Jeff Heynen, principal analyst for broadband access and pay TV at Infonetics Research. "China and India remain strong and growing markets for low-end digital STBs, while Latin America continues to ramp. Meanwhile, North America also grew, thanks to increasing shipments of video gateways and clients."
SET-TOP BOX MARKET HIGHLIGHTS
The global set-top box market-IP, cable, satellite and DTT STBs, and OTT media servers-totaled $4.4 billion in 1Q13, a decline of 5% from 4Q12
Only cable STBs and OTT media servers gained on a sequential basis in 1Q13
56% of STBs shipped in 1Q13 were basic standard definition boxes, pointing to a larger shipment mix to emerging markets like China and India, where the focus is on digitization rather than advanced services
Putting up its biggest quarter on record in 1Q13, Cisco extends its worldwide STB revenue share lead
China Telecom just released a new tender for smart IP STBs for its growing IPTV services in Shanghai and Guangdong, and it is expected this will lead to an increase in IP STB shipments later this year
Infonetics forecasts telco IPTV subscribers to grow at a 17% compound annual growth rate from 2012 to 2017, the highest of any subscriber category