2013年9月9日米国マサチューセッツ州ボストン発―Infonetics Researchは、法人向けアクセスポイント、WLANコントローラ、WiFi電話を調査対象とした、2013年第2四半期(2Q13)無線LAN 機器及びWiFi 電話 リポートからの抜粋をリリースした。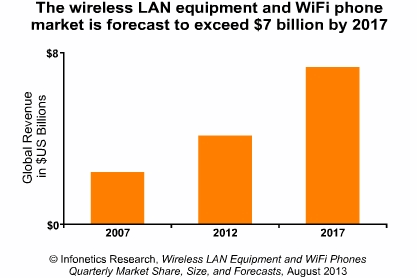 アナリストノート
「本四半期の無線LAN部門における大きなイベントは、更なる技術移行の始まりを表わしている、企業クラス802.11ac アクセスポイントの最初の出荷でした。」Infonetics Researchの企業ネットワーク及びビデオ担当主任アナリストMatthias Machowinskiは指摘する。

「とはいえ、802.11acの影響は2013年においては軽微なものであり、802.11nへの移行がほぼ完了した結果、成長率は2013年に半分まで減少しました。」Machowinskiは付け加える。「2013年第2四半期のワイヤレス LAN機器の世界的収益は前年比14%上昇、2012年第2四半期と比べて約30%の成長を見せています。今もって、WLAN は最も成長の早いネットワーク機器部門でありつづけます。」
2013年第2四半期WLAN市場のハイライト
世界的規模では、企業向け無線LAN 機器マーケットは2013年第2四半期に12%成長の11.2億ドル市場となり、第1四半期の季節的失速から回復した。
インタラクティブ・アクセスポイント収益は一元管理WLAN への移行を反映し、1年前の第2四半期(2Q12)から2013年第2四半期までに21%成長した。
屋外アクセスポイントの出荷は数年来鈍化していたが、サービスプロバイダ WiFi 展開の後押によって2013年第2四半期には前年比で22%成長し、力強い成長軌道に戻った。
2013年第2四半期に販売されたアクセスポイントの90%が802.11n標準規格に基づいていた。
2012年にマクロ経済の不況傾向に反する成長を示した後、EMEA (ヨーロッパ、中東、アフリカ)の成長は2013年には鈍化している。
WLAN部門の恒常的リーダー-CiscoとAruba-は、両社共に2013年第2四半期において堅実な成績を示し、利益配分を獲得した。
WLAN REPORT SYNOPSIS
Infonetics' quarterly WLAN equipment and WiFi phones report provides worldwide and regional market size, vendor market share, forecasts through 2017 and analysis for WLAN infrastructure, including access points by type and technology, WLAN controllers, and enterprise single-mode WiFi phones. Vendors tracked: Alcatel-Lucent, Aruba, Brocade, Buffalo, Cisco, D-Link, Enterasys, Extreme, Juniper, Meru, Motorola, Netgear, HP, Ruckus, TP-Link, Ubiquiti, Xirrus, others.
(原文)

Wireless LAN market up 12% in 2Q13
Boston, MASSACHUSETTS, September 10, 2013-Market research firm Infonetics Research released excerpts from its 2nd quarter (2Q13) Wireless LAN Equipment and WiFi Phones report, which tracks access points, WLAN controllers, and WiFi phones for the enterprise.
ANALYST NOTE
"The major event in the wireless LAN space this quarter was initial shipments of enterprise class 802.11ac access points, marking the beginning of another technology transition," notes Matthias Machowinski, directing analyst for enterprise networks and video at Infonetics Research.

"But the impact of 802.11ac will be minor in 2013, and with the transition to 802.11n almost complete, growth rates have been cut in half in 2013," Machowinski adds. "Global wireless LAN equipment revenue grew 14% year-over-year in the 2nd quarter of 2013, versus growing almost 30% year-over-year in the 2nd quarter of 2012. Still, WLAN remains the fastest growing network equipment segment."
2Q13 WLAN MARKET HIGHLIGHTS
Globally, the enterprise wireless LAN equipment market recovered from a seasonally slow 1st quarter, growing 12% to $1.12 billion in 2Q13
Interactive access point revenue is up 21% in 2Q13 from the year-ago 2nd quarter (2Q12), reflecting the shift toward centrally-managed WLAN
Following years of languishing, outdoor access point shipments are back on a strong growth trajectory, up 22% year-over-year in 2Q13, propelled by service provider WiFi deployments
90% of access points sold in 2Q13 were based on the 802.11n standard
After showing resilience against negative macroeconomic trends in 2012, growth in EMEA (Europe, the Middle East, and Africa) is slowing in 2013
The perennial leaders in the WLAN space-Cisco and Aruba-both turned in solid performances in 2Q13, gaining revenue share