2013年9月17日米国カリフォルニア州キャンベル発―Infonetics Research は、2013年第2四半期の2G, 3G, 4G Mobile Infrastructure and Subscribers の抜粋を発表。このレポートは2G, 3G, LTE, WiMAX機器および加入者を継続的に調査分析しています。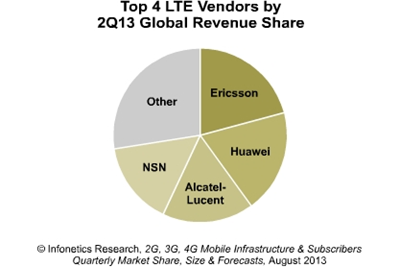 アナリストノート
「LTEは日本、韓国からEMEA、ブラジル、ロシアへと早いペースで導入が進んでいる。そして中国は、年末までに予想されている今年の総支出の3分の2をLTEに充てるという大規模な画策を取っている。その結果、2013年はマクロセル導入のピークイヤーとなりつつある。」とインフォネティクスリサーチのモバイルインフラ及びキャリアエコノミクスの主席アナリストであるStephane Teralは記している。
2013年第2四半期のマクロセルモバイルインフラ市場のハイライト
全世界のマクロセル2G/3G/4Gモバイルインフラ市場は2013年第2四半期に合計で103億ドルとなり、北米、ブラジル、EMEAにおいてLTE導入が連続して4%ずつ上がっている。
しかし、少数派と2Gと3Gのモバイルインフラ市場は前年同期比(2012年第2四半期から2013年第2四半期)で5%ダウンした。
Bouygues Telecom、Etisalat、Everything Everywhere、MTS、Mobily、Vodafone D2、Claro、Vivoの各社のプロジェクトにより、マクロセル2G/3G/4G無線のトップであるEricssonの2番手に長年居座るNSNに対し、Huaweiを猛追させた。
2013年第2四半期に33億ドルと見積られた数字について、LTEの収益は前四半期比で17%増加し、前年比では119%も増加した。
ヨーロッパは2013年第2四半期にLTEの波に乗り、今では北米とブラジルに次ぐ、第3位のLTE市場になっている。

LTEのロールアウトがロシアのMTS、MegaFon、VimpelComで本格的に始まった。

200の商用LTEネットワークは2013年7月時点でオンラインとなり、インフォネティクスリサーチは4GLTE加入者が2017年までに6.08億を上回る可能性があると予想している。
LTE-Advancedは、SK Telecomによって2013年6月に開始された商用展開第1号として、4Gのプライムタイムに対して準備を進めている。
ABOUT THE REPORT
Infonetics' quarterly 2G, 3G, 4G (LTE) report provides worldwide and regional market size, vendor market share, analysis, deployment trackers, forecasts through 2017 and trends for macrocell mobile network equipment and subscribers. The report tracks more than 50 subsegments of the market, including radio access networks (RAN), base transceiver stations (BTSs), mobile softswitching, packet core equipment and E-UTRAN macrocells. Vendors: Airspan, Alcatel-Lucent, Alvarion, Cisco, Datang Mobile, Ericsson, Fujitsu, Genband, HP, Huawei, NEC, NewNet, NSN, Proxim, Redline Communications, Samsung, UTStarcom, ZTE and others.
(原文)

Peak year for macrocell mobile deployments; Huawei gets big boost
Campbell, CALIFORNIA, September 17, 2013-Market research firm Infonetics Research released excerpts from its 2nd quarter 2013 (2Q13) 2G, 3G, 4G Mobile Infrastructure and Subscribers report, which tracks 2G, 3G, LTE, and WiMAX network equipment and subscribers.
ANALYST NOTE
"LTE continues to ramp up at a fast pace with a shift away from Japan and Korea to EMEA, Brazil, and Russia. And China is joining in a big way with two-thirds of total spending this year earmarked for LTE and expected by year's end. As a result, 2013 is shaping up to be a peak year for macrocell mobile deployments," notes Stephane Teral, principal analyst for mobile infrastructure and carrier economics at Infonetics Research.
2Q13 MACROCELL MOBILE INFRASTRUCTURE MARKET HIGHLIGHTS
The global macrocell 2G/3G/4G mobile infrastructure market totaled $10.3 billion in 2Q13, up 4% sequentially driven by LTE ramp-ups in North America, Brazil, and EMEA
Yet, modest 2G and 3G activity kept the mobile infrastructure market down 5% on a year-over-year basis (2Q13 from 2Q12)
Projects at Bouygues Telecom, Etisalat, Everything Everywhere, MTS, Mobily, Vodafone D2, Claro, and Vivo propelled Huawei past long-time #2 NSN to move behind king of the macro 2G/3G/4G radio Ericsson
Estimated at $3.3 billion in 2Q13, LTE revenue grew 17% quarter-over-quarter, and 119% year-over-year
Europe joined the LTE bandwagon in 2Q13, and is now the 3rd strongest LTE market behind North America and Brazil

LTE rollouts began in earnest at Russia's MTS, MegaFon, and VimpelCom

200 commercial LTE networks are online as of July 2013, and Infonetics anticipates that 4G LTE subscribers could top 608 million by 2017
LTE-Advanced is gearing up for 4G prime time, with the 1st commercial deployment launched in June 2013 by SK Telecom