2013年9月18日米国カリフォルニア州キャンベル発―Infonetics Research は、2013年第2四半期Enterprise Session Border Controllers 調査の抜粋を発表しました。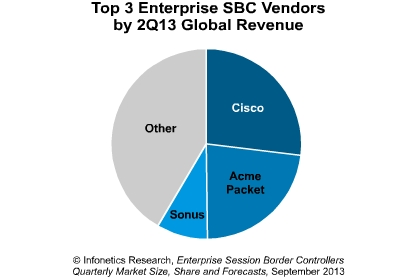 アナリストノート
「シスコは今まで企業向けSBCのIP PBX、ゲートウェイ、ルータ等の販売において、自らの市場の牽引役というポジションを、フルに利用する事が可能でした。2013年第2四半期、Ciscoは世界市場における収益の27%を占めて企業向けSBCをリードしており、この企業と競合他社との間にはある程度の格差があります。」Infonetics Research のVoIP、UC、IMS担当主任アナリストDiane Myersは指摘する。
2013年第2四半期、企業向けSBCマーケット・ハイライト
企業向けSBCはBorder Elementの次世代であり、最終的にはSBCの機能性を統合する為にゲートウェイ、ルータ、PBXのベンダー達を勢いづけVoIP ゲートウェイに取って代わるだろう。
Infonetics は世界的な企業向けSBC市場が2012年から2017年の間に年平均成長率(CAGR)で17%成長すると予測している。
企業向けSBCマーケットは北アメリカに大きく依存しているが、しかし2017年までに他の地域がSIP トランキング、ユニファイド・コミュニケーション、IP コールセンターの採用を増やすにつれて、そのシェアは下落する事が予想される。
全ての規模のビジネスがSBCsを、SIP トランキングを可能にして、異なったシステムを相互に結び付けて、更に深いレベルのセキュリティをボイス・ネットワークに構築する為に利用している。
REPORT SYNOPSIS
Infonetics' quarterly enterprise SBC report provides worldwide and regional market size, market share, forecasts through 2017 and analysis for enterprise SBC revenue and sessions by system and business size in North America, Asia Pacific, EMEA (Europe, Middle East and Africa), and Latin America. Companies tracked: Acme Packet/Oracle, Adtran, AudioCodes, Avaya, Cisco, Dialogic, Edgewater, Ingate, OneAccess, Siemens Enterprise, Sonus Networks, and others.
(原文)

Cisco solidifies lead in enterprise SBCs in second quarter
Campbell, CALIFORNIA, September 18, 2013-Market research firm Infonetics Research released excerpts from its 2nd quarter 2013 (2Q13) Enterprise Session Border Controllers report, which tracks enterprise session border controller (eSBC) vendor revenue and session shipments.
ANALYST NOTE
"Cisco's been able to capitalize on its market-leading position in IP PBXs, gateways, and routers in selling its enterprise SBCs. In the second quarter of 2013, Cisco led the eSBC market with 27% of worldwide revenue, putting some daylight between itself and the competition," notes Diane Myers, principal analyst for VoIP, UC and IMS at Infonetics Research.
2Q13 ENTERPRISE SBC MARKET HIGHLIGHTS
Enterprise SBCs are the next generation of border elements and will eventually replace VoIP gateways, spurring gateway, router, and PBX vendors to integrate SBC functionality
Infonetics forecasts the global enterprise SBC market to grow at a 17% compound annual growth rate (CAGR) between 2012 and 2017
The enterprise SBC market is severely tilted toward North America, though by 2017 its share is expected to decline as other regions increase adoption of SIP trunking, unified communications, and IP call centers
Businesses of all sizes are utilizing SBCs to enable SIP trunking, interconnect disparate systems, and build deeper levels of security into their voice networks