2013年10月15日米国マサチューセッツ州ボストン発―Infonetics Researchは、OTNおよびパケット光ハードウェアに関する最新レポートを公表した。レポートでは、光伝送ネットワーク (OTN) スイッチングと伝送機器、およびパケット光伝送システム (P-OTS) を追跡調査している。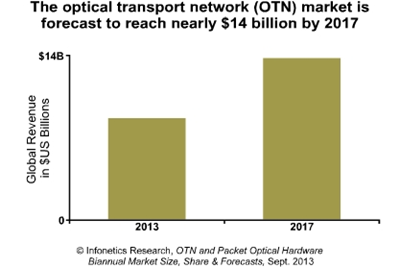 アナリストノート
Infonetics Researchで光担当の主席アナリストを務めるAndrew Schmitt氏は次のように指摘する。「OTNスイッチングは、北米およびEMEA (欧州、中東、アフリカ) で爆発的成長を経験しています。これらの地域では、サービス プロバイダーが統合されたWDMとOTNスイッチングを採用し、コアネットワークで100Gコヒーレントを本格展開しています。」

Schmitt氏はこう付け加える。「その一方で、2013年上半期におけるP-OTSの成長率は、第一線の通信事業者が対2012年で支出を上昇させた結果として好調なものとなりました。消え去ったSONET/SDHへの支出の一部がパケット光への投資という形で戻ってきたのだと当社は見ています。」
OTNおよびP-OTS市場のハイライト
2013年上半期 (1H13)、世界のOTN収益 (OTN伝送とスイッチング機器) は前年同期 (1H12) から23%増加して39億ドルとなった。
北米におけるOTNスイッチングへの支出は、前年同期比80%の成長を遂げ2013年上半期に3倍以上になった。
富士通のOTNハードウェア収益の市場シェアは2013年上半期、前年同期比152%に急上昇した。
世界で見ると、P-OTS機器の収益は2013年上半期に前年同期比41%上昇している。
現在はAlcatel-Lucent、Ciena、Cisco、富士通、TellabsがP-OTS市場のリーダーだが、BTI、Cyan、Ericsson、Transmodeなどの新しいプレーヤーが専業のP-OTSプラットフォームで挑戦している。
REPORT SYNOPSIS
Infonetics' biannual OTN and packet optical report provides worldwide and regional market size, vendor market share, forecasts through 2017 and analysis for OTN transport and switching equipment and P-OTS metro edge and metro regional hardware, including port revenue forecasts by type and speed. Vendors tracked: Adtran, Adva, Alcatel Lucent, Ciena, Cisco, Coriant, Cyan, ECI, Ericsson, Fujitsu, Huawei, Infinera, NEC, NSN, Tellabs, Transmode, ZTE, and others.
(原文)

North America OTN switching revenue more than triples in 1st half of 2013, reports Infonetics
Boston, MASSACHUSETTS, October 15, 2013-Market research firm Infonetics Research released its latest OTN and Packet Optical Hardware report, which tracks optical transport network (OTN) switching and transport equipment and packet-optical transport systems (P-OTS).
ANALYST NOTE
"OTN switching is experiencing breakout growth in North America and EMEA (Europe, Middle East, Africa), where service providers are adopting integrated WDM and OTN switching and rolling out 100G coherent in the core," notes Andrew Schmitt, principal analyst for optical at Infonetics Research.

Schmitt adds: "Meanwhile, P-OTS growth in the first half of 2013 was healthy as a result of tier-1 carriers ramping spending versus 2012. We're seeing some of the SONET/SDH spending that went away come back in the form of increased packet-optical activity."
OTN AND P-OTS MARKET HIGHLIGHTS
In the 1st half of 2013 (1H13), worldwide OTN revenue (OTN transport and switching equipment) was up 23% from 1H12, to $3.9 billion
OTN switching spending in North America more than tripled in 1H13, growing 80% from a year ago
Fujitsu's OTN hardware revenue market share spiked 152% in 1H13 from 1H12
Globally, P-OTS equipment revenue is up 41% year-over-year in 1H13
Incumbents Alcatel-Lucent, Ciena, Cisco, Fujitsu, and Tellabs are the P-OTS market leaders, but new players BTI, Cyan, Ericsson, and Transmode are challenging with pure-play P-OTS platforms