2013年12月20日米国カリフォルニア州キャンベル発―Infonetics ResearchはBroadcast and Streaming Video Equipment and Pay TV Subscribersレポートからその概要をリリースした。ここではペイTV加入者、電話会社のIPTVに販売されるビデオ機器、ケーブル、衛星TVプロバイダーを追跡調査している。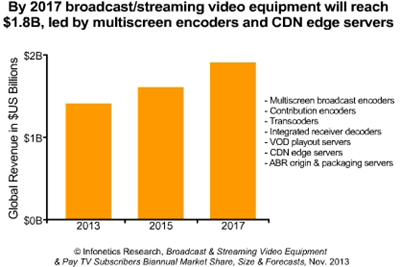 アナリストノート
「ペイTVプロバイダーは、HEVC (高効率ビデオコーディングシステム)をサポートする次世代のプラットフォームを待ちつつ、既存のエンコーディング資産を酷使しています。そして、4KなどのUDTVへ向けた準備を進める一方で現在の帯域幅要件を緩和することができます」としたうえで、「放送局の間では2017年にかけてコントリビューションエンコーダーへの需要が堅調で、支出も増加するでしょう。これはHEVCおよび新たなビデオフォーマットをサポートするために長期的な移行があるためです」と、Infonetics ResearchでブロードバンドアクセスとペイTVを担当している主席アナリストJeff Heynenは述べている。
放送、ストリーミングビデオ市場のハイライト
Infoneticsの予測では、世界的な放送、ストリーミングビデオ機器市場は2013年に9%ほど縮小して13億9,000万ドルとなったあと、2017年にかけて成長する。
コンテンツデリバリーネットワーク (CDN)エッジサーバーはオーバーザトップ(OTT)およびユニキャストコンテンツ向けのストリーミングビデオ「ポンプ」としての役割を果たしている。Infoneticsの予測では、これは2012年から2017年にかけてCAGR 21%で成長する。
ビデオオンデマンド(VOD)プレイアウトサーバーへの支出は短期的には減少する見込みであるが、ペイTVプロバイダーは引き続きこれを使用するだろう。一方で支出はマルチスクリーンおよびOTTコンテンツをサポートするCDNエッジサーバーにシフトするだろう。
マルチスクリーン放送エンコーダーの売上は今後4年間でわずかに増加するとみられている。これはオペレーターがソフトウェアだけのプラットフォームや統合されたトランスコーディング付きエンコーダーに移行することによる。
REPORT SYNOPSIS
Infonetics' biannual broadcast and streaming video report provides worldwide and regional market size, forecasts through 2017, analysis, and trends for telco IPTV, cable video, and satellite video broadcast and streaming video equipment and pay-TV subscribers. Equipment tracked: encoders, transcoders, and IRDs; VOD playout servers; and video CDN equipment (CDN edge servers, ABR origin and packaging servers). Vendors tracked: Alcatel-Lucent, Anevia, Arris, Ateme, Cisco, Concurrent, Digital Rapids, Edgeware, Elemental, Envivio, Ericsson, Harmonic, Huawei, RGB Networks, Seawell, Thomson, XOR Media, ZTE, and others.
(原文)

Pay-TV providers sweat legacy assets while gearing up for ultra-definition TV
Campbell, CALIFORNIA, December 20, 2013-Market research firm Infonetics Research released excerpts from its Broadcast and Streaming Video Equipment and Pay TV Subscribers report, which tracks pay-TV subscribers and video equipment sold to telco IPTV, cable, and satellite TV providers.
ANALYST NOTE
"Pay-TV providers are sweating their existing encoding assets as they wait for the next generation of platforms that support HEVC (high efficiency video coding) so they can reduce current bandwidth requirements while preparing for ultra-definition TV, such as 4K," notes Jeff Heynen, principal analyst for broadband access and pay TV at Infonetics Research. "Demand for contribution encoders among broadcasters will remain steady through 2017, with increases in spending due to the long-term transition to support HEVC and newer video formats."
BROADCAST AND STREAMING VIDEO MARKET HIGHLIGHTS
Infonetics expects the global broadcast and streaming video equipment market to decline about 9% in 2013 to $1.39 billion, then to grow through 2017
Content delivery network (CDN) edge servers, which serve as streaming video "pumps" for over-the-top (OTT) and unicast content, are forecast by Infonetics to grow at a 21% CAGR from 2012 to 2017
Spending on video-on-demand (VOD) playout servers is expected to decline in the short term, though pay-TV providers will continue to use them while shifting spending to CDN edge servers to support multiscreen and OTT video content
Multiscreen broadcast encoder revenue is anticipated to increase slightly over the next 4 years as operators transition to software-only platforms and encoders with integrated transcoding