2014年2月18日米国カリフォルニア州キャンベル発―C Infonetics Research は、2013年第4四半期のアップデートと2013年通期の市場分析レポートService Provider VoIP and IMS Equipment and Subscribers の抜粋を発表。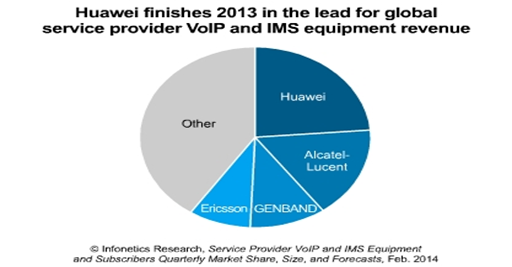 アナリストノート
Infonetics ResearchでVoIP、UC、IMSを担当する主席アナリスト、Diane Myers氏は次のように報告する。「携帯電話事業者がボイス オーバー LTE (VoLTE) に傾注し、その波に乗ったHuawei、Alcatel-Lucent、EricssonおよびNSN各社が前年比20%増という素晴らしい記録を出すことで、2013年の通信事業者VoIPおよびIMS市場は輝きました。専業ベンダーや製品スペシャリストが入り込む余地はまだありますが、大手の機器メーカーには携帯電話事業者との長年の関係や、通信事業者VoIPやIMSをはるかに超える幅広い製品ラインナップといった利があります。」
2013年第4四半期通信事業者VoIPおよびIMS市場のハイライト
2013年通年での世界のサービス事業者のVoIPおよびIMS機器の収益の合計は2012年から30%上昇して37億ドルとなった。
主要地域すべてで1年前からの力強い成長が公表されているが、とりわけ好調だったのは米国、中国、日本で、携帯電話市場が大きく、通信事業者間の競争が激しい地域である。
携帯電話だけがすべてではなく、固定回線変換プロジェクトも消えておらず、クラス5の置換費用としては十分なシェアがあり、ボイス オーバー ブロードバンド (VoBB) やセッション初期化プロトコル (SIP) のトランキングは拡大している。
2013年に通信事業者VoIPおよびIMS市場の多領域で起こった将来を見据えた支出は、事業者がサービスを立ち上げ大幅な在庫整理を行うにつれて縮小していき、成長の鈍化が起こるとInfoneticsは予測している。
VOIP AND IMS REPORT SYNOPSIS
Infonetics' quarterly carrier VoIP and IMS report provides worldwide and regional market share, market size, forecasts through 2018, analysis, and trends for trunk media gateways, SBCs, media servers, softswitches, voice application servers, HSS, CSCF, BGCF, MGCF, IM/presence application servers, and subscribers. Vendors tracked: Alcatel-Lucent, BroadSoft, Ericsson, Genband, Huawei, Metaswitch, NEC, NSN, Oracle/Acme Packet, Sonus, ZTE, and others.
(原文)

Carrier VoIP and IMS market gains 30% in 2013; Huawei, ALU, Ericsson, NSN ride the VoLTE wave
Campbell, CALIFORNIA, February 18, 2014-Market research firm Infonetics Research released vendor market share and forecasts from its 4th quarter (4Q13) and full year 2013 Service Provider VoIP and IMS Equipment and Subscribers report.
ANALYST NOTE
"The market for carrier VoIP and IMS shined in 2013 as mobile operators ramped for voice over LTE (VoLTE), and Huawei, Alcatel-Lucent, Ericsson, and NSN rode the wave, each putting up impressive 20%+ year-over-year growth," reports Diane Myers, principal analyst for VoIP, UC, and IMS at Infonetics Research. "Though there's still room for pure-play vendors and product specialists, the large equipment manufacturers benefit from long-standing relationships with mobile operators and broad product portfolios that extend well beyond carrier VoIP and IMS."
4Q13 CARRIER VOIP AND IMS MARKET HIGHLIGHTS
For the full year 2013, worldwide service provider VoIP and IMS equipment revenue totaled $3.7 billion, up 30% from 2012
Spending was particularly strong in the U.S., China, and Japan, where the mobile markets are large and operators are competitive, though all major regions posted strong growth from a year ago
Mobile wasn't the entire story: Fixed-line transformation projects are not dead, and there was a fair share of spending on class 5 replacement and voice over broadband (VoBB) and Session Initiation Protocol (SIP) trunking expansion
Infonetics expects the forward spending that happened in 2013 across multiple areas in the carrier VoIP and IMS market to taper off as operators launch services and draw down significant inventory, creating lumpiness