2014年3月12日米国カリフォルニア州キャンベル発―Infonetics Researchは、企業向けセッションボーダーコントローラ市場(Session Border Controller)における2013年第4四半期の調査規模、市場予測のアップデートを発表した。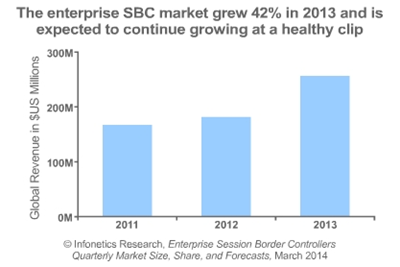 アナリストノート
「エンタープライズSBC (eSBCs) は、SIPトランキングへの移行の中、堅調な需要が続いている。引き続き北米がeSBC市場の主要地域だが、その他の地域、特に欧州ではSIPトランキングの導入が加速しており、北米以外でのeSBC売上増につながると思われる」 (Infonetics ResearchのVoIP、UC、IMS担当主席アナリストDiane Myers)
エンタープライズSBC市場のハイライト
2013の世界エンタープライズSBC (eSBC) 市場は前年比42%増で$2億5500万ドル規模に。
2013年のeSBC による収益の4分の3超が北米市場。
競争が激化するSBC市場でCiscoとOracle の2社が互角で上位を独占、それ以外の各社のシェアはごくわずか。
現在はeSBCによる収益の大部分を10社に満たないベンダーで占めている。
ESBC REPORT SYNOPSIS
Infonetics' quarterly enterprise SBC report provides worldwide and regional market size, market share, forecasts through 2018, analysis, and trends for enterprise SBC revenue and sessions by system and business size in North America, EMEA (Europe, Middle East and Africa), Asia Pacific, and the Caribbean and Latin America. Companies tracked: Adtran, AudioCodes, Avaya, Cisco, Dialogic, Edgewater, Ingate, OneAccess, Oracle, Sonus Networks, Unify, and others.
(原文)

Enterprise SBC market grew 42% in 2013
Campbell, CALIFORNIA, March 12, 2014-Market research firm Infonetics Research released excerpts from its 4th quarter 2013 (4Q13) and year-end Enterprise Session Border Controllers market share, size, and forecast report.
ANALYST NOTE
"Demand for enterprise session border controllers (eSBCs) continues to be strong as businesses transition to SIP trunking. North America remains the primary region for the eSBC market, but enterprises in other regions, particularly Europe, are accelerating adoption of SIP trunking, which in turn should positively impact eSBC sales outside North America," notes Diane Myers, principal analyst for VoIP, UC, and IMS at Infonetics Research.
ENTERPRISE SBC MARKET HIGHLIGHTS
In 2013, the global enterprise SBC (eSBC) market grew 42% year-over-year, to $255 million " Over 3/4 of eSBC revenue in 2013 came from North America
Over 3/4 of eSBC revenue in 2013 came from North America
Cisco and Oracle are neck-and-neck in the highly competitive enterprise SBC space, where competitors are chipping away at market share
Currently, fewer than 10 of vendors make up the majority of global enterprise SBC revenue