2014年4月23日米国マサチューセッツ州ボストン発―Infonetics Researchが、同社による データセンターとキャンパスのイーサネット・スイッチ ベンダーのリーダーシップ: 北米エンタープライズ調査 の抜粋をリリースしました。これは、イーサネット・スイッチ ベンダーに対する購買者の見解を分析し、購入計画と基準に関する洞察を提供するものです。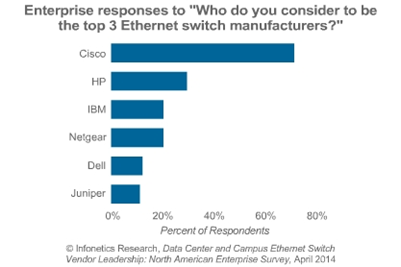 アナリストノート
「イーサネット・スイッチ市場において現在名声を確立しているのはCiscoであり、今後数年間はその地位を維持するだろう。しかし、弊社の最新のイーサネット・スイッチ調査では、HPが確実な勢いを見せている」と、Infonetics Researchエンタープライズ ネットワークおよびビデオ部門担当アナリストのMatthias Machowinski氏は指摘しています。

「HPは2番手の地位を確実にし、現在のインストール、ベンダー認知、今後の購入検討の点において、エンタープライズ購入者から高く評価された。最も重要な点は、新規デプロイメントの評価においてHPが最も高い上昇を示したことだ」と、Machowinski氏は続けています。
イーサネット・スイッチ調査のハイライト
Ciscoは群を抜いて最も広く配置されているイーサネット・スイッチのベンダーであり、購入基準で高得点を獲得している。
調査回答者は、サービスおよびサポート、技術イノベーション、価値ある提案の分野でHPに高い評価を下している。
Huaweiは、保護貿易政策により米国市場で減速しているにも関わらず、徐々にではあるが確実にInfoneticsのエンドユーザー調査にその姿を見せ始めている。
回答者組織は健全なネットワークの拡張計画を有しており、来年までに10%超増しのポートの配置を見込んでいる。
イーサネット・スイッチ ベンダーを選択する際、購入者にとっての最重要基準は、信頼性、技術イノベーション、サービスおよびサポート、である。
回答者が挙げたベンダー変更の理由で最も共通した点は、信頼性問題、価値の欠如、ネットワークの一大刷新またはアーキテクチャ変更、である。
ABOUT INFONETICS' ETHERNET SWITCH SURVEY
For its data center and campus Ethernet switch survey, Infonetics interviewed purchase-decision makers at 157 North American organizations that have deployed Ethernet switches in their campus or data center networks and have at least 100 employees. The study covers enterprises' Ethernet switch deployment plans, equipment and service expenditures, ratings of leading Ethernet switch vendors, and the criteria most important when selecting an Ethernet switch manufacturer. Vendors examined include Alcatel-Lucent, Arista, Avaya, Brocade, Cisco, D-Link, Dell, Enterasys, Extreme, HP, Huawei, IBM, Juniper, Netgear, and others.
(原文)

HP makes strong showing in latest Infonetics Ethernet switch buyer survey
Boston, MASSACHUSETTS, April 23, 2014-Market research firm Infonetics Research released excerpts from its Data Center and Campus Ethernet Switch Vendor Leadership: North American Enterprise Survey, which examines buyers' views of Ethernet switch vendors and provides insights into purchase plans and criteria.
ANALYST NOTE
"Cisco is the established incumbent in the Ethernet switch market and will be for years to come, but our latest Ethernet switch survey shows positive momentum for HP," notes Matthias Machowinski, directing analyst for enterprise networks and video at Infonetics Research.

"HP had a solid second place showing and ranked high with enterprise buyers in current installations, vendor perception, and future purchase considerations. Most important, HP had the highest rise in evaluations for new deployments," continues Machowinski.
ETHERNET SWITCH SURVEY HIGHLIGHTS
Cisco, the most widely deployed Ethernet switch vendor by far, scores high on all buying criteria
Survey respondents give HP high marks for service and support, technology innovation, and value proposition
Huawei is slowly but surely starting to show up in Infonetics' end-user surveys despite being slowed by protectionism in the U.S. market
Respondent organizations have healthy expansion plans for their networks, expecting deployed ports to grow over 10% by next year
Reliability, technology innovation, and service and support are the most important criteria to buyers when selecting Ethernet switch vendors
The most common reasons respondents cite for changing vendors are reliability problems, lack of value, and major network refreshes or architectural changes