2014年5月6日米国マサチューセッツ州ボストン発―米国市場調査会社Infonetics Researchは、再構成可能な光挿入・分岐多重化装置 (ROADM) 光ネットワーク機器市場とそれらに包含される波長選択スイッチ (WSS) コンポーネントを追跡している最新のROADM Componentsレポートの抜粋を発表した。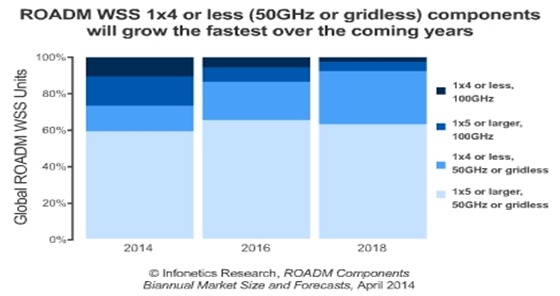 ROADM アナリストノート
CDC (Colorless, Directionless and Contentionless ) ROADMの販売が今年に始まり、Ciena(シエナ)など大手製造業者が製造を手がけ、Verizonを含む通信会社が配備を進めることになる。このことがWSSコンポーネント部門に対し、大いに必要とされていた追い風をもたらすことになろう」Infonetics Researchの光通信に関する主席アナリストAndrew Schmittはそのように述べる。
ROADMコンポーネント市場のハイライト
2013年後半 (2H13) における世界のROADM WSSコンポーネントの収益は合計1億1100万ドルで、2013年前半 (1H13) からは4%のアップであるが、1年前の同時期 (2H12) に比較して7%のダウンであった。
2013年通年での世界のROADM WSSコンポーネントの収益は、販売量におけるわずかな上昇と継続的な価格下落が相まったことから2012年から8%の減少となった。
Infoneticsは2014年、WSSコンポーネントユニットの出荷数と収益の両方が上昇すると予測する。
同時に2013年のWDM ROADMベースの光通信設備 (コンポーネントを除く) における世界の収益は、2012年との比較で11%増加して45億ドルであった。
Infoneticsは、WDM ROADMベースの光通信設備が光伝送業界で最も急速に成長する分野に留まると予測し、2013~2018年に13%の年複利成長率 (CAGR) を見積もる。
WDM ROADM設備市場を単独で支配するベンダーは存在せず、一つの塊となって競争している。
ROADM REPORT SYNOPSIS
Infonetics' biannual ROADM components report provides market size, ROADM vendor market share, forecasts through 2018, analysis, and trends for ROADM optical network hardware and ROADM WSS components (1x4 or less 50GHz/gridless/100GHz and 1x5 or larger 50GHz/gridless/100GHz). Companies tracked: Adva, Alcatel-Lucent, Ciena, Cisco, Coriant, ECI, Ericsson, Fujitsu, Huawei, Infinera, NEC, Tellabs, Transmode, ZTE, and others.
(原文)

CDC (colorless, directionless, and contentionless )ROADM rollouts to provide near-term boost for WSS component market
Boston, MASSACHUSETTS, May 6, 2014-Market research firm Infonetics Research released excerpts from its latest ROADM Components report, which tracks the reconfigurable optical add/drop multiplexer (ROADM) optical network equipment market and the wavelength selective switch (WSS) components within it.
ROADM ANALYST NOTE
"The rollout of colorless, directionless, and contentionless (CDC) ROADMs is starting this year with major suppliers such as Ciena moving to production and carriers including Verizon proceeding with deployments. This should provide a much-needed tailwind to the WSS component sector," notes Andrew Schmitt, principal analyst for optical at Infonetics Research.
ROADM COMPONENT MARKET HIGHLIGHTS
Globally, ROADM WSS component revenue totaled $111 million in the second half of 2013 (2H13), up 4% from the first half of 2013 (1H13), but down 7% from the same period a year ago (2H12)
For the full year 2013, worldwide revenue for ROADM WSS components declined 8% from 2012 due to mild increases in volume combined with continued price declines
In 2014, Infonetics expects both WSS component unit shipments and revenue to increase
Meanwhile, global revenue for WDM ROADM-based optical equipment (excluding components) increased 11% in 2013 from 2012, to $4.5 billion
Infonetics expects WDM ROADM-based optical equipment to remain the fastest-growing segment of the optical transport business, with a projected 2013-2018 compound annual growth rate (CAGR) of 13%
No single vendor controls the market for WDM ROADM equipment-they are tightly bunched