2014年5月28日米国カリフォルニア州キャンベル発―米国市場調査会社Infonetics Research は、2014年第1四半期に焦点を当てたCMTS, CCAP, and Edge QAM Hardware and Subscribers レポートをリリースしました。このレポートはブロードバンド機器や加入者を継続的に調査分析しています。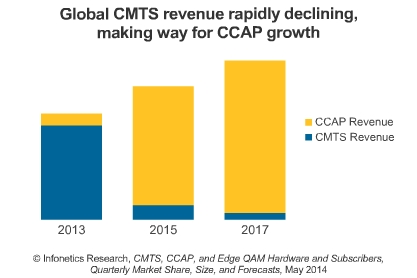 アナリストノート
「怒涛の勢いで、2014年(第1四半期)におけるケーブル通信事業者の出費の圧倒的大部分は、基本的なケーブルブロードバンドに代わる、新たなCCAP(Converged Cable Access Platform 統合型ケーブルアクセスプラットフォーム)装置、CMTS(ケーブル・モデム・ターミネーション・システム)へと向かいました。」Infonetics Researchのブロードバンド・アクセス及びペイTV担当主任アナリストJeff Heynenは指摘する。「ケーブル通信事業者は、DOCSIS 3.0、IP ビデオ、ビジネスサービス、キャリア WiFi、先日のDOCSIS 3.1初公開などの一環として、大規模なチャネル・キャパシティ(伝送路容量)の付加を、持続的な路線に定めています。」
CMTS、CCAP、EDGE QAM市場のハイライト
全世界合計のCMTS、CCAP、edge QAMマーケットは2013年第4四半期から2014年第1四半期の間で6%ダウン、3億3,200万ドル市場になった。
CCAP売上高は2014年第1四半期に連続的に177%の急上昇をしたが、その一方でCMTS売上高は76%下がった。
2014年第1四半期において、CMTS及びCCAPチャンネル出荷は更なる記録破りを成し遂げたが、それは主として世界市場におけるCCAPチャンネル出荷が229%の連続的な成長をみせた点に起因している。
北米市場では四半期収入が13%下がっているにもかかわらずCMTS及びCCAPチャンネル出荷は20%の急上昇を見せており、これよりも極端なCCAPへの移行振りは他の地域では見られない。
2014年第1四半期におけるCMTS及びCCAPの世界的売上高で、Arrisは再び首位の座についた。Ciscoは2位である。
Casa Systemsもまた、売上増加により好調な四半期となった。
REPORT SYNOPSIS
Infonetics' quarterly CMTS, CCAP, and edge QAM report provides worldwide and regional market size, vendor market share, forecasts through 2018, analysis, and trends for CMTS, CCAP, and edge QAM (linear broadcast, VoD and unicast video, switched digital video, and DOCSIS/M CMTS) equipment and cable broadband subscribers (standard and wideband). Vendors tracked: Arris, Casa Systems, Cisco, Ericsson, Harmonic, and others.
(原文)

CCAP on fire, sales up 177% in 1Q14; Arris nabs lead in both CMTS and CCAP
Campbell, CALIFORNIA, May 28, 2014-Market research firm Infonetics Research released excerpts from its 1st quarter 2014 (1Q14) CMTS, CCAP, and Edge QAM Hardware and Subscribers report, which tracks cable broadband equipment and subscribers.
ANALYST NOTE
"In a dramatic shift, the vast majority of cable operator spending in the first quarter of 2014 (1Q14) went toward new CCAP (converged cable access platform) equipment instead of the bedrock of cable broadband, CMTS," notes Jeff Heynen, principal analyst for broadband access and pay TV at Infonetics Research. "Cable operators are on a steady path of adding significant channel capacity as part of DOCSIS 3.0, IP video, business service, carrier WiFi, and forthcoming DOCSIS 3.1 rollouts."
CMTS, CCAP, AND EDGE QAM MARKET HIGHLIGHTS
The combined global CMTS, CCAP, and edge QAM market was down 6% in 1Q14 from 4Q13, to $332 million
CCAP revenue jumped 177% sequentially in 1Q14, while CMTS revenue dropped 76%
1Q14 marked another record quarter for CMTS and CCAP channel shipments, owing mainly to a 229% sequential jump in CCAP channel shipments worldwide
Nowhere is the shift to CCAP being felt more acutely than in the North American market, where quarterly revenue dropped 13% despite CMTS and CCAP channel shipments jumping 20%
Arris took over the lead for worldwide CMTS and CCAP revenue in 1Q14; Cisco finished 2nd
Casa Systems had another strong quarter, increasing revenue by 13%