2014年6月3日米国カリフォルニア州キャンベル発―Infonetics Research は、ペイTV加入者、テルコIPTV・ケーブル・サテライト向けビデオ機器を継続的に調査分析しているBroadcast and Streaming Video Equipment and Pay TV Subscribers レポートをリリースしました。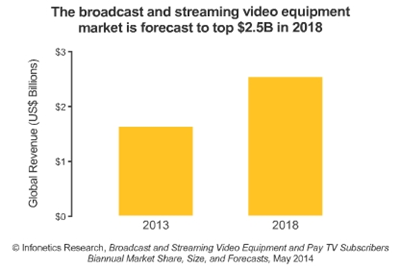 アナリストノート
「現在ソフトウェアベースとSDN制御による動画処理への長期的な移行の黎明期にあるが、この移行は、有料テレビ放送およびネット動画配信業者が動画コンテンツをより効率的に処理・配信するために、これらのプラットフォームを購入し始めていることから、多画面エンコーダおよびコンテンツ配信ネットワーク機器の両方の消費を増加させる結果になると我々は考えている。」と、Infonetics Researchの広帯域アクセスと有料放送分野の主席アナリストJeff Heynenは語っている。

また、Heynenは「多画面および、マルチフォーマット動画は、配信業者に彼らのネットワーク内のほぼすべての点から、あらゆる端末に動画を配信するための柔軟性を与える。」と付け加えている。
有料テレビ放送市場のハイライト
2013年に全体的な放送および動画ストリーミング機器市場は、コントリビューション・エンコーダーと動画オンデマンド(VOD)送受信サーバーの消費が減少する一方で、コンテンツ配信ネットワーク(CDNs)関連の消費が増加したことから、全世界で5.6%増加し16億ドルとなった。

Infoneticsは2018年までに、全体の市場は25億ドルになると見込んでいる。

CDNプラットフォームは、HTTPライブ・ストリーミング(HLS)およびMicrosoftスムーズ・ストリーミングなどのネット配信動画(OTT)フォーマット数の増加をサポートするために発展している。
放送および動画ストリーミング市場で最も成長する分野の2つは、Infoneticsが2013年から2018年までに年率17%の堅調な伸びを示すと見込むCDNエッジ・サーバーと、年率8%で成長している多画面放送エンコーダである。
有料テレビ放送事業者は、現実離れした大規模かつ分散したエンコード・パワーを生み出すために、GPUベースの装置からソフトウェアだけといった様々なプラットフォームを組み合わせて使用しており、これらは全てソフトウェア・ディファインド・ネットワーク(SDN)の制御装置を通じて集中的に管理されている。
Harmonicが全世界の放送および動画ストリーミング機器市場を牽引し続けているが、2013年には競合他社の伸長で売上シェアが約1%減少した。
PAY TV REPORT SYNOPSIS
Infonetics' biannual broadcast and streaming video report provides worldwide and regional market size, forecasts through 2018, analysis, and trends for telco IPTV, cable video, and satellite video broadcast and streaming video equipment and pay-TV subscribers. Equipment tracked: encoders, transcoders, and IRDs; VOD playout servers; and video CDN equipment (CDN edge servers, ABR origin and packaging servers). Vendors tracked: Alcatel-Lucent, Anevia, Arris, Ateme, Broadpeak, Cisco, Concurrent, Edgeware, Elemental, Envivio, Ericsson, Harmonic, Huawei, Imagine Communications, RGB Networks, Thomson, XOR Media, ZTE, and others.
(原文)

OTT and multiscreen TV drive spending on broadcast and streaming video equipment
Campbell, CALIFORNIA, June 3, 2014-Market research firm Infonetics Research released excerpts from its latest Broadcast and Streaming Video Equipment and Pay TV Subscribers report, which tracks pay-TV subscribers and video equipment sold to telco IPTV, cable, and satellite TV providers.
ANALYST NOTE
"We are very early in a long-term transition to software-based and SDN-controlled video processing, but we believe the shift will result in increased spending on both multiscreen encoders and content delivery network equipment, as pay-TV and over-the-top (OTT) providers begin purchasing these platforms to more efficiently process and distribute video content," says Jeff Heynen, principal analyst for broadband access and pay TV at Infonetics Research.

Adds Heynen: "Multiscreen and multi-format video give providers the flexibility to deliver video to any end device from nearly every point in their network."
PAY TV MARKET HIGHLIGHTS
The overall broadcast and streaming video equipment market grew 5.6% worldwide in 2013, to $1.6 billion, as spending on content delivery networks (CDNs) increased while spending on contribution encoders and video-on-demand (VOD) playout servers decreased

Infonetics forecasts the total market to top $2.5 billion by 2018

CDN platforms are evolving to support an increasing number of over-the-top (OTT) formats such as HTTP Live Streaming (HLS) and Microsoft Smooth Streaming
Two of the strongest growing segments in the broadcast and streaming video market are CDN edge servers, which Infonetics expects to grow at a healthy 17% CAGR from 2013 to 2018, and multiscreen broadcast encoders, growing at an 8% CAGR
Pay-TV providers are using a mix of platforms, from GPU-based devices to software only, to create massive and distributed encoding horsepower in the cloud-all managed centrally via software-defined networking (SDN) controllers
Harmonic continues to lead the global broadcast and streaming video equipment market, although its revenue share decreased about one point while some competitors gained in 2013