2014年6月6日英国ロンドン発―米国系市場調査会社Infonetics Research は、最新の Residential and Enterprise Femtocell Equipment レポートの抄録をリリースしました。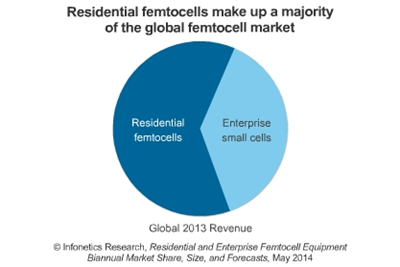 アナリストノート
「全体的に見て、フェムトセルと企業向けスモールセル機器の市場は数量、金額ともに前年上半期との比較で力強く推移しました。スモールセルの市場セグメントには成長を促す要因が十分にあり、2018年にかけて、オペレータが数量、金額面で前年を上回る成長を続けるためのサポートをするという楽観的な見方をしています」と、Infonetics Researchでモバイルバックホールとスモールセルを担当している上席アナリストのRichard Webb氏は述べている。

「至るところで4Gマクロネットワークの配備が進行しているほか、オペレータはモバイルブロードバンドサービスを拡大するために4Gをベースとするフェムトセルをローンチし始めています」としたうえで、「モバイルオペレータによる企業への音声・データサービスサポートを手助けすることを目的として、企業向けスモールセルの採用が始まっているため、当社では4Gフェムトセルと企業向けスモールセルの収入は2018年に23億ドルまで増加し、2013年から2018年にかけての年平均成長率(CAGR)は77%に達すると予測しています」と、Webb氏は続けて述べている。
フェムトセル市場のハイライト
世界的なフェムトセルと企業向けスモールセル機器市場は1Q14に1億4400万ドルとなり、前期比で6%増加した。
関連市場の中で最もARPUが高い製品であるLTEフェムトセルは収入増の牽引役となっているが、出荷数で最大の構成要素となっているのはW-CDMAフェムトセルである。v
居住者向けのセグメントは1Q14におけるフェムトセル収入の59%を占めており、企業向けスモールセルのセグメントを上回っている。

この市場セグメントは他からの影響を受けない独立的な要素が強く、Infoneticsでは、ベンダーやオペレータ等からの特化が進むと予想している。

1Q14において、統合されたフェムトセルは総出荷数の8%にまで成長したが、2018年までに全体の3分の1、居住者向けセグメントで支配的になるとみられる。
1Q14におけるフェムトセル/企業向けスモールセル機器の金額面での市場シェア上位企業はアルファベット順にAirvana, Alcatel-Lucent, Cisco, ip.accessである。
FEMTOCELL REPORT SYNOPSIS
Infonetics' biannual femtocell report provides worldwide and regional market size, vendor market share, forecasts through 2018, analysis, and trends for 2G (GSM/GPRS and CDMA), 3G (W-CDMA/HSPA, CDMA2000/EV-DO, and TD SCDMA), and 4G (FDD-LTE and TDD-LTE) femtocells. Femtocells are tracked by form factor (standalone and integrated) and market segment (residential and enterprise small cell). Companies tracked: Airvana, Alcatel-Lucent, Argela, Cisco, Contela, Fujitsu, Huawei, ip.access, NEC, QuCell, Samsung, SpiderCloud, Ubee Interactive, and others.
(原文)

Operators launching 4G-based femtocells to ratchet mobile broadband services
London, UK, June 6, 2014-Market research firm Infonetics Research released excerpts from its latest Residential and Enterprise Femtocell Equipment report, which tracks femtocells by market segment, technology, and form factor.
ANALYST NOTE
"Overall, the femtocell and enterprise small cell equipment market has seen robust unit and revenue growth over the previous half-year period, and we remain optimistic that these small cell segments have sufficient market drivers and support among operators to sustain continuous year-over-year unit and revenue growth through 2018," notes Richard Webb, directing analyst for mobile backhaul and small cells at Infonetics Research.

"4G macro network deployments are underway in many places, and operators are starting to launch 4G-based femtocells to augment mobile broadband services," adds Webb. "Boosted by enterprise small cell adoption kicking in to help mobile operators support enterprise-specific voice and data offerings, we believe 4G femtocell and enterprise small cell revenue will climb to $2.3 billion in 2018, a compound annual growth rate (CAGR) of 77 percent from 2013 to 2018."
FEMTOCELL MARKET HIGHLIGHTS
Worldwide femtocell and enterprise small cell equipment revenue reached $144 million in 1Q14, up 6% from 4Q13
LTE femtocells, the highest ARPU products in the market, are a driving force behind revenue growth, though W-CDMA femtocells still make up the dominant proportion of unit shipments
The residential segment led with 59% of femtocell revenue in 1Q14, ahead of the enterprise small cell segment

These are distinct markets in their own right, and Infonetics expects to see increasing specialization from vendors and operators alike

Integrated femtocells grew to 8% of total units in 1Q14 and are anticipated to account for about a third of unit shipments by 2018, predominantly into the residential segment
Femtocell/enterprise small cell equipment revenue market share leaders in 1Q14 are, in alphabetical order, Airvana, Alcatel-Lucent, Cisco, and ip.access