2014年6月10日米国カリフォルニア州キャンベル発―Infonetics Research は、最新(2014 年第1四半期)のEnterprise Session Border Controllers レポートの抄録をリリースしました。 これは企業向けセッション・ボーダ・コントローラを継続的に調査分析しております。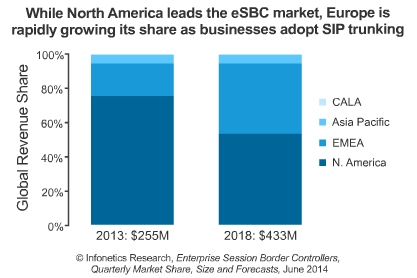 アナリストノート
「Ciscoは企業向けボイス及びデータ・ソリューション大手という強みをeSBCs販売に生かし、四半期成績において、企業向けセッション・ボーダー・コントローラ(eSBC)の市場占有率リーダーボード(成績表)で首位を獲得しました。」Infonetics Research のVoIP、UC、IMS担当主任アナリストDiane Myersは指摘する。

「Sonusは2014年第1四半期におけるあらゆるベンダーの中で最も大きな連続的売上増加を示しましたが、それでも他の主導的なベンダー間-AudioCodes、Dialogic、Ingate、Oracle、Sonus-には大きな位置の変動はありません。」とMyersは続ける。
企業向けSBC市場のハイライト
世界規模で、企業向けセッション・ボーダー・コントローラ(eSBC)の売り上げは、2014年第1四半期には合計6,030万ドルであり、連続的に1%成長したものの、1年前の第1四半期からは9%下がった。
北米はeSBCマーケットにとって依然として主要な地域であり、2014年第1四半期におけるeSBC販売の4分の3以上を占めている。
一方、他の地域、特にヨーロッパにおけるビジネスではSIPトランキングの採用が加速しており、これは北米外でのeSBC販売に対して徐々に良い影響を与えるだろう。
2014年第1四半期におけるeSBCセッションの最も大きな部分を占めていたのが、雇用者数101人から5,000人規模の企業である。
eSBCsのセッションあたり平均収入は現在29ドルであり、伝統的なVoIP-TDMゲートウェイよりかなり低い。
Infonetics は、世界的な企業向けSBCマーケットが2018年に4億3,300万ドル市場に成長すると予測している。
eSBC REPORT SYNOPSIS
Infonetics' quarterly enterprise SBC report provides worldwide and regional market size, market share, forecasts through 2018, analysis, and trends for enterprise SBC revenue and sessions by system and business size in North America, EMEA (Europe, Middle East and Africa), Asia Pacific, and the Caribbean and Latin America. Companies tracked: Adtran, AudioCodes, Avaya, Cisco, Dialogic, Edgewater, Ingate, InnoMedia, Oracle, Sonus Networks, Unify, and others.
(原文)

Cisco entrenched atop enterprise session border controller (eSBC) market
Campbell, CALIFORNIA, June 10, 2014-Market research firm Infonetics Research released excerpts from its 1st quarter 2014 (1Q14) Enterprise Session Border Controllers market share, size, and forecasts report, which tracks eSBC session shipments and vendor revenue.
ANALYST NOTE
"Cisco notched another quarter at the top of the enterprise session border controller (eSBC) market share leaderboard, turning its commanding position in enterprise voice and data solutions into an advantage as it sells its eSBCs," notes Diane Myers, principal analyst for VoIP, UC, and IMS at Infonetics Research.

"There were no major shake-ups among the other leading vendors-AudioCodes, Dialogic, Ingate, Oracle, and Sonus-in terms of positioning, though Sonus put up the largest sequential revenue gain of any vendor in the first quarter of 2014," continues Myers.
ENTERPRISE SBC MARKET HIGHLIGHTS
Globally, enterprise session border controller (eSBC) revenue totaled $60.3 million in 1Q14, up 1% sequentially, but down 9% from the year-ago 1st quarter
North America continues to be the primary region for the eSBC market, representing more than three-quarters of eSBC sales in 1Q14
Meanwhile, businesses in other regions, particularly Europe, are accelerating adoption of SIP trunking, which will positively impact eSBC sales outside of North America over time
Enterprises with between 101 and 5,000 employees made up the largest segment of eSBC sessions in 1Q14
The average revenue per session for eSBCs, currently $29, is considerably lower than that of traditional VoIP-TDM gateways
Infonetics forecasts the worldwide enterprise SBC market to grow to $433 million in 2018