2014年7月17日米国カリフォルニア州キャンベル発―Infonetics Research は、最新のHome Automation and Connected Home Strategies: Global Service Provider Survey に関するレポートの抜粋をリリースしました。このレポートは、世界での通信事業者によるホームオートメーションやホームへのネットワーク接続に関する詳細なインタビュー調査をまとめたものです。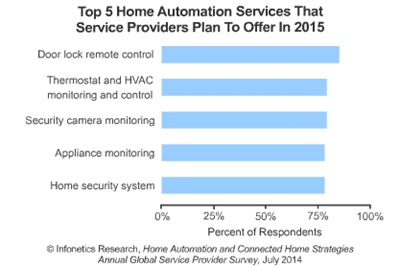 アナリストノート
Infonetics ResearchでM2Mとモノのインターネットを担当するアナリスト、Godfrey Chua氏は次のように指摘する。「ホームオートメーション機器やソフトウェアのベンダーの目には、サービス事業者が成長率の高い市場として映っています。以前はホームオートメーションサービスは北米と欧州市場に限定されていましたが、数千万のブロードバンド加入者を抱えている世界中のサービス事業者がARPUの向上を目指して、今ではその動向をうかがっています。」

Chua氏はこうつけ加える。「ベンダーに求められるのは、自社製機器やソフトウェアが既存のCPEやバックオフィス管理システムに確実につながること、そしてそれら製品が主要なサービス事業者の希望する厳格なガイドラインを遵守していることでしょう。」
ホームオートメーションとネット接続された住宅に関する調査のハイライト
回答事業者の79%が現在ホームオートメーションサービスを提供しているか、2014年末までに提供する予定であり、残りの21%も2015年末までにはサービスを提供する計画である。
調査回答者の64%がARPUの向上がホームオートメーションサービスの展開の主要因だと答えている。
昨年の調査では、回答者の取り組む課題のうち5番目の優先順位だったホームオートメーション機器の価格設定が、現在は第1位へと大きく飛躍している。
ホームセキュリティーやエネルギー管理サービスが早くから顧客の人気を集めており、住宅周りの他のサービスへと拡大させていくための手がかりとなるだろう。
無線LANは、家庭内の機器を接続するための主要な技術である。
調査概要
ネット接続された住宅とオートメーションに関する調査(connected home and automation survey)のために、Infoneticsは加入者数、設備投資額、収益の面で世界最大手となるサービス事業者数社に、ホームオートメーションとネット接続された住宅サービスの展開計画についてインタビューを行なった。

調査では、展開の現状やサービス展開における推進力と課題、配信方法、機器、技術とプロトコル、サービス収益、支出、導入したベンダーと審査中のベンダー、一流のホームオートメーション機器メーカーなど、ホームオートメーションと制御における最新の動向を詳細に調べて提供している。調査の中で挙げられたベンダーは次のようである: [[[ADT, Alarm.com, Alliance Security, AT&T, Belkin, CentraLite, GE, Honeywell, iControl, Ijenko, Jaco, Kwik, Linear, MiOS, Nest, Netgear, Oplink, Pinnacle Security, Qolsys, Sagemcom, Samsung, Sercomm, SmartHome Ventures, Somfy, Tyco, ViewSonic.]]]
(原文)

More broadband providers jumping on the home automation bandwagon
Campbell, CALIFORNIA, July 17, 2014-Market research firm Infonetics Research released excerpts from its 2014 Home Automation and Connected Home Strategies: Global Service Provider Survey, which takes an in-depth look at the latest trends in home automation and connected home services offered via a broadband or mobile connection to the home.
ANALYST NOTE
"For vendors of home automation equipment and software, service providers represent a high-growth market. Where home automation services were previously limited to the North American and European markets, service providers around the world-with access to tens of millions of broadband subscribers-are now testing the waters, driven by the desire to increase ARPU," notes Godfrey Chua, directing analyst for M2M and The Internet of Things at Infonetics Research.

Adds Chua: "Vendors will have to ensure their equipment and software can be tied into existing CPE and back-office management systems, and that their products adhere to the stricter guidelines expected by major service providers."
HOME AUTOMATION AND CONNECTED HOME SURVEY HIGHLIGHTS
79% of operator respondents currently offer home automation services or will do so by the end of 2014, with the remaining 21% planning to offer the services by the end of 2015
64% of survey respondents say that increasing ARPU is a driver for deploying home automation services
In a significant jump from last year's survey where it ranked 5th, pricing of home automation equipment now heads the list of respondents' deployment challenges
Home security and energy management services are seeing early popularity with customers and will be key to expanding to other services around the home
WiFi is the primary technology for connecting devices in the home
SURVEY SYNOPSIS
For its connected home and automation survey Infonetics interviewed some of the largest service providers in the world by subscribers, capex, and revenue about their plans for deploying home automation and connected home services.

The survey provides an in-depth look at the latest trends in home automation and control, including current deployments, service deployment drivers and challenges, delivery methods, equipment, technologies and protocols, service revenue, expenditures, vendors installed and under evaluation, and top rated home automation equipment suppliers. Vendors named in the survey include: [[[ADT, Alarm.com, Alliance Security, AT&T, Belkin, CentraLite, GE, Honeywell, iControl, Ijenko, Jaco, Kwik, Linear, MiOS, Nest, Netgear, Oplink, Pinnacle Security, Qolsys, Sagemcom, Samsung, Sercomm, SmartHome Ventures, Somfy, Tyco, ViewSonic.]]]