2014年7月21日米国カリフォルニア州キャンベル発―Infonetics Researchはテレコム・データコム向けネットワーク機器およびソフトウェア (Telecom and Datacom Network Equipment and Software)レポートの最新版からの抜粋を公表した。レポートでは、大局的に見た市場全体の健全性について報告している。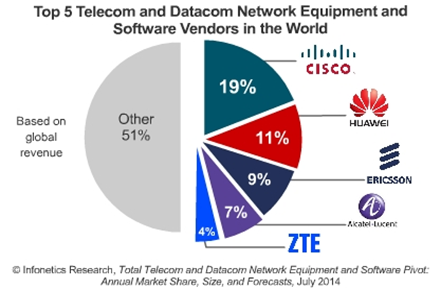 アナリストノート
Infonetics Researchで主席アナリストを務めるJeff Wilson氏は次のように指摘する。「企業やサービス事業者は、ソフトウェア定義ネットワーク (SDN) とネットワーク機能の仮想化 (NFV) 技術によって引き起こされたネットワークの大規模な変化の最中にあります。しかし、テレコム・データコム向けネットワーク機器やソフトウェアの市場は2015年の最速成長に始まり、2018年まで順調な年次成長の軌道に乗っています。」

Infoneticsの共同創設者であり、レポートの共同執筆者でもあるMichael Howard氏は、こう付け加える。「サービス事業者向け機器分野を見ると、ベンダーの市場シェアが再編成されているのがわかります。2013年にはHuaweiが長年トップの座にあったEricssonを追い抜いて首位に立ちました。Huaweiは多くの分野でうまくやってきましたが、Huaweiがこのような強い成長を続けられた重要な要因は、中国経済です。」
テレコム・データコム市場のハイライト
テレコム・データコム ネットワーク機器およびソフトウェア市場でのシェアを世界的な収益にもとづいて格付けすると、Cisco、Huawei、Ericsson、Alcatel-Lucent、ZTEの順となり、実質的に同じ5社が一年前と同じシェアで並んでいる。
エンタープライズネットワーキング分野でのベンダーのシェアランクには変化がなく、Ciscoが主導的位置におり、はるかに差を置いてAvaya、Brocade、HP、Juniper (アルファベット順) が団子状態で続いている。
テレコム・データコム機器およびソフトウェアの世界的な売上高は、2013年に前年比3%上昇して1830億ドルとなった。
アジア太平洋地域は、テレコム・データコム機器およびソフトウェア収益の地域間競争では北米との間にいくぶん余裕があり、北米の4.5%に比べて6%の前年比成長で、この傾向は少なくとも2018年まで続くと予想される。
Infoneticsの予想では、2014年から2018年の5年間にわたりサービス事業者と企業がテレコム・データコム機器およびソフトウェアに支出する額は累積で1.01兆ドルとなる。
ABOUT THE REPORT
Infonetics' annual datacom and telecom equipment and software pivot report compiles worldwide and regional market size, vendor market share, and forecasts through 2018 from all of its reports that track enterprise and service provider gear. It is the majority of all data networking and telecom equipment for service providers, cable companies, and small, medium, and large organizations, excluding consumer electronics.

The 11 major categories of equipment and software tracked in Infonetics' report include broadband aggregation; broadband CPE; pay TV; optical network hardware; carrier routing, switching, and Ethernet; service provider VoIP and IMS; service provider mobile/wireless infrastructure; service enablement and subscriber intelligence; security; enterprise and data center networks; and enterprise communications. Companies tracked include Alcatel-Lucent, Avaya, Brocade, Ciena, Cisco, Ericsson, Fujitsu, HP, Huawei, Juniper, Motorola, NEC, Nokia, Samsung, Siemens, ZTE, and many others.
(原文)

Cumulative $1 trillion to be spent on telecom and datacom equipment and software over next 5 years
CAMPBELL, California, July 21, 2014-Market research firm Infonetics Research released excerpts from its latest Telecom and Datacom Network Equipment and Software report, which provides a big picture of the health of the overall market.
ANALYST NOTE
"Despite the fact that enterprises and service providers are in the middle of massive network upheavals due to the evolution of software-defined networking (SDN) and network functions virtualization (NFV) technology, the telecom and datacom networking equipment and software market is on track to grow annually through 2018 with the fastest growth coming in 2015," notes Jeff Wilson, principal analyst at Infonetics Research.

Michael Howard, co-founder of Infonetics and co-author of the report, adds, "Looking at just the service provider equipment space, we're seeing a shakeup in vendor market share, with Huawei leapfrogging longtime number-one Ericsson to take the top spot in 2013. While Huawei's been doing well in a number of regions, China's economy is a key factor keeping Huawei's growth so strong."
TOTAL TELECOM AND DATACOM MARKET HIGHLIGHTS
Based on global revenue, the overall telecom and datacom network equipment and software market share leaders are, in rank order: Cisco, Huawei, Ericsson, Alcatel-Lucent, and ZTE - the same top 5 vendors with virtually the same shares as the year prior
Vendor share positions held steady in the enterprise segment, with Cisco in the driver's seat and followed distantly by tightly bunched Avaya, Brocade, HP, and Juniper (listed in alphabetical order)
Worldwide, sales of telecom and datacom equipment and software came to $183 billion in 2013, an uptick of 3% versus the previous year
Asia Pacific put some breathing room between itself and North America in the regional race for telecom/datacom equipment and software revenue, growing 6% year-over-year as compared to North America's 4.5%; this trend is expected to continue through at least 2018
Infonetics is projecting a cumulative $1.01 trillion will be spent by service providers and enterprises on telecom/datacom gear and software over the 5 years from 2014 to 2018