2014年8月18日米国マサチューセッツ州ボストン発―Infonetics Research は、最新のレポート Optical Network Hardware よりその抜粋をリリースしました。これは2014年第2四半期(4月―6月)のアップデートです。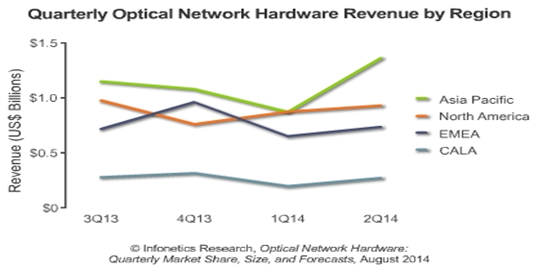 アナリストノート
「『ティアー1』という用語はかつて欧州の既存オペレータや北米RBOC(Regional Bell Operating Company)に関係するものでしたが、今では、ティアー1の支出増は競争的なダークファイバーやインターネットエクスチェンジキャリアからもたらされていることが定性的に明らかです。垂直統合されたインターネットコンテンツプロバイダー(ICP)と同様、こうしたキャリアは、コアとなるインターネット接続とデータセンター内の能力増のかなりの部分を占めるようになっています」と、Infonetics Researchでキャリア伝送ネットワークを担当している主席アナリストであるAndrew Schmitt氏は述べている。
オプティカルネットワーク市場のハイライト
北米において、Google等のインターネットコンテンツプロバイダー(ICP)はAdva、BTI、Infineraなど一握りのベンダーにて光投資の波を生み出した。2Q14の増加金額は推計で4,000万ドルであった。
SONET/SDHとWDMを含む世界的なオプティカルネットワークハードウェアの収入はHuawei及びZTEが季節的要因で堅調だったことにより、2Q14に前期比27%増の33億ドルとなった。
世界的なオプティカル支出金額は前年同期比(2Q13から2Q14にかけて)横ばいであった。アジア太平洋での増加がEMEAでの軟調により相殺された。
2Q14における世界的なWDM機器の収入は前年同期比6%増であった。
2014年上半期は、Alcatel-Lucent、Ciena、Cisco、Huawei、 Infineraより100G WDMの出荷が大量になされた。
Ciena及びInfineraの北米でのオプティカルネットワーク装置収入は2Q14に前年同期比で急増した一方、FujitsuとAlcatel-Lucentの収入は減少した。
ABOUT THE OPTICAL REPORT
Infonetics' quarterly optical hardware report provides worldwide and regional market size, market share, forecasts through 2018, analysis, and trends for metro and long haul SONET/SDH and WDM equipment, Ethernet optical ports, SONET/SDH/POS ports, and WDM ports. Vendors tracked: Adtran, Adva, Alcatel-Lucent, Ciena, Cisco, Coriant, Cyan, ECI, Fujitsu, Huawei, Infinera, NEC, Padtec, Transmode, Tyco Telecom, ZTE, and others.
(原文)

Internet content providers provide big boost to N. American optical spending
Boston, MASSACHUSETTS, August 18, 2014-Market research firm Infonetics Research released vendor market share and preliminary analysis from its 2nd quarter 2014 (2Q14) Optical Network Hardware report.
OPTICAL ANALYST NOTE
"While the term 'tier-1' is traditionally associated with the incumbent operators of Europe and RBOCs in North America, it is now qualitatively clear that tier-1 spending growth is coming from the competitive dark fiber and internet exchange carriers. These carriers, as well as vertically-integrated internet content providers (ICPs), provide a growing portion of core internet connectivity and intra-datacenter capacity," notes Andrew Schmitt, principal analyst for carrier transport networking at Infonetics Research.
OPTICAL MARKET HIGHLIGHTS
In North America, internet content providers (ICPs) such as Google and others generated a wave of optical spending at a handful of vendors including Adva, BTI, and Infinera, altogether accounting for an estimated $40 million surge in 2Q14
Worldwide optical network hardware revenue, including SONET/SDH and WDM, totaled $3.3 billion in 2Q14, a sequential gain of 27% aided by strong seasonal performances from Huawei and ZTE
Global optical spending is roughly flat year-over-year (2Q14 from 2Q13) as strength in Asia Pacific offset weakening spending trends in EMEA
Worldwide WDM equipment revenue in 2Q14 is up 6% year-over-year
The 1st half of 2014 brought another huge flood of 100G WDM shipments by Alcatel-Lucent, Ciena, Cisco, Huawei, and Infinera
Ciena's and Infinera's North American optical revenue grew rapidly on a year-over-year basis in 2Q14, while Fujitsu's and Alcatel-Lucent's decreased