2014年9月8日米国マサチューセッツ州ボストン発―B Infonetics Research は、2014年第2四半期の最新レポートWireless LAN Equipment and WiFi Phones の抄録をリリースしました。 これは, 企業向けアクセスポイント、ワイヤレスLAN、およびWiFi端末を継続的に調査分析しております。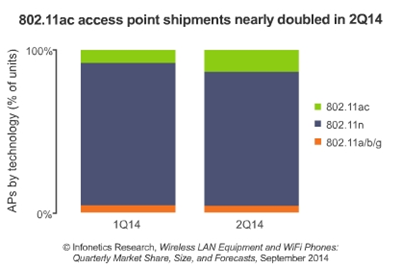 無線LANアナリストノート
「記録的なアクセスポイント出荷にもかかわらず、今年のこれまでの無線LANマーケットの売り上げの伸びは、サービス・プロバイダーおよび教育関連の支出における一時的な減少、802.11acが平均販売価格を押し上げられなかったこと、そして非制御型のアプローチといった、より低価格なソリューションの躍進によって、相対的に弱くなっている。」と、Infonetics Researchで企業ネットワークとビデオのディレクティング・アナリストMatthias Machowinski氏は言及する。

Machowinski氏は、「そうは言うものの、サービス・プロバイダーおよび教育関連の支出の回復、802.11acがクリティカル・マスに達すること、そしてWave2製品が市場に投入されることで、2015年に無線LANマーケットは伸長すると我々は見込んでいる。」と、付け加える。
2014年第2四半期の無線LAN市場のハイライト
2014年第2四半期の全世界の無線LAN機器販売は合計12億ドルで、前期比13%増、前年同期比4%増となった。
2014年第2四半期のアクセスポイント出荷は、前年同期と比べて3分の1上昇。
2014年第2四半期のコントローラーの売り上げは、前年同期比で5%の減少。
802.11acのアクセスポイントは毎四半期ほぼ倍増で普及しており、802.11nを席巻し始めている。
2014年第2四半期のWiFi電話の売り上げは再び減少し、前期比1%、前年同期比では15%の減少となった。
WIRELESS LAN REPORT SYNOPSIS
Infonetics' quarterly WLAN equipment report provides worldwide and regional market size, vendor market share, forecasts through 2018, analysis, and trends for WLAN infrastructure, including access points by type and technology, WLAN controllers, and enterprise single-mode WiFi phones. Vendors tracked: Aerohive, Alcatel-Lucent, Aruba, Brocade, Buffalo, Cisco, D-Link, Extreme, Juniper, Meru, Motorola, Netgear, HP, Huawei, Ruckus, Spectralink, TP Link, Ubiquiti, Vocera, Xirrus, others.
(原文)

802.11ac access point penetration nearly doubling every quarter, shows Infonetics WLAN report
Boston, MASSACHUSETTS, September 8, 2014-Market research firm Infonetics Research released excerpts from its 2nd quarter 2014 (2Q14) Wireless LAN Equipment and WiFi Phones report, which tracks enterprise access points, wireless LAN (WLAN) controllers, and WiFi phones.
WLAN ANALYST NOTE
"Despite access point shipments reaching record levels, revenue growth in the wireless LAN market has been relatively weak so far this year due to temporary declines in service provider and K-12 spending, 802.11ac failing to lift average selling prices, and the rise of lower-cost solutions, including controller-less approaches," notes Matthias Machowinski, directing analyst for enterprise networks and video at Infonetics Research.

Machowinski adds: "That said, we expect the wireless LAN equipment market to accelerate in 2015 as spending by service providers and education comes back, 802.11ac reaches critical mass, and Wave 2 products enter the market."
2Q14 WLAN MARKET HIGHLIGHTS
Global wireless LAN (WLAN) equipment sales totaled $1.2 billion in 2Q14, up 13% sequentially, and up 4% year-over-year
Access point shipments are up by a third year-over-year in 2Q14
Controller revenue is down 5% in 2Q14 from the year-ago 2nd quarter
802.11ac access point penetration has nearly doubled every quarter and is starting to cannibalize 802.11n
WiFi phone revenue is down again in 2Q14, declining 1% quarter-over-quarter and 15% year-over-year