2014年9月8日米国カリフォルニア州キャンベル発―Infonetics Research は、2014年第2四半期のEnterprise Session Border Controllers マーケットシェア、市場規模、市場予測レポートの抄録をリリースしました。これはSBC (セッションボーダコントローラ) の出荷台数や売り上げを継続的に追跡調査しています。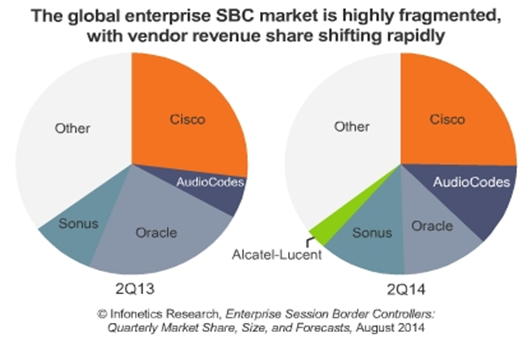 アナリストノート
「企業向けセッションボーダーコントローラー(SBC)は世界中で受け入れられつつあり、急速な成長を見せています。この成長は、自社のトランキング・インフラを統合、集中、増加させるための手段として、中規模企業及び大企業がセッション・イニシエーション・プロトコル(SIP)トランキング・サービスを採用しているのが主たる要因です」と、Infonetics ResearchでVoIP、UC、IMSを担当している主席アナリストであるDiane Myers氏は述べている。

Myers氏の追加コメント「SBCは、SIPトランキングの成長や企業のIP PBXへのマイグレーションによってもプラスの影響を受けています。」
企業向けSBC市場のハイライト
世界的な企業向けセッションボーダーコントローラー(eSBC)の市場規模は2Q14に前期比8%増加して6,500万ドルとなった。
eSBCが採用されているのは北米が中心で、2Q14における総販売額の4分の3を占めた。
2Q14に、101人~5,000人規模の企業はeSBC出荷の72%を占めた。
Audiocodes、Cisco、Oracle、Sonus (アルファベット順)は2Q14におけるeSBCベンダーの最大手である。
EdgewaterとIngateが上記トップグループに続いている。
Audiocodes は2QにeSBCベンダーの中で最も力強い実績を残した。前期比35%も収入が増加してシェアが上昇したことによる。
Infoneticsでは、世界的なeSBC市場が2014年から2018年にかけての年平均上昇率(CAGR)で7%増となり、総計16億ドルになると予測している。
eSBC REPORT SYNOPSIS
Infonetics' quarterly enterprise SBC report provides worldwide and regional market size, market share, forecasts through 2018, analysis, and trends for enterprise SBC revenue and sessions by system and business size in North America, EMEA, Asia Pacific, and CALA. Companies tracked: Adtran, Alcatel-Lucent, AudioCodes, Avaya, Cisco, Dialogic, Edgewater, Ingate, InnoMedia, OneAccess, Oracle, Sonus Networks, Unify, others.
(原文)

Enterprise session border controller (eSBC) market up 8% in 2Q14
Campbell, CALIFORNIA, September 8, 2014-Market research firm Infonetics Research released excerpts from its 2nd quarter 2014 (2Q14) Enterprise Session Border Controllers market share, size, and forecasts report, which tracks eSBC session shipments and vendor revenue.
ANALYST NOTE
"Enterprise session border controllers (SBCs) are gaining acceptance worldwide and are growing at a fast clip, mainly driven by medium and large businesses deploying Session Initiation Protocol (SIP) trunking services as a way of consolidating, centralizing, and increasing the utilization of their trunking infrastructure," notes Diane Myers, principal analyst for VoIP, UC, and IMS at Infonetics Research.

Myers continues: "SBCs are being positively impacted by the growth in SIP trunking and the increased migration of businesses to IP PBXs."
ENTERPRISE SBC MARKET HIGHLIGHTS
The worldwide enterprise session border controller (eSBC) market reached $65 million in 2Q14, growing 8% from 1Q14
The primary region for eSBCs is North America, which accounted for three-fourths of total sales in 2Q14
In 2Q14, businesses with 101-5,000 employees comprised 72% of eSBC shipments
Audiocodes, Cisco, Oracle, and Sonus (in alphabetical order) form the top tier of eSBC vendors in 2Q14
Edgewater and Ingate are just behind this top group
Audiocodes had the strongest 2Q of any eSBC vendor thanks to a 35% sequential revenue gain that gave it a nice bump in share
Infonetics expects the global eSBC market to grow at a 7% compound annual growth rate (CAGR) from 2014 to 2018, when it will total $1.6 billion