2014年9月9日米国カリフォルニア州キャンベル発―firm Infonetics Research は、2014年第2四半期のNetwork Security Appliances and Software レポートをリリースしました。これは統合セキュリティ機器、情報保護型ルーター、SSL VPNゲートウェイ、VPNなどのファイアウォール用ソフト、不正侵入検知防止製品などの動向を調べている。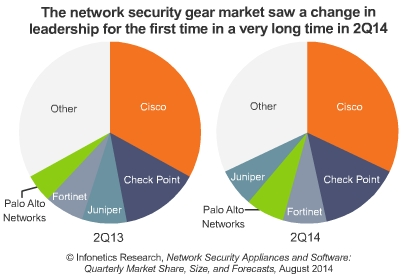 セキュリティ アナリストノート
「ネットワークセキュリティ市場は長期間安定していたが、ここにきてリーダー企業に変化があったようだ。トップ5社にFortinetとPalo Alto Networksが食い込んでそれぞれ業界3位と4位を占めた。」 とInfonetics Researchのセキュリテイ担当主席アナリストのJeff Wilsonが伝える。

Wilsonはこう続けた。「セキュリティ業界の今の情勢からすると、しばらく変化が続くだろう。Check Point、Cisco、Dell SonicWall、Fortinet、Juniper、McAfee、Palo Altoの市場シェアをめぐる戦いは激しく、ひょっとすると合従連衡も起こるかもしれない。」
2014年2Qのセキュリティ市場のハイライト
世界のネットワークセキュリティ用機器とソフトウェアの売り上げは1Qに季節的要因から低調だったが2Qは例年通り大きな伸びを示した。2Qのこの市場は2014年も引き続き4%の伸びを示し、$16億となった。
このネットワークセキュリティ市場の年間成長率も2014年2Qは4%の伸びとなった。
統合セキュリティ環境、つまりセキュリティ用機器とソフトウェアにSSL VPN製品を加えた統合環境は、2014年2Qにネットワークセキュリティの売り上げ全体の83%を占めた。この大部分は機器の売り上げである。
一方、不正侵入検知システム (IDS) および不正侵入防止システム (IPS) は売り上げ全体の17%に至った。
ネットワークセキュリティ・レポートの概要
Infoneticsの季報network security reportは、世界と地域別の市場規模、各ベンダーの市場シェア、2018年までの分析と動向の予測を提供する。対象分野は、統合セキュリティ機器、情報保護型ルーター、SSL VPNゲートウェイ、VPNおよびファイアウォール用ソフトウェア、IDS/IPS製品である。[[[ Vendors tracked: Array Networks, CA, Check Point, Cisco, Citrix, D-Link, Dell SonicWall, Extreme Networks, eSoft, F5, Fortinet, GTA, HP, Huawei, ISS, Juniper, McAfee, NetASQ, Palo Alto Networks, WatchGuard, ZyXel, others. ]]]
(原文)

Vendor shakeup in network security market starts in Q2, more to come
Campbell, CALIFORNIA, September 9, 2014-Telecom market research firm Infonetics Research released excerpts from its 2nd quarter 2014 (2Q14) Network Security Appliances and Software report, which tracks integrated security appliances, secure routers, SSL VPN gateways, VPN and firewall software, and intrusion detection and prevention products.
SECURITY ANALYST NOTE
"The network security market saw a change in leadership for the first time in a very long time, with Fortinet and Palo Alto Networks each moving up a notch among the top five vendors, now in the third and fourth positions, respectively," notes Jeff Wilson, principal analyst for security at Infonetics Research.

Wilson adds: "Given the current climate in security, we look for more changes or even some consolidation, with Check Point, Cisco, Dell SonicWall, Fortinet, Juniper, McAfee, and Palo Alto battling it out for share."
2Q14 NETWORK SECURITY MARKET HIGHLIGHTS
Worldwide network security appliance and software revenue came off a seasonal 1st quarter lull to post fairly typical 2nd quarter growth: the market is up 4% sequentially in 2Q14, to $1.6 billion
Year-over-year growth in the network security market also hit 4% in 2Q14
Integrated security-appliances, software, and SSL VPN products-made up 83% of total network security revenue in 2Q14, with the majority coming from appliances
Intrusion detection systems (IDSs) and intrusion prevention systems (IPSs), meanwhile, represented 17% of overall revenue
NETWORK SECURITY REPORT SYNOPSIS
Infonetics' quarterly network security report provides worldwide and regional market size, vendor market share, forecasts through 2018, analysis, and trends for integrated security appliances, secure routers, SSL VPN gateways, VPN and firewall software, and IDS/IPS products. Vendors tracked: Array Networks, CA, Check Point, Cisco, Citrix, D-Link, Dell SonicWall, Extreme Networks, eSoft, F5, Fortinet, GTA, HP, Huawei, ISS, Juniper, McAfee, NetASQ, Palo Alto Networks, WatchGuard, ZyXel, others.