2014年11月17日米国マサチューセッツ州ボストン発―Infonetics Research は、2014年第3四半期のアップデートOptical Network Hardware レポートの速報版をリリースしました。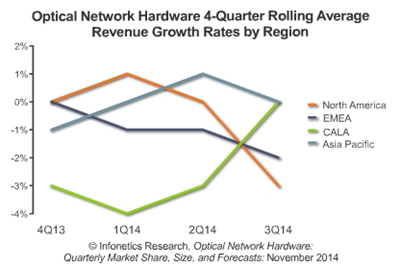 オプティカル アナリスト ノート
Infonetics Researchでキャリア伝送ネットワークを担当する主席アナリスト、Andrew Schmitt氏は次のように指摘する。「オプティカル市場において、支出方法の違いが大きくなっています。一定のサービス事業者、有力な大手キャリア、インターネット コンテンツ事業者は支出を増やしている一方で、従来のキャリアの足取りは慎重になっています。EMEA (欧州・中東・アフリカ) や現役キャリアへの依存が少ない企業は比較的うまくやっており、この結果は業界内の様々なセンチメントの説明になっています。」
オプティカル市場のハイライト
世界のオプティカル ネットワーク ハードウェア市場 (SONET/SDH、WDM) は2014年第3四半期に総額30億ドルとなっており、連続で10%減、前年同期比5%減である。
WDM機器の収益は2014年第3四半期に前年比4%増であったが、WDMへの力強い支出傾向は北米で衰え、EMEA (欧州・中東・アフリカ) では減少が続いた。
Cienaの力強い業績は他のベンダーの弱い業績に相殺され、北米は2014年第3四半期にオプティカル市場の牽引役を降りた。
一方で、欧州のオプティカル市場はマクロ経済の不調によって悪化の度合いを深めており、アジア太平洋地域は順次ベースで2桁減少した。
市場からの利益を積み上げているベンダーはますます減少しているが、Alcatel-Lucent、Ciena、Cyan、Infinera、NECはすべて、2014年第3四半期に良い結果を残した。
OPTICAL REPORT SYNOPSIS
Infonetics' quarterly optical hardware report provides worldwide and regional market size, market share, forecasts through 2018, analysis, and trends for metro and long haul SONET/SDH and WDM equipment, Ethernet optical ports, SONET/SDH/POS ports, and WDM ports. Vendors tracked: Adtran, Adva, Alcatel-Lucent, Ciena, Cisco, Coriant, Cyan, ECI, Fujitsu, Huawei, Infinera, NEC, Padtec, Transmode, TE Connectivity, Tyco Telecom, ZTE, others.
(原文)

Optical equipment spending dips 5% from a year ago as WDM wanes in North America and EMEA
Boston, MASSACHUSETTS, November 17, 2014-Market research firm Infonetics Research released vendor market share and preliminary analysis from its 3rd quarter 2014 (3Q14) Optical Network Hardware report.
OPTICAL ANALYST NOTE
"A spending divergence is opening in the optical market, with some service providers, primarily competitive carriers and internet content providers, growing spend, while traditional carriers proceed with caution. Companies less dependent on EMEA and incumbent carriers are faring better-this effect explains the varying sentiment in the industry," notes Andrew Schmitt, principal analyst for carrier transport networking at Infonetics Research.
OPTICAL MARKET HIGHLIGHTS
The global optical network hardware market (SONET/SDH, WDM) totaled $3 billion in 3Q14, down 10% sequentially, and down 5% year-over-year
Though WDM equipment revenue is up 4% in 3Q14 from a year ago, strong WDM spending trends waned in North America, and EMEA (Europe, Middle East, Africa) continued to decline
North America stopped pulling the optical train in 3Q14 as strong results from Ciena were offset by other vendors' weaker performance
Europe, meanwhile, remains in an optical slump compounded by a weak macro economy, and Asia Pacific was down by double digits on a sequential basis
Market gains are accumulating to fewer vendors, but Alcatel-Lucent, Ciena, Cyan, Infinera, and NEC all notched positive results in 3Q14