2014年11月19日米国カリフォルニア州キャンベル発―Infonetics Researchは、2014年第3四半期のService Provider VoIP and IMS Equipment and Subscribers レポートをリリースしました。その抄録です。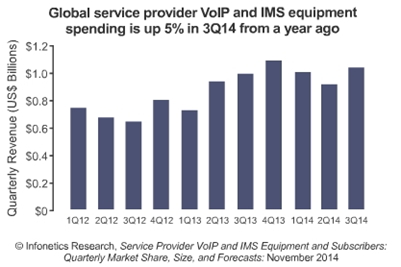 アナリストノート
Infonetics ResearchでVoIP、UC、IMSを担当する主席アナリスト、Diane Myers氏は次のように指摘する。「当社では、AT&T、Verizon、NTT DoCoMoのような大手事業者が商用ボイスオーバーLTE (VoLTE) を開始し、IMSネットワークの収容量を利用するため、今年のサービス事業者のVoIPやIMS機器市場の成長は減速することになると予想していました。大きな飛躍の年となった2013年に続く2014年には、市場はプラス成長ではあるものの、第3四半期には前年同期比5%増に留まり、収益の成長は先細りになっています。有線ネットワークがいまだ大きく寄与しているものの、VoLTEの展開は最も重要な促進要因であり続けるでしょう。」
VoIPとIMS市場のハイライト
世界的には、サービス事業者VoIPとIMS市場は2013年第3四半期から2014年第3四半期にかけて5%成長し、10億ドル規模となった。
2014年第3四半期に前年比成長を記録した製品部門は、ソフトスイッチ、音声アプリケーションサーバー、CSCFサーバー、セッションボーダーコントローラー (SBC) だけだった。
世界中で米国、韓国、香港、日本、シンガポールの11の事業者が商用VoLTEサービスを開始した。
Infoneticsの予想では、AppleがVoLTEおよびボイスオーバーWi-Fi (VoWiFi) をサポートしたことで活性化が進み、2015年にはアジア太平洋地域と欧州でVoLTEサービスを開始する事業者がさらに現れる。
地域ベースでは、EMEA (欧州、中東、アフリカ)、およびCALA (カリブ海地域、ラテンアメリカ) が2014年第3四半期に前年同期比で収益増を記録し、北米がわずかに減少、アジア太平洋地域が好調な第2四半期後に減少した。
2014年第3四半期のキャリアVoIPとIMS市場での収益トップ4はアルファベット順でAlcatel-Lucent、Ericsson、Genband、Huaweiである。
SBC SURVEY SYNOPSIS
Infonetics' quarterly carrier VoIP and IMS report provides worldwide and regional market share, market size, forecasts through 2018, analysis, and trends for trunk media gateways, SBCs, media servers, softswitches, voice application servers, HSS, CSCF, BGCF, MGCF, IM/presence application servers, and subscribers. Vendors tracked: Alcatel-Lucent, BroadSoft, Dialogic, Ericsson, Genband, Huawei, Mavenir, Metaswitch, NEC, Nokia Networks, Oracle, Radisys, Sonus, ZTE, and others
(原文)

Carrier VoIP and IMS equipment market growth positive but slowing
Campbell, CALIFORNIA, November 19, 2014-Market research firm Infonetics Research released vendor market share and forecasts from its 3rd quarter (3Q14) Service Provider VoIP and IMS Equipment and Subscribers report.
ANALYST NOTE
"We expected growth in the service provider VoIP and IMS equipment market to slow this year as large operators such as AT&T, Verizon, and NTT DoCoMo commercially launch voice over LTE (VoLTE) and utilize capacity on IMS networks. Following a tremendous 2013, revenue growth has tapered in 2014, though is still positive, with the market up 5% in the third quarter from a year ago," notes Diane Myers, principal analyst for VoIP, UC, and IMS at Infonetics Research. "VoLTE deployments will remain the most important driver, though wireline is still making strong contributions."
VOIP AND IMS MARKET HIGHLIGHTS
Globally, the service provider VoIP and IMS market grew 5% in 3Q14 from 3Q13, to $1 billion
The only product segments to post year-over-year growth in 3Q14 were softswitches, voice application servers, CSCF servers, and session border controllers (SBCs)
11 operators across the globe-in the U.S., South Korea, Hong Kong, Japan, and Singapore-have launched commercial VoLTE services
Infonetics expects additional operators in Asia Pacific and Europe to launch VoLTE services in 2015; Apple's support of VoLTE and voice over WiFi (VoWiFi) has accelerated activity
On a regional basis, EMEA (Europe, Middle East, Africa) and CALA (Caribbean and Latin America) notched revenue gains in 3Q14 from the year-ago quarter, North America was down slightly, and Asia Pacific declined after a strong Q2
The top 4 revenue leaders in the carrier VoIP and IMS market in 3Q14 are, in alphabetical order, Alcatel-Lucent, Ericsson, Genband, and Huawei.