2014年11月24日米国カリフォルニア州キャンベル発―Infonetics Research は、最新の Enterprise Unified Communications and Voice Equipment レポートの抄録をリリースしました。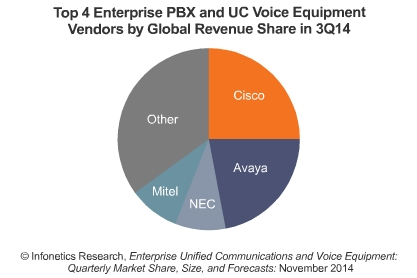 アナリストノート
「企業向け電話市場は多くの企業でPBXの新規購入が差し控えられており困難な時期が続いています。PBXに代わって企業が求めているのはクラウドを利用した技術であり、投資の中心はユニファイド・コミュニケーション (UC) 向けアプリケーションに移り、買い替えサイクルも長くなっています。」 と語るのはInfonetics ResearchのVoIP、UC、およびIMS担当の主席アナリストDiane Myers。「競争の圧力もありますが、以前ほどではありません。」

Myersはこう続けた。「北米ではすべての地域で一層厳しい四半期となりました。昨年の第3四半期に比べ2ケタの減少です。」
企業向け電話市場のハイライト
世界のPBX市場は、TDMとハイブリッド、それに純粋なIPを含んで、この3Q14に昨年同期7%減となったが、前期からは5%の増大となった。
3Q14のPBXライセンス発行数は3Q13に比べ2%のダウン。
アジア太平洋地域ではこのQ3に全般的に成長を記録し、さらに明るいことに、3Q14の売り上げは前年同期に比べ2ケタ増大した。
Cisco、Avaya、NECおよびMitelの各社が統合PBXとユニファイド・コミュニケーションの市場で3Q14に全世界の売り上げをリードした。
UC関連アプリケーションが引き続きしっかりとした伸びを示し、3Q14には3Q13から21%上昇した。。
ENTERPRISE TELEPHONY AND UC REPORT SYNOPSIS
Infonetics' quarterly enterprise telephony report provides global and regional market size, vendor market share, forecasts through 2018, analysis, and trends for TDM PBXs, hybrid and pure IP PBXs, IP PBXs by system size, VoIP gateways, unified communications, and IP desk phones and softphones. Vendors tracked: Alcatel-Lucent, Audiocodes, Avaya, Cisco, Ericsson-LG Enterprise, Microsoft, Mitel, NEC, Polycom, Samsung, ShoreTel, Toshiba, Unify, Yealink, others.
(原文)

PBX market down year-over-year as businesses invest in
unified communications (UC) and evaluate cloud and changing pricing models
Campbell, CALIFORNIA, November 24, 2014-Market research firm Infonetics Research released vendor market share and forecasts from its 3rd quarter 2014 (3Q14) Enterprise Unified Communications and Voice Equipment report.
ANALYST NOTE
"The enterprise telephony market continues to struggle as businesses hold off new PBX purchases. Companies are evaluating cloud alternatives and investing in unified communications (UC) applications instead of PBXs, and purchase cycles are getting longer," notes Diane Myers, principal analyst for VoIP, UC, and IMS at Infonetics Research. "There is competitive pressure as well, but not as much as in the past."

Myers adds: "North America again had the toughest quarter of all the regions, with a double digit decline from the year-ago third quarter."
ENTERPRISE TELEPHONY MARKET HIGHLIGHTS
The worldwide PBX market-including TDM, hybrid, and pure IP-dipped 7% year-over-year in 3Q14, but is up 5% sequentially
In 3Q14, PBX license shipments are down 2% from 3Q13
The Asia Pacific region typically posts growth in Q3, and it didn't disappoint, notching a double-digit revenue gain in 3Q14 from a year ago
Cisco, Avaya, NEC and Mitel lead the combined PBX and unified communications market in 3Q14 by global revenue
UC applications continue on a steady upward trajectory, rising 21% in 3Q14 from 3Q13