2014年11月26日米国カリフォルニア州キャンベル発―Infonetics Researchは最新のレポート、ホームネットワーク機器からの抜粋を公表した。レポートでは、ブロードバンド ルーター・住宅用ゲートウェイ・セットトップボックス (STB)・同軸ケーブル マルチメディア アライアンス (MoCA) 準拠の光ネットワーク終端装置 (ONT)・ホームプラグ パワーライン、MoCA準拠同軸イーサーネットおよびHPNA/G.hnアダプターについて追跡調査している。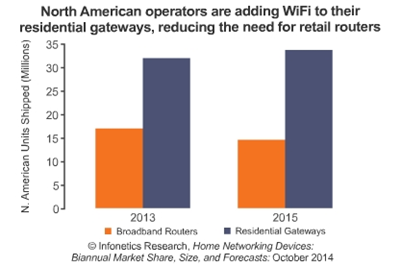 ブロードバンド アナリスト ノート
Infonetics Researchでブロードバンド アクセスおよび有料テレビを担当する主席アナリスト、Jeff Heynen氏は次のように指摘する。「北米や西欧の比較的成熟したブロードバンド市場では、サービス事業者は家庭内の複数機器にビデオを配信するために、無線・有線技術を装備した高性能ゲートウェイやセットトップボックスを導入しています。この結果として、小売店でのブロードバンド ルーターの購入が減少しているのです。」

Heynen氏はこうつけ加える。「しかし、ブロードバンドの新興市場では、ホームネットワークにWi-Fi機能をつけ加えるためにブロードバンド ルーターの出荷が増加しています。」
ホームネットワーク機器市場のハイライト
ホームネットワーク機器は、世界的に見ると2014年に前年より18%多い134億ドルの収益をもたらすことが期待されている。
2013年に出荷されたすべてのWi-Fi対応ルーターのうち802.11ac対応ルーターが占める割合はたったの2%だったが、2015年には出荷されたすべてのWi-Fi対応ルーターのうち42%が802.11ac対応になるとInfoneticsは予測している。
2013年下半期から2014年上半期にかけて、住宅用ゲートウェイの収益は0.5%増加し、ブロードバンド ルーターの収益は7.0%減少した。
家庭内で管理できるWi-Fiサービスを消費者に届けるために、事業者はより高度なWi-Fiゲートウェイを提供するので、住宅用ゲートウェイ部門とブロードバンド ルーター部門は反比例の関係であり続けるだろう。
HOME NETWORKING REPORT SYNOPSIS
Infonetics' biannual home networking devices report provides worldwide and regional market size, vendor market share, forecasts through 2018, analysis, and trends for home networking devices including residential gateways; STBs (MoCA, HomePlug AV2); MoCA ONTs; wired and WiFi (HomePlug Powerline, MoCA, HPNA, G.hn) broadband routers; and adapters (HomePlug Powerline AV/AV2, MoCA coax-Ethernet, HPNA/G.hn). Vendors tracked: Actiontec, Alcatel Lucent, Arris, AVM, Belkin, Cisco, Comtrend, Devolo, D-Link, Fiberhome, Hitron, Huawei, Netgear, Pace, Sagemcom, SMC Networks, Technicolor, TP-Link, TrendNet, Ubee Interactive, ZTE, ZyXel, others.
(原文)

High-end gateways and STBs crowding out broadband routers in some home networking markets
Campbell, CALIFORNIA, November 26, 2014-Market research firm Infonetics Research released excerpts from its latest Home Networking Devices report, which tracks broadband routers; residential gateways; set-top boxes (STBs); multimedia over coax (MoCA) optical network terminals (ONTs); and HomePlug Powerline, MoCA coax-Ethernet, and HPNA/G.hn adapters.
BROADBAND ANALYST NOTE
"In the more mature broadband markets of North America and Western Europe, service providers are deploying higher-end gateways and set-top boxes with integrated wireless and wired technologies to distribute video to multiple devices in the home. This is crowding out purchases of retail broadband routers," notes Jeff Heynen, principal analyst for broadband access and pay TV at Infonetics Research.

"However, in emerging broadband markets, broadband routers continue to see shipment increases to add WiFi to home networks," adds Heynen.
HOME NETWORKING DEVICES MARKET HIGHLIGHTS
Home networking devices are expected to bring in $13.4 billion on a global basis in 2014, 18% more than last year
802.11ac routers represented just 2% of all WiFi-enabled routers shipped in 2013, but Infonetics expects 802.11ac to make up 42% of all WiFi-enabled router shipments by 2015
Residential gateway revenue increased 0.5% and broadband router revenue declined 7.0% in 1H14 from 2H13
The residential gateway and broadband router segments will continue to move in opposite directions as operators provide more advanced WiFi gateways to consumers for managed WiFi service in the home