2014年12月2日英国ロンドン発―Infonetics Researchは2014年第3四半期(3Q14)のMicrowave Equipmentレポートよりその概要をリリースした。ここでは、時分割多重化(TDM)、Ethernet、デュアルEthernet/TDMのマイクロ波機器を追跡調査している。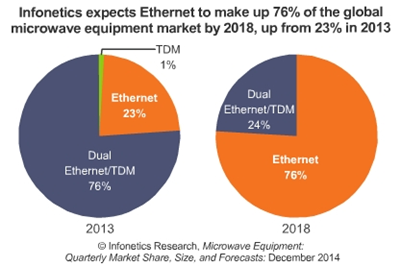 マイクロ波 アナリストノート
「今年はこれまでのところ、マイクロ波機器の市場は収入面で落ち込み、下降トレンドにありますが、この要因は価格圧力の継続と有線バックホールという代替物との技術内競合です。しかし今はLTE-Aのアップグレードとスモールセルのデプロイメントの緩やかな増加という双方の効果により、この市場にやや活力がもたらされています」と、Infonetics Researchでモバイルバックホールとスモールセルを担当している上席アナリストであるRichard Webb氏は述べている。

Webb 氏は続けて、「複数のベンダーは第3四半期に前期比での業績が改善しました。そして、マイクロ波機器の市場は2015年に徐々に上向くとみています」と述べている。
Q14マイクロ波機器市場のハイライト
3Q14における世界的なマイクロ波機器市場の規模は11億ドルに達し、前期比は4%増であったものの、前年同期比では2%減であった。
マイクロ波機器市場を支配しているのは引き続きバックホールで、アクセスと転送はニッチセグメントにとどまっている。
EMEA地域 (欧州、中東、アフリカ)は世界のマイクロ波機器の収入面で市場をリードしており、これにアジア太平洋が続いている。
マイクロ波機器に対する価格圧力は継続している。Infoneticsでは、EthernetのみのAPRU (現在、出荷増をもたらしている)は2018年までに2013年の半分になると予測している。
3Q14におけるマイクロ波機器市場の大手はAlcatel-Lucent、Ceragon、Ericsson、Huawei、NEC (アルファベット順)である。
MICROWAVE REPORT SYNOPSIS
Infonetics' quarterly microwave equipment report provides worldwide and regional market size, vendor market share, forecasts through 2018, analysis, and trends for Ethernet, TDM, and hybrid microwave equipment by spectrum, capacity, form factor, architecture, and line of sight. Vendors tracked include Alcatel-Lucent, Aviat Networks, Ceragon, DragonWave, Ericsson, Exalt Huawei, Intracom, NEC, SIAE, ZTE, and others.
(原文)

LTE-A and small cells propelling the microwave equipment market back to growth in 2015
London, UK, December 2, 2014-Market research firm Infonetics Research released excerpts from its 3rd quarter 2014 (3Q14) Microwave Equipment report, which tracks time-division multiplexing (TDM), Ethernet, and dual Ethernet/TDM microwave equipment.
MICROWAVE ANALYST NOTE
"So far this year, the microwave equipment market has been in a revenue dip, trending downward due to pricing pressures and intertechnology competition with wireline backhaul alternatives. But now the combination of LTE-A upgrades and modest growth in small cell deployments is giving the market a small injection of energy," notes Richard Webb, directing analyst for mobile backhaul and small cells at Infonetics Research.

Webb continues: "Several vendors saw improved quarter-over-quarter results in the third quarter, and we expect the microwave equipment market to inch up in 2015."
3Q14 MICROWAVE EQUIPMENT MARKET HIGHLIGHTS
In 3Q14, the worldwide microwave equipment market hit $1.1 billion, up 4% sequentially, though down 2% from a year ago
Backhaul continues to dominate the microwave market, while access and transport remain stable niche segments
The EMEA region (Europe, the Middle East, and Africa) leads the world in microwave equipment revenue, followed by Asia Pacific
Pricing pressure on microwave gear persists: Infonetics forecasts ARPU for Ethernet-only units (which account for an increasing proportion of shipments) to decline to around half its 2013 value by 2018
Topping the microwave equipment market share leaderboard in 3Q14 are Alcatel-Lucent, Ceragon, Ericsson, Huawei, and NEC (in alphabetical order)