2014年12月9日米国カリフォルニア州キャンベル発―Infonetics Research は、2014年第3四半期のContent Security Gateway Appliances, Software, and SaaS 市場分析レポート(マーケットシェアや市場予測を含む)の抄録をリリースしました。この分析ではゲートウェイソフトウェア、ゲートウェイアプライアンス、や SaaS (software-as-a-service)を継続して調査分析しています。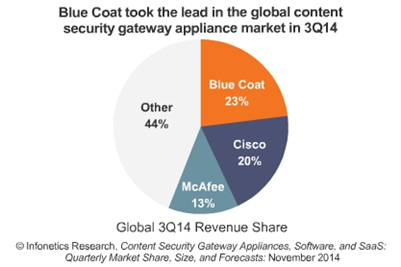 セキュリティ・アナリストノート
「コンテンツ・セキュリティ・ゲートウェイの製品市場は、今後2年間ほぼ横ばいとの見通しですが、SaaS (サース、software-as-a-service) 関連ビジネスは、大きく飛躍することでしょう。SaaS関連売り上げは、2013年から2018年までで、6億ドル余りから2018年にはほぼ14億ドルと、2倍を超えると予測しています。」と、Infonetics Researchのセキュリティ関連主任アナリストのJeff Wilson氏は語る。

「SaaS市場における主要なトレンドは、製品とSaaS双方を包含した混合環境の展開にあります。」と、Wilson氏は続ける。「あるケースでは、企業は統合管理された真のハイブリッド・ソリューションを求め、別のケースでは、ハイブリッド環境は有機的に促進されます。いずれの場合においても、真のハイブリッド・ソリューションを販売する機会が存在し、成長の可能性は計り知れません。」
2014年第3四半期 コンテンツ・セキュリティ市場のハイライト
2014年第3四半期 (3Q14) における全世界のコンテンツ・セキュリティ・ゲートウェイ機器およびソフトウェアの売り上げは、前期比プラス1.6%の7億6百万ドル (前年同期比プラス4.6%) となった。
一方で、SaaSコンテンツ・セキュリティ・ゲートウェイ・ソリューションの売り上げは、前期比11%、前年同期比38%、それぞれ伸長した。
3Q14のコンテンツ・セキュリティ・ゲートウェイの売り上げの64%は機器販売によるもので、36%がソフトウェアのそれであった。
Blue Coatが3Q14におけるコンテンツ・セキュリティ関連売り上げの大部分を牽引し、前期比9%の売り上げの伸びとなった。
.CONTENT SECURITY REPORT SYNOPSIS
Infonetics' quarterly content security report provides worldwide and regional market size, vendor market share, forecasts through 2018, analysis, and trends for content security gateway software (messaging, web/malware), gateway appliances (messaging, web/malware, integrated), and SaaS (messaging, web/malware). Vendors tracked: Barracuda, Blue Coat, Cisco, Citrix, McAfee, Microsoft, Proofpoint, SonicWall, Symantec, Trend Micro, Websense, others.
(原文)

SaaS heats up the otherwise plateauing content security gateway market
Campbell, CALIFORNIA, December 9, 2014-Market research firm Infonetics Research released excerpts from its 3rd quarter (3Q14) Content Security Gateway Appliances, Software, and SaaS market share and forecast report, which tracks gateway software, gateway appliances, and SaaS (software-as-a-service).
SECURITY ANALYST NOTE
"Though the product market for content security gateways is looking fairly flat for the next couple of years, the SaaS (software-as-a-service) business is showing strong growth. We are forecasting global SaaS revenue to more than double from 2013 to 2018, from just over $600 million to nearly $1.4 billion in 2018," notes Jeff Wilson, principal analyst for security at Infonetics Research.

"A key trend in SaaS is the deployment of mixed environments encompassing both product and SaaS," continues Wilson. "In some cases, companies seek a true hybrid solution with integrated management. And in others, hybrid environments grow organically. In any case, the opportunity to sell true hybrid solutions exists, and the growth potential is explosive."
3Q14 CONTENT SECURITY MARKET HIGHLIGHTS
In the third quarter of 2014 (3Q14), global content security gateway appliance and software revenue grew 1.6% from the previous quarter to $706 million (up 4.6% from a year ago)
Meanwhile, SaaS content security gateway solution revenue grew 11% from the previous quarter and is up 38% from a year ago
64% of 3Q14 content security gateway revenue came from appliances and 36% was from software
Blue Coat drove the bulk of content security revenue growth in 3Q14, posting a 9% sequential revenue gain