2014年12月10日英国ロンドン発―米国市場調査会社Infonetics Research は、2014年第3四半期3G and LTE Mobile Broadband Devices and Subscribers マーケットシェア、市場予測レポートをリリースしました。

この包括的なレポートは、50ものモバイルブロードバンド市場セグメントとサブセグメントを追跡調査している。これにはスマートフォン、オペレーティングシステム(OS)、ルータ、カード、USB、タブレットなどのエンベデッド機器、加入者が含まれ、すべてがLTEやW-CDMA/HSPAその他接続されているネットワークのタイプ別に調査されている。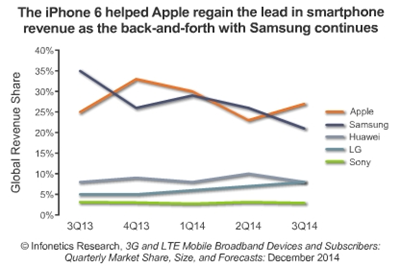 アナリストノート
「第3四半期はクリスマス前の四半期で、1年の中でも大きな動きがあることを考えると、スマートフォン関連の収入は相当なものでした。このセグメントはApple、iPhone 6のローンチで成長がもたらされたほか、これに低価格・エントリーレベルのスマートフォンの採用継続の動きが加わりました。これにより特に途上国においては、新規ユーザーが初めてモバイルブロードバンドの加入者になっています」と、Infonetics Researchでモバイルバックホールとスモールセルを担当している上席アナリストであるRichard Webb氏は述べている。

InfoneticsでM2MとIoTを担当しており、このレポートの共同執筆者でもあるJohn Byrne氏は続けて、「将来を見渡すと、LTEスマートフォンの販売がW-CDMA/HSPAスマートフォンをしのぐ変曲点にさしかかっています。 2015年には両カテゴリーの成長がみられますが、2016年の始めにはLTEをベースとするスマートフォンがスマートフォン販売の大半を占めるのは明らかでしょう」と述べている。
3Q14モバイルブロードバンド機器市場のハイライト
3Q14において、AppleはiPhone 6の販売増を受けてスマートフォン市場のシェア最大手である。これにSamsung、Huawei、LGが続いている。
中国の Xiaomi及びCoolpadという新参企業は上位社からある程度のシェアを奪いつつある。
季節的な期待要因もあり、世界的なスマートフォンの収入は3Q14に前期比2%増加して880億ドルとなった。
採用がピークに達していることもあり、2Q14から3Q14にかけてのタブレットの成長は限定的 (数量1.1%増、収入増は1%未満)であった。ただし第4四半期は、クリスマス前の季節的な期待もあり堅調になるだろう。
世界的なモバイルブロードバンドのモデムの出荷数は3Q14に前期比3%増加して3,700万台となった。
MOBILE BROADBAND REPORT SYNOPSIS
Infonetics' quarterly mobile broadband device report provides worldwide and regional market size, vendor market share, forecasts through 2018, analysis, and trends for smartphones; embedded mobile broadband devices (tablets, PCs, mobile internet devices) and modems; mobile broadband USBs, routers, and mobile hotspots; operating systems (Android, iOS, Windows, etc.); and subscribers. Companies tracked: Amazon, Apple, Blackberry, Dell, Ericsson, Google, HTC, Huawei, LG, Motorola, Nokia, Novatel, Qualcomm, Samsung, Sierra Wireless, Sony, ZTE, others.
(原文)

iPhone 6 drives uptick in smartphone market
London, UK, December 10, 2014-Market research firm Infonetics Research released excerpts from its 3rd quarter 2014 (3Q14) 3G and LTE Mobile Broadband Devices and Subscribers market share, size, and forecasts report.

The comprehensive report tracks over 50 mobile broadband market segments and sub-segments, including smartphones, operating systems (OS), routers, cards, USBs, embedded devices such as tablets, and subscribers, all by the type of network they connect to, including LTE, W-CDMA/HSPA, and other networks.
ANALYST NOTE
"Smartphones saw a decent return in the third quarter, considering the major action of the year is in the pre-Christmas quarter. The segment was boosted by the launch of Apple's iPhone 6 combined with the continual adoption of lower-cost, entry-level smartphones that enable new users to become mobile broadband subscribers for the first time, particularly in developing economies," notes Richard Webb, directing analyst for mobile backhaul and small cells at Infonetics Research.

John Byrne, directing analyst for M2M and IoT at Infonetics and co-author of the report, adds: "Looking into the future, we are approaching an inflection point at which sales of LTE smartphones begin to outpace W-CDMA/HSPA smartphones. While both categories will see strong growth in 2015, LTE-based smartphones will account for the clear majority of smartphone sales beginning in 2016."
3Q14 MOBILE BROADBAND DEVICE MARKET HIGHLIGHTS
Apple is the smartphone market share leader in 3Q14 owing to improving sales of the iPhone 6, followed by Samsung, Huawei, and LG
Newcomers Xiaomi and Coolpad from China are taking away some share from the top players
In line with seasonal expectations, worldwide smartphone revenue rose 2% sequentially in 3Q14, to $88 billion
The tablet segment saw a slight increase in 3Q14 from 2Q14 (units up 1.1%, revenue up less than 1%) as adoption levels top out; nevertheless, there are signs the 4th quarter will be very strong, in line with seasonal expectations for the pre-Christmas run-in
Global mobile broadband modems unit shipments increased 3% sequentially in 3Q14, to 37 million