2015年1月20日米国カリフォルニア州キャンベル発―Infonetics Research (now part of IHS Inc. )は、最新版Connected Health M2M Connections and Services の抄録をリリースしました。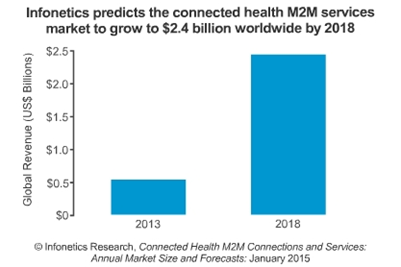 データと19ページにおよぶレポートでは、売り上げの伸長見込み、テクノロジーとの接続、サービス・プロバイダーによる医療関連分野でのM2M (マシンツーマシン) の品揃えを含む、M2M市場のコネクテッド・ヘルス分野に関する詳しい分析・見通しが述べられている。

「コネクテッド・ヘルス市場は特に米国において、往々にして障壁となる規制面の制約があり、その成長は緩やかです。」と、Infonetics ResearchのM2MおよびIoT関連の指導アナリストJohn Byrne氏は語った。

「我々の見解では、より重要な問題は、この市場における医療供給者および他の参入者が、M2Mソリューションのメリットを明確に見極めるまで、大規模な投資に躊躇しているということであり、これには時間がかかります。」と、Byrne氏は続けた。「オペレーターには、医療関連顧客との関係を深めることのできる人材が不足しており、成長を加速するためには、医療コミュニティーに強力なコネクションを持つパートナーを探す必要があります。」
コネクテッド・ヘルス市場のハイライト
今後、コネクテッド・ヘルスM2M分野は依然として小規模であるものの、高い成長率で推移し、2018年までに売上高は24億ドル (2013 - 2018年まで、年率36パーセントの上昇) に達するとInfoneticsは予測している。
コネクテッド・ヘルスM2Mの背景にある主要な成長促進要因は、医療機関のオペレーション・コスト削減を可能にする、オペレーション上の効率性である。
VodafoneやDeutsche Telekomなどのオペレーターが、すでにコネクテッド・ヘルス市場においてある程度の成功を収めている欧州が、この分野での最も主要な地域になり、北米が大差なく続くことが予測されている。
2013年の全世界のM2Mコネクテッド・ヘルス・サービスの売上高は、合計5億3,300万ドルで前年から15%伸長した。

接続は2013年に前年比23%増加し、4,400万件となった。
CONNECTED HEALTH REPORT SYNOPSIS
Infonetics' annual M2M connected health report provides worldwide and regional market size, forecasts, analysis and trends for the connected health segment of the M2M market, including connections by technology (GSM/GPRS/EDGE, CDMA2000/EV-DO, W-CDMA/HSPA, LTE, TD SCDMA, other WAN wireless, PAN wireless, wireline), service revenue and average revenue per connection. M2M service providers tracked in the report include: AT&T, Deutsche Telekom, NTT, Sprint, Telenor, TeliaSonera, Telstra, Verizon and Vodafone.
(原文)

Healthcare Providers Slow to Invest in M2M Solutions, Muting Near-Term Growth of Connected Health Market
Campbell, CALIFORNIA (January 20, 2015)-Technology market research firm Infonetics Research, now part of IHS Inc. (NYSE: IHS), today released excerpts from its new Connected Health M2M Connections and Services report.
The data and 19-page analysis report provide insight into the connected health vertical of the M2M (machine-to-machine) market, including growth expectations of revenue and connections by technology, and service providers' healthcare-related M2M offerings.

"The connected health market is developing slowly, with regulatory constraints a frequent obstacle, especially in the US market," said John Byrne, directing analyst for M2M and IoT at Infonetics Research.

"In our view, an even more substantial issue is that healthcare providers and other participants in this market are reluctant to make significant investments in M2M solutions until they can clearly see the benefit, and this takes time," continued Byrne. "Operators lack the personnel to deepen relationships with healthcare customers; they need to find partners that have strong ties in the healthcare community to accelerate growth."
CONNECTED HEALTH MARKET HIGHLIGHTS
Looking ahead, Infonetics expects the connected health M2M segment to remain small despite strong growth, with revenue reaching $2.4 billion by 2018 (a 2013-2018 CAGR of 36 percent)
The primary driving factor behind connected health M2M is operational efficiency, enabling health care facilities to reduce operating costs
Europe, where operators such as Vodafone and Deutsche Telekom are already seeing modest success in the connected health market, is anticipated to be the leading region, with North America following close behind
Worldwide M2M connected healthcare service revenue totaled $533 million in 2013, an increase of 15 percent from the prior year

Connections grew 23 percent in 2013 from 2012, to 44 million